I have been wanting to write this tutorial for a while now. I've shared a number of easy sewing projects over the years. Like how to make your own napkins, a window draft stopper and how to sew a coffee cup cozy. This tutorial for making a drawstring bag from a tea towel is now one of my faves. I hope it will be one of your faves too.
Okay, I think we can all agree that we need to look for more eco-friendly alternatives in our lives – right? I've always believed that if each person or family makes a series of small changes, those changes will ripple out and have a major impact on our community and our environment. This is why I love the idea of skipping those single use plastic bags at the grocery store and at the bulk store. Yep, you know the ones that I'm talking about. I mean, why are we putting bananas in a bag anyway?
But we need alternatives that are super quick, easy and inexpensive, otherwise we won't make the changes. Enter the tea towel drawstring bag. Boom!
How to Sew a Drawstring Bag in Minutes
I picked up a couple of tea towels at the dollar store (you could totally use old tea towels you have at home) and I quickly transformed them into produce drawstring bags. Using a tea towel means that you can sew a drawstring bag in minutes – the fabric already has a hemmed edge.
I intend to use these bags when I'm shopping at the bulk food store. Yep, these will be perfect for dried pasta, dried beans, seeds, nuts, and much more.
How to Sew A Drawstring Bag from a Tea Towel
a 100% cotton tea towel
iron
coordinating thread and needle/sewing machine
cording or twine
safety pin
First thing is first – you need to start with a tea towel that is 100% cotton. The bag will be holding food and you want it to be easy to clean, dry and made of natural fibres. Speaking of easy to clean, be sure to wash the tea towels before sewing them into bags. Pre-washing the fabric will allow the fabric to shrink, if it needs to. Once the tea towels are dry, you will want to iron them so you are working with a smooth piece of fabric.
Okay, washed, dried and ironed…now let's get to work. Tea towels are a great item to work with because the fabric already has a hem all around the edge…which means that you get to skip that step.
How to Sew the Drawstring Channel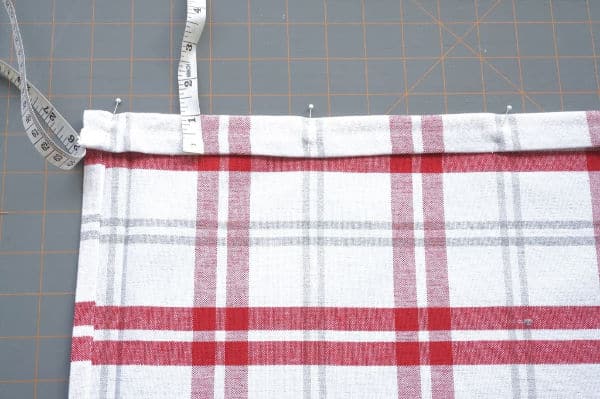 Place the fabric down on a flat surface, with the wrong side facing up. Begin pinning a 1 inch fold along the longest side of the tea towel. This is the channel where the drawstring will go. Sew the channel closed, along the edge. Use a simple straight stitch. Once the pocket is sewn, press the edge down.
Now that the drawstring channel is sewn, it's time to make the bag. Fold the fabric, with right sides together, in half. The drawstring channel will be at the top. Pin the open sides together. Sew 1/4 inch seam allowance all the way around the open sides of the bag.
Don't sew the drawstring channel closed! Stop sewing 1 inch below the drawstring channel. You will see why you need to stop here, when you turn the bag right way around.
Once the sides are sewn, it's time to flip the bag right way around. Make sure the opening where the drawstring will go, is facing out. Iron the bag to flatten any kinks. The bag is done and now it's time for the drawstring.
Use a piece of cording, a shoe lace or piece of ribbon. I opted to make my own cording, by braiding together three pieces of kitchen twine. I love my kitchen twine, but a single strand wasn't quite strong enough, thus I braided it together. You will need a piece that stretches a few inches beyond the end of the opening. Knot the end of the cording.
Now it's time to feed the cording into the channel. To do this simply slip the safety pin into a knot, at the end of the cording. Then push the safety pin through the channel.
It will bring the cording with it. Feed it all the way around to the exit. Remove the safety pin and you are done.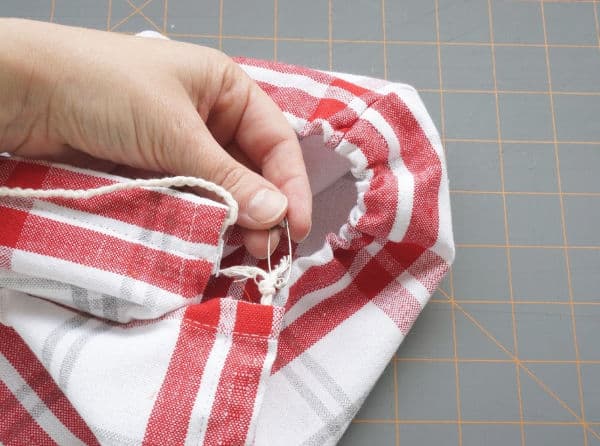 I made a few different sized drawstring bags from my tea towels. I followed the same simple design – a channel at the top, and sewn around the sides. Super simple.
If you are trying to reduce your waste, then I hope you'll try making these reusable bags and try shopping in bulk stores. When I look at the waste that comes from buying a box of cereal – a box and the plastic bag versus using a cloth bag at the bulk store – it just makes sense.
I am especially loving how simple the Canadian company Bulk Barn, is making shopping with reusable containers. All you have to do is bring your containers into the store, the staff will weigh the empty bag/container and then off you go and fill them up. It's that easy. They also carry a big selection of reusable glass containers, bags and more (I picked up a squeeze bottle for bulk honey). Sign up to receive their sales and promotions delivered directly to your email. They always have some sort of discount promotion going on. You don't want to miss out.
DISCLAIMER: TODAY'S POST IS SPONSORED BY Bulk Barn, HOWEVER AS USUAL THE OPINIONS ARE MY OWN.
---
Related Posts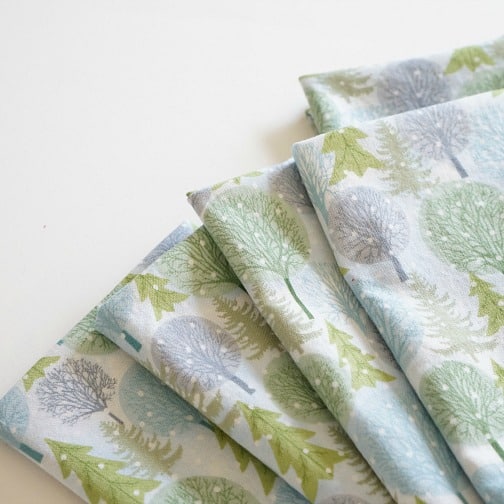 Skip the disposables and sew your own napkins for the dinner table
Keep the cool weather outside with our simple DIY draft stopper – you won't believe what it's filled with
---
Make sure you are following along…
SUBSCRIBE TO KITCHEN COUNTER CHRONICLES TO HAVE OUR DELICIOUS RECIPES, FUN CRAFTS & ACTIVITIES DELIVERED DIRECTLY TO YOUR INBOX.
FOLLOW KITCHEN COUNTER CHRONICLES ON