You might remember my first few attempts at felting. Over the years I have made some sweet
little chicks
and some fun
heart ornaments
. What I've always wanted to make are felt balls.
The truth is, I was always a little afraid of making felt balls. I wasn't sure if I could figure out how to make them. Guess what? Felted balls are so much easier to make and quicker to make that I thought. And they can be used to make so many other craft projects.
I've been dreaming of making felt necklaces for Christmas presents. A couple of weeks ago I decided that I had to jump in and try making them. You have been forewarned – making these felt ball is addictive. I fell into a meditative state and wanted to keep….making…more…felt…balls.
How to Make Felt Balls with Wool Roving
dish soap
warm water
The first step in making felt balls is to rip the wool roving into small pieces…be sure to rip and never cut the wool roving…the raw edges mend together easier than edges that have been cut with scissors.
Next, roll the small pieces of wool roving into a ball, overlapping each piece. This won't be a perfect ball, just a rough ball or spherical shape. Be sure to make the ball of roving larger than you want the final ball to be, because the ball will shrink as it comes together.
Now it is time to drop the ball of wool roving into a bowl of hot, soapy water. You only need to use a small drop of dish soap.
Let the ball soak for 5-10 second and then remove the ball from the bowl and begin rolling it between the palms of hands…roll gently at first…just like you roll a ball of play dough.
After rolling the ball around a few times, place your hand, with the ball, under hot running water…as hot as you can handle.
Continue rolling the ball in your palms and placing it under hot water until it reaches the size and density that you want. The wool will bind together and shrink down.
When the ball has reached the size that you like, set the felt balls aside to dry out thoroughly. Once the felt balls are dry and firm you can use them as you like.
The combination of heat, water, soap and friction allow the fibres to mend together to create the ball. The entire process takes about 3 minutes.
I lined up a bunch of dry balls and then moved through felting the balls one after another. That seemed to be the best process for making the felt balls.
So, now the question is what to make with all of these felted balls? I've been inspired by the nature around me…the autumn season. Be sure to check out how I made felt ball acorns…complete with real acorn toppers. They're pretty awesome.
---
Where can I buy wool roving?
Okay, I purchase my wool roving from a friend of mine. However, wool roving is available anywhere that you buy yarn and fabric.
Check out this amazing
collection of felt Christmas ornaments
to make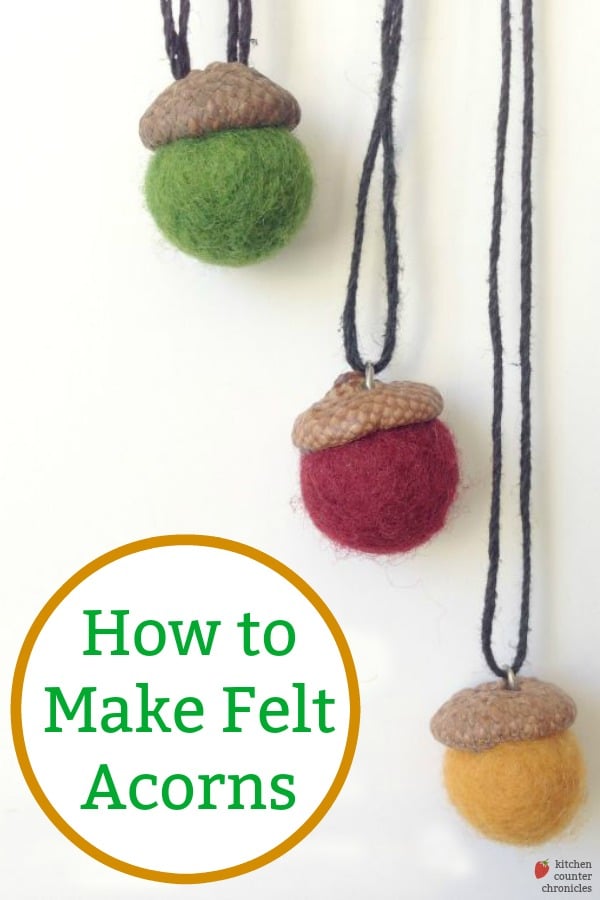 Make a super cute felt acorn necklace
---
Make sure you are following along…