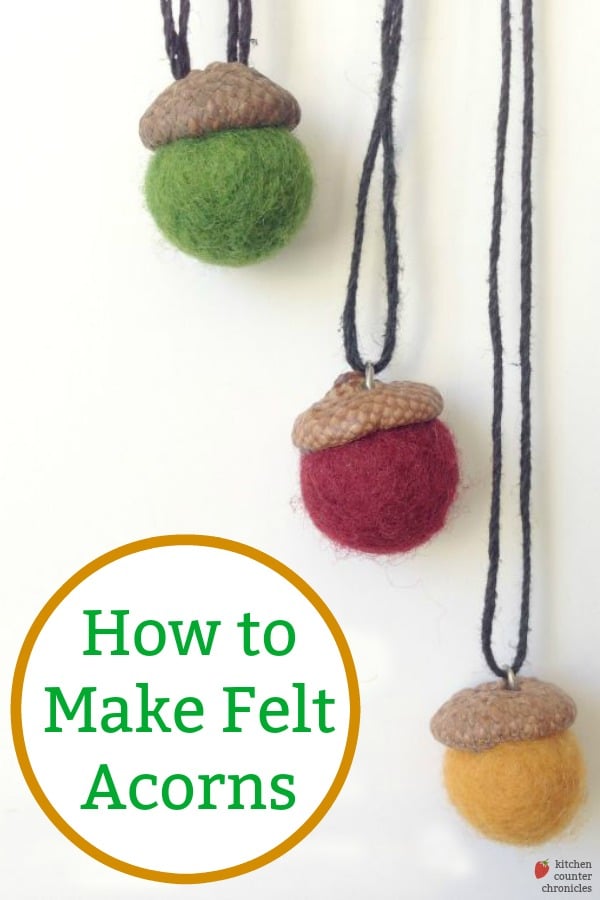 Disclosure: There are Amazon Affiliate links in this article which means, at no additional cost to you, we could receive compensation for our recommendations. You can read our full disclosure policy on our Disclosure Page for more details.
I don't know about you, but in the fall I simply cannot resist filling my pockets with acorns and bringing them home. Last autumn while pondering what to do with my collection of acorns I was inspired to turn the tops into little hats.
We have used the tops as
hats on nature dolls
before…but what about making soft felt acorns. I could
make a felt ball
to fit inside the top. It really is quite easy to make a felt acorn and turn that acorn into a fall necklace.
How to Make A Felt Acorn Necklace
acorn tops that you find outside
hot glue gun
12 gauge craft wire
wire cutters
jewelry pliers or needle nose pliers
small drill bit – 1/16″
waxed linen thread
Begin by using a small drill bit to drill 2 holes in the acorn top. You are going to want to protect your work surface with a wooden cutting board.
Next, use the pliers to cut and bend a 1/2″ piece of wire (approximately) in half.
Feed the ends of the wire into the acorn top. Once the wire is fed through the top, use the pliers to bend the wire and close the wire inside the acorn topper. Make certain to keep a loop of wire on the outside of the acorn. This is where the string will be fed through.
Now it is time to feed a length of waxed linen or a small chain through the loop of wire. Measure out whatever length you like for your necklace.
To finish the necklace either tie a knot in the string or tie on a clasp. I made mine long enough to fit over my daughters' heads and simply knotted them. However, I still need to add a clasp to the one I will wear.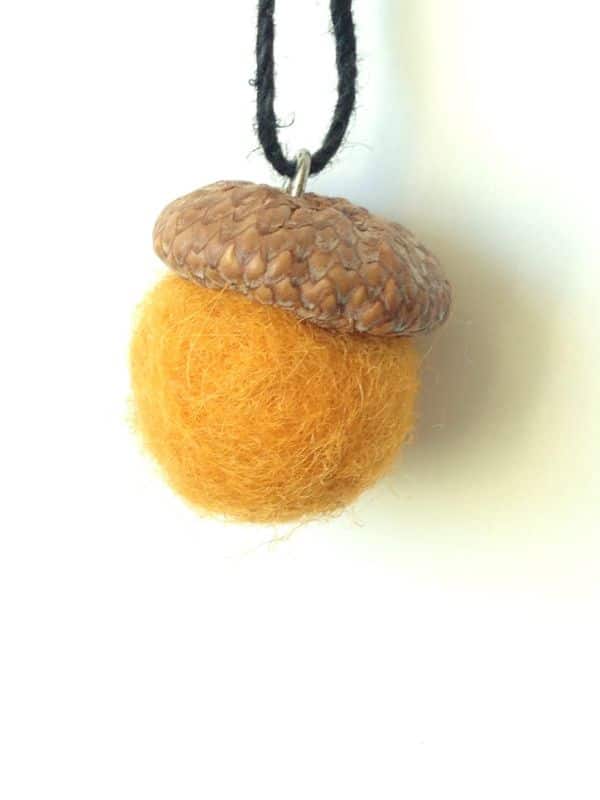 The acorns and the necklaces turned out as sweet as I had hoped they would be. My daughters love them. I am already envisioning turning these little acorns into napkin rings for Thanksgiving. I will swap out the string for a piece of decorative ribbon and tie them around the rolled napkins. What else can I make with those felted balls? What would you make with felt acorns?
Where can I buy felt balls?
I found this set of felt balls on Amazon and you can find felt balls at most craft stores.
Here is our tutorial for making your own felt balls
---
Make sure you are following along…
FOLLOW KITCHEN COUNTER CHRONICLES ON
SUBSCRIBE TO KITCHEN COUNTER CHRONICLES TO HAVE OUR DELICIOUS RECIPES, FUN CRAFTS & ACTIVITIES DELIVERED DIRECTLY TO YOUR INBOX.