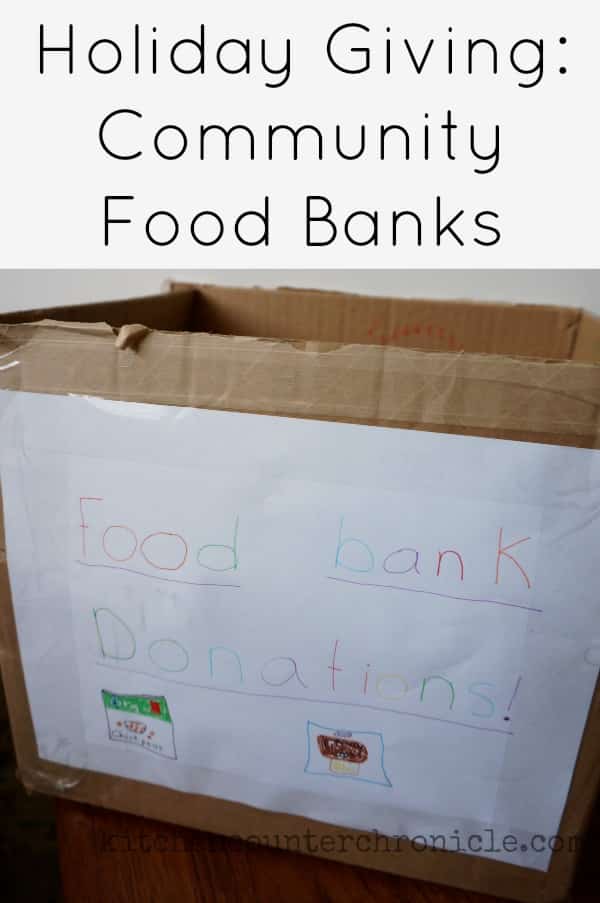 Today I am kicking off a week of holiday giving…4 days of giving to be exact. This week I will be featuring posts about different causes and ways that we can all give back this holiday season. I wanted to start the week off with a post about the importance of food banks.   Food banks are vital organizations in our communities. As we sit around our dinner table and enjoy a lovely meal, it can be hard to think about those who might be going without night after night. I believe it is especially important to teach our children about the importance of food banks.
Every community has a food bank. Whether it is run out of the basement of a local church or through a community centre. In every community there are hungry men, women and children – in every community there are caring individuals offering assistance. It's pretty amazing. Our local food bank is based in a community centre, Community Centre 55. At this time of the year Community Centre 55 launches their Share a Christmas program. In fact, this will be the 32nd year Community Centre 55 has helped those in need at Christmas. The centre reaches over 700 families in the Beach and surrounding area, a community located in the east end of Toronto, with this program. There are a few ways that people can lend support.
Throughout the months of November and December, Community Centre 55 and other organizations in our neighbourhood host events where the proceeds go directly to the Share a Christmas program. The season of giving kicks of with Hamper's Santa Claus Parade, on November 23rd…an event that is fun for the entire family. Another family friendly event is Pancake Breakfast with Hamper on December 7th, where families can enjoy a festive breakfast with friends and neighbours. On December 1st, running enthusiasts can participate in the Tannenbaum 10K. This 10 kilometre run takes runners from the heart of the Beach all the way to Tommy Thompson Park. (for all the details on these and other events supporting Community Centre 55, please head over to the Community Centre 55 website)
Of course, Share a Christmas is all about giving to individuals and families at Christmas, thus donations of money, toys and non-perishable food items are happily accepted. Monies collected are used to purchase much needed fresh food items. Toys are given to young children all the way through to teens. Food items like; canned fruit and vegetables, canned meat and fish, rice, pasta, tomato sauce, peanut butter, baby food and pet food are always needed.
Finally, if you feel like getting your hands dirty come out and help sort and pack the food boxes. There are a number of dates and times available. Our family has participated in the past and I have to say it is heartwarming to see everyone pitching in and lending a hand.
This year I wanted to find a way to keep the food drive on top of our minds, especially our children's minds. So, my daughters selected and decorated a food bank box for the front entrance of our home. All season long we will be filling the box and asking people who visit our home to bring a non-perishable food item or toy. When our box is full, we will take our box to Community Centre 55. The lessons of caring for and sharing with others is such an important one, that we try and teach all year long. At this time of year the need is so great, it really is important for everyone to do their part. I hope this will inspire you to seek out your local food bank…I bet your community has one…and see how you can help this holiday season.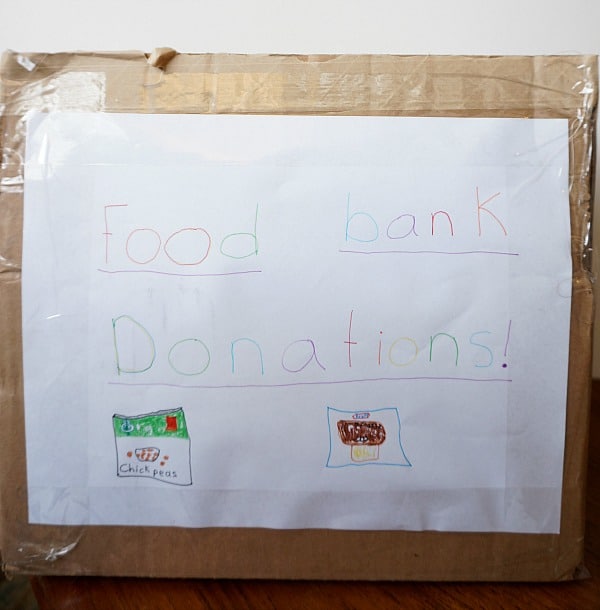 Be sure to read my article "No Kid Hungry – Act Locally" where you will find more ways to get your children involved in giving to food banks and helping your community.