"If you don't behave, I'm going to make you eat broccoli for dinner!"
When did broccoli become our collective "most hated food"? What did broccoli do to deserve this title?
Okay, I remember my mom serving over boiled, totally tasteless, watery broccoli for dinner when I was a kid. It was gross. But, then again pizza would have been gross if it was boiled until it lost all of its flavour…right?
The easiest way to turn broccoli into the "most loved food" is to prepare it properly. Keep it out of the boiling pot of water. Embrace broccoli's flavour – enhance broccoli's flavour. Broccoli is jam packed with vitamin C, folate, fibre, vitamin K and much more. Adding broccoli to a child's (and an adult's) diet is an inexpensive, healthy option.
The knowledge of the potential in broccoli has led me to looks for delicious ways to prepare it. Ways that the kids will love. While my girls have grown to like various broccoli recipes, this ginger beef with broccoli stir fry is an absolute favourite.
Ginger Beef and Broccoli Stir Fry
1/4 cup soy sauce
1 tbsp brown sugar
1 tbsp grated fresh ginger
2 cloves garlic, minced
1 tsp sesame oil
1 tsp corn starch
2 tbsp olive oil
1 orange pepper, sliced
1 head of broccoli
400 g of beef (flank steak or strip loin steak)
Uncooked lo mein or ramen noodles
Prepare the noodles according to the package instructions and set aside.
In a large bowl, whisk together soy sauce, brown sugar, ginger, sesame oil and corn starch. Whisk until sugar and corn starch are dissolved.
Slice steak into strips. Heat olive oil over medium-high heat. Once the pan is warmed up, add steak to pan, toss and brown the beef – approximately 2 minutes.
Add the broccoli and pepper to the pan. Pour in the prepared sauce. Stir and cook until the broccoli is fork tender…don't over cook the broccoli. If the sauce cooks off before the broccoli is tender, add a splash (2 tbsp) of water to the pan.
Add the noodles to the pan, toss and serve.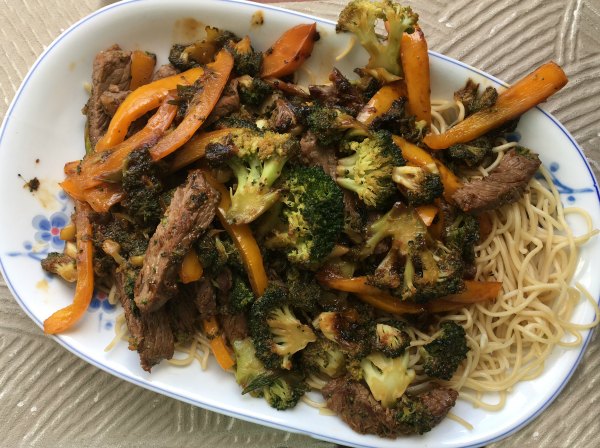 Today's deliciously good ginger beef broccoli stir fry recipe is another example of a twist on a classic, basic recipe that families can prepare and enjoy at home. We put a broccoli twist on Jamie Oliver's chicken stir fry recipe. Be sure to check out Jamie Oliver's 10 Food Revolution recipes and see what twists your family might make on his collection of basic family friendly recipes.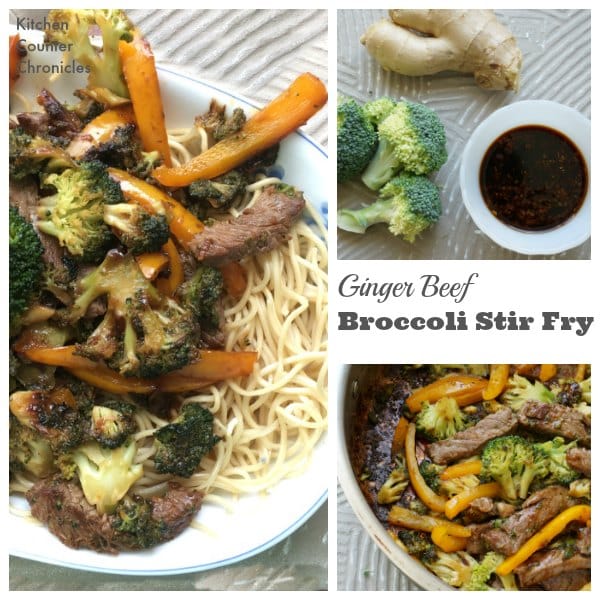 ---
Related Posts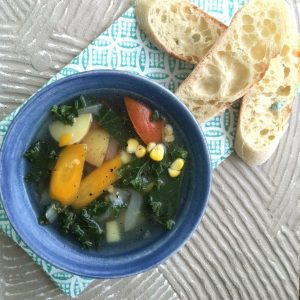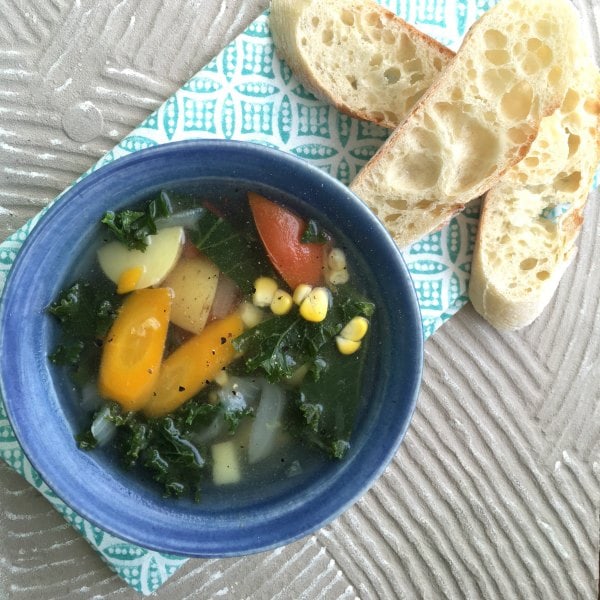 Make a pot of hearty vegetable soup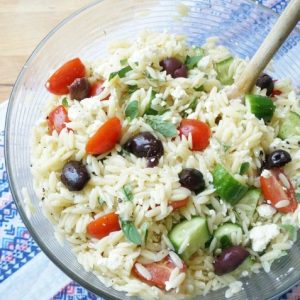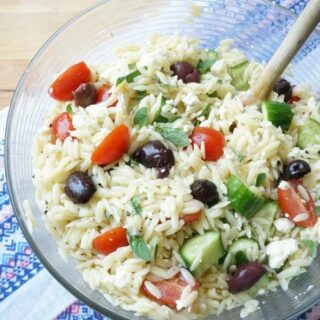 Enjoy a lunch box ready Greek pasta salad
---
BE SURE TO SUBSCRIBE TO KITCHEN COUNTER CHRONICLES TO HAVE OUR DELICIOUS RECIPES, FUN CRAFTS & ACTIVITIES DELIVERED DIRECTLY TO YOUR INBOX.
---