Mother's day is almost here and it's time to kick the creative crafting into high gear. Over the years we have shared many craft project for kids – this egg carton flower bouquet has become a favourite.
Disclosure: There are Amazon Affiliate links in this article which means, at no additional cost to you, we could receive compensation for our recommendations. You can read our full disclosure policy on our Disclosure Page for more details.
While I can't really get my kids to craft stuff for me for Mother's Day…although I'd love to…the girls do have lovely grandmothers that we celebrate Mother's Day with.
This year I thought it would be nice to revive and reinvent an old idea, our egg carton flowers. The last time we made these flowers we used them to create a decoration for our front door. This time around, we turned them into a beautiful Mother's Day bouquet.
Mother's Day Egg Carton Flower Bouquet
empty egg carton
scissors
paints & paintbrush
ribbon
tissue paper
beads
pipe cleaners
hot glue gun
The first step in making this bouquet is to cut the egg carton into individual sections. Cut out each individual egg cup. Then you can shape and trim the sections as you like.
The next step is painting the inside and outside of the egg carton sections…the flower heads. This is the time for the kids to get super creative. Choose your favourite colours and have fun painting.
When the painting is done, it is time to poke a hole in the bottom of each flower head and feed the pipe cleaner through the hole…secure the pipe cleaner in place by bending its end. You may need the strength of more than one pipe cleaner. Twist the pipe cleaners together and then poke them through the bottom of the egg cup flower.
Now that the pipe cleaners are poked in place, it is time to add some sparkle to the flowers. Use the hot glue gun to affix the beads to the inside of each flower. The glue will also help adhere the pipe cleaner in place.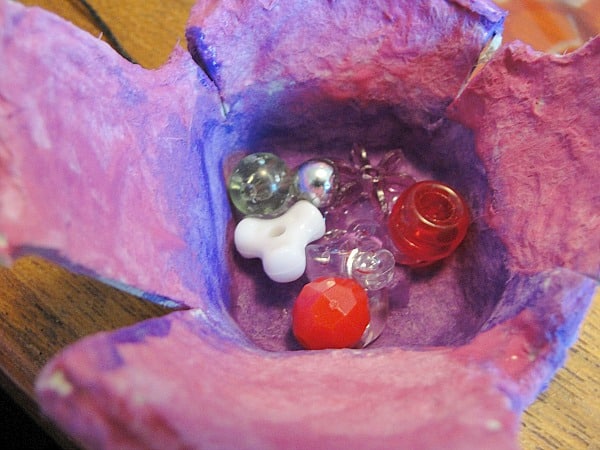 With all of the individual flowers done, gather the stems together, wrap with tissue paper and secure with a tied ribbon or pipe cleaner… just like the florist shop does.
Aren't these bouquets are stunning. My daughters loved the process of completely transforming something as simple as an egg carton. Making these flowers can become slightly addictive. Pretty soon you'll have an entire garden! Now, I know that I would be super happy to receive one of these bouquets this Mother's Day. I'm sure the girls' grandmas will love them. Wouldn't you?
---
Related Posts
Create a springtime egg carton flower wreath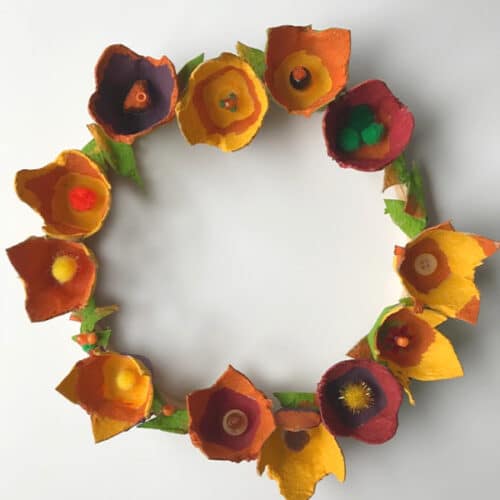 Or, what about an egg carton wreath inspired by the fall colours
---
Make sure you are following along…
SUBSCRIBE TO KITCHEN COUNTER CHRONICLES TO HAVE OUR DELICIOUS RECIPES, FUN CRAFTS & ACTIVITIES DELIVERED DIRECTLY TO YOUR INBOX.
FOLLOW KITCHEN COUNTER CHRONICLES ON