We love making fun fruit trays and vegetable trays, especially on special occasions and holidays. Our Valentine's Day fruit tray is shaped like a heart and is filled with lots of love for your friends and family. It's a delightful Valentine's Day dessert to make and share.
Disclosure: There are Amazon Affiliate links in this article which means, at no additional cost to you, we could receive compensation for our recommendations. You can read our full disclosure policy on our Disclosure Page for more details.
Isn't the stomach the quickest way to a person's heart? That's what I've always been told. I think that's why food is the best gift for your Valentine.
There is nothing quite as delicious as eating fruit in the winter. Citrus fruit are in season in February (winter in the northern hemisphere) which means it is particularly flavourful at this time of year. This fruit heart is a celebration of our favourite fruits and is a wonderful healthy Valentine treat.
Valentine Fruit Tray Heart
large fruit tray
strawberries
raspberries
watermelon
pomegranate seeds
blood oranges
sweet grapefruit
yogurt covered cranberries
chocolate cream cheese dip
heart shaped cookie cutters
The first step in making the heart fruit tray is picking out your tray. We used a large wooden tray, but you could just as easily use any large platter. I've even seen heart shaped platters, which would be fun too.
Begin my cutting up all of the fruit. Use a knife to remove the skin from the oranges and the grapefruit. Then cut the oranges and grapefruit into slices. Set the slices aside on a paper towel lined tray. The fruit will dry out a little while it sits on the paper towel.
Next up is learning how to make watermelon hearts. Cut the watermelon into slices and then use a heart shaped cookie cutter to make hearts. We used two different sizes of hearts, for a little variety. Set the watermelon hearts on another paper towel lined tray until you are ready to create the tray.
How to make heart strawberries. Next up are the heart shaped strawberries. Begin by using a knife to cut a "v" into the top hull of the strawberry, removing the leafy green top of the strawberry and creating the two top humps of the heart shape.
Once the top is notched out, slice the strawberry in half, lengthwise.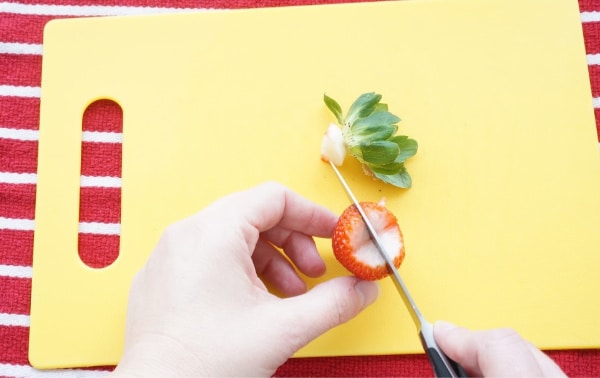 You will now have two strawberry hearts. Feel free to use your knife to refine the shape, but I liked the simplicity of the hearts.
We also included washed raspberries and pomegranate seeds. I was going to include red grapes, but I realized that the tray didn't really need them. Use whatever red or pink fruit you like. Another nice addition might have been cantaloupe – cantaloupe would be easy to cut like the watermelon.
With all of the fruit prepped, it's time to make the heart design. It is best to start with the largest fruit on the bottom layer. Place a layer of oranges and grapefruit to form the top arches of heart.
Add on the strawberries and watermelon to form the point at the bottom of the heart shape. For the best results place smaller fruit on top of the larger fruit.
Sprinkle pomegranate seeds and raspberries over all of the fruit, filling in any little gaps and spaces. Finish the heart by adding an edge of yogurt covered cranberries. We thought the white cranberries helped the heart shape come to life.
Once you have made the Valentine fruit tray, serve it shortly thereafter. If you need to store it, cover it will plastic wrap so the fruit doesn't dry out.
We served our delicious Valentine fruit tray with our creamy chocolate cream cheese fruit dip. The chocolate dip is a perfect pairing for the Valentine fruit platter. If you'd rather have something healthy, then try our healthy fruit dip for fruit. Either way, you win!
We will be serving this fruit tray as Valentine's Day dessert, but wouldn't it be lovely at as a cake alternative at a birthday party? Or, bring it along as a pot luck party appetizer? However you share this fruit heart, I'm sure everyone will LOVE it.
---
Related Posts
Bake up these heart shaped strawberry pop tarts for Valentine's Day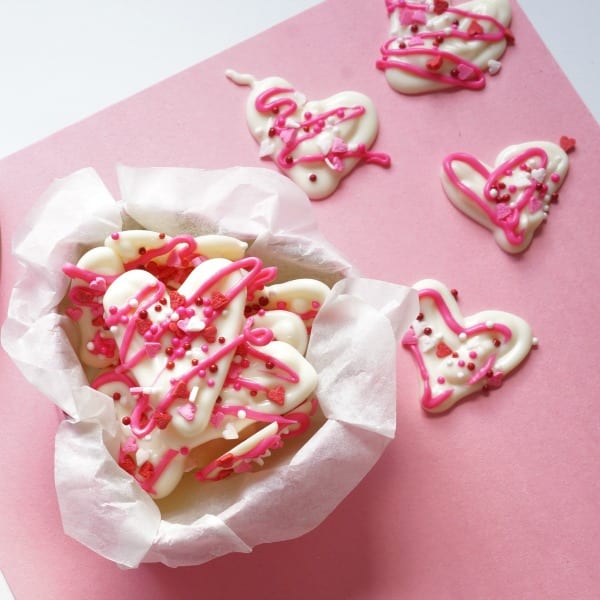 It's easy to make your own Valentine's Day chocolates to share
---
Make sure you are following along…
SUBSCRIBE TO KITCHEN COUNTER CHRONICLES TO HAVE OUR DELICIOUS RECIPES, FUN CRAFTS & ACTIVITIES DELIVERED DIRECTLY TO YOUR INBOX.
FOLLOW KITCHEN COUNTER CHRONICLES ON