Summertime is a great time for a fruit tray. We have shared plenty of fun fruit and veggie tray ideas over the years, and this one is definitely a party favourite.
Everyone loves a simple fruit tray, that brings together all the delicious flavours of seasonal fruits. Let's face it a party really isn't complete without a fruit tray or a vegetable tray on the buffet table. This sun shaped fruit tray is both simple and a creative fruit platter…right? If you have ever shied away from making a creative fruit tray because you thought it might be too complicated, this is the perfect starter design. Simple, packed with flavour and fun.
Simple Sun Shaped Summer Fruit Tray
watermelon
nectarines (or peaches)
strawberries
raspberries
grapes
blueberries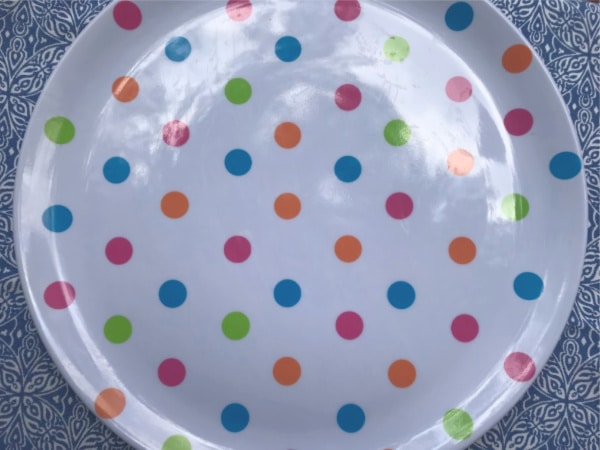 The key to a good fruit tray is a good tray to build on. Yes, you could use a square platter for this sun, but it looks so much cuter on a round tray. The size of your tray is going to dictate how much fruit you need to use. Our round tray is 18″ in diameter.
Start by slicing the watermelon into narrow triangles – like the ray of the sun or the petals on a flower. You will want to slice enough triangles to reach all the way around the platter. Be sure to slice a lots of extra watermelon, everyone loves watermelon in the summertime and you are going to want to reload the platter, if you want to keep the sun shape.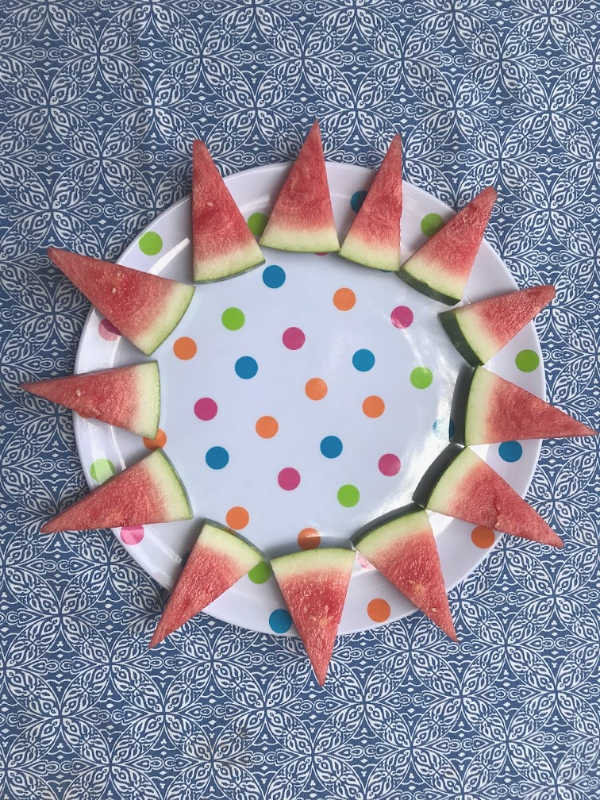 Once the watermelon edge is in place, it's time to add some sunshiney orange or peachy coloured fruit. Our local market happened to have plenty of ripe nectarines – so we went with nectarines. I like using nectarines in fruit trays because they tend to be firmer than peaches. Also, some people don't like the fuzzy skin on peaches so nectarines are a great alternatives. That being said, if your crowd likes peaches then I say go for it. Pile a single layer of nectarines all the way around the platter – covering the green flesh of the watermelon.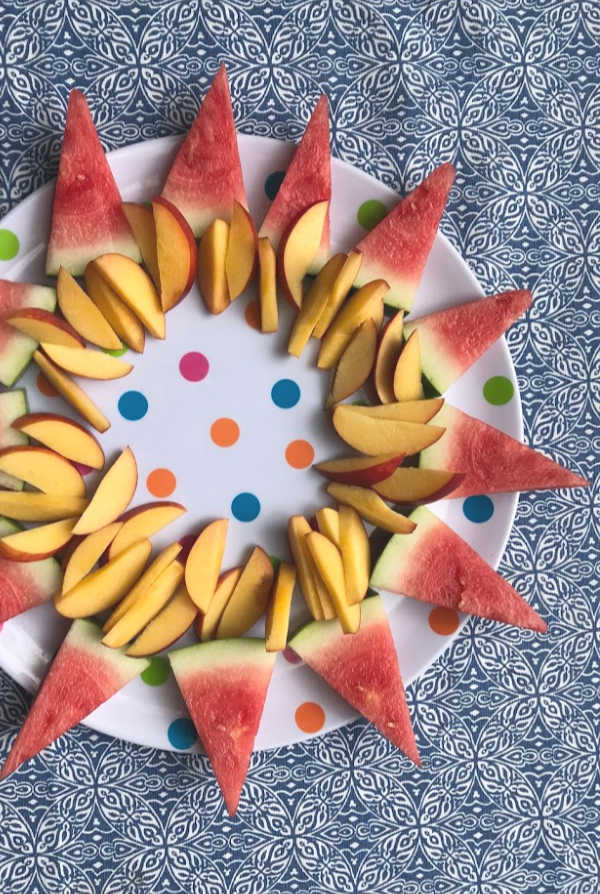 Next is the raised centre of the sun. Strawberries are a great fruit to create the pile. We mixed together strawberries and blueberries for the centre of our sun. Pile the berries as high as you can.
Now, for the finishing touch we added a layer of grapes. If kids are going to be at the party, be sure to slice the grapes in half. Grapes are a chocking hazard for kids and I'm a huge fan of "better safe than sorry), especially when I'm feeding kids that aren't my own. Slice the grapes lengthwise and tuck them into the sun – softening the transition between the centre pile and the nectarine rim.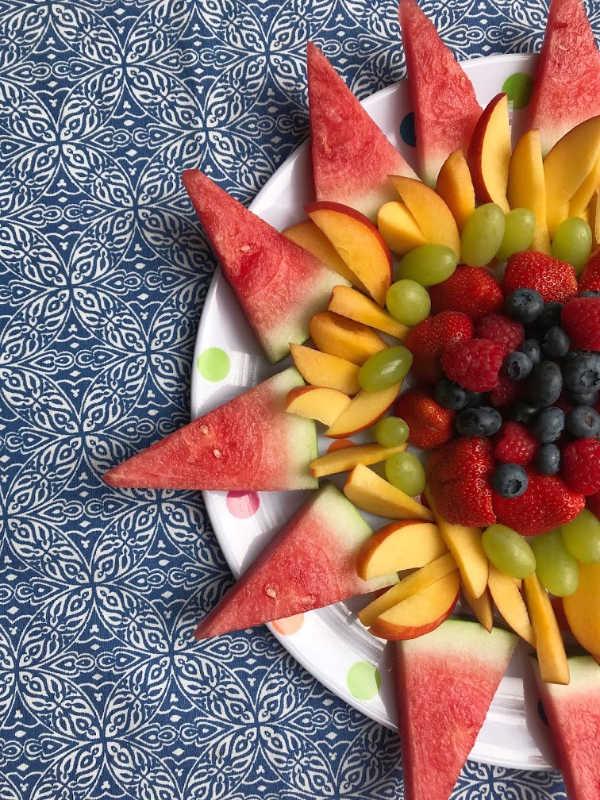 That's it, the tray is done. Now, I haven't always been a big fan of dips for fruit trays, but I made my own recipe recently and I love it. So, if you would like to add another element to the whole fruit tray experience, whip up a batch of our simple fruit dip and place a bowl of it beside the fruit tray. People will love the tangy addition to the sweet fruit.
I would suggest that you cut the fruit in advance and assemble the tray on the day of the event. Transporting this tray might be a little tricky. Wrap it tightly with plastic wrap to stop the fruit from shifting – or assemble it on site.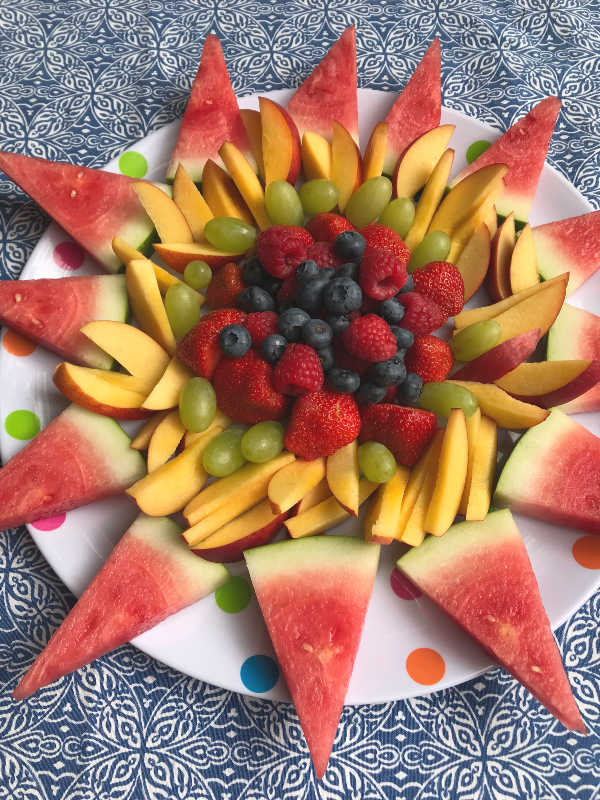 What other fruit would you add to this beautiful fruit tray?
If you're making a dessert fruit platter try our sweet dip for the fruit platter. Check out our creamy chocolate cream cheese for fruit…it is so super good.
---
Check out our other fruit tray inspiring posts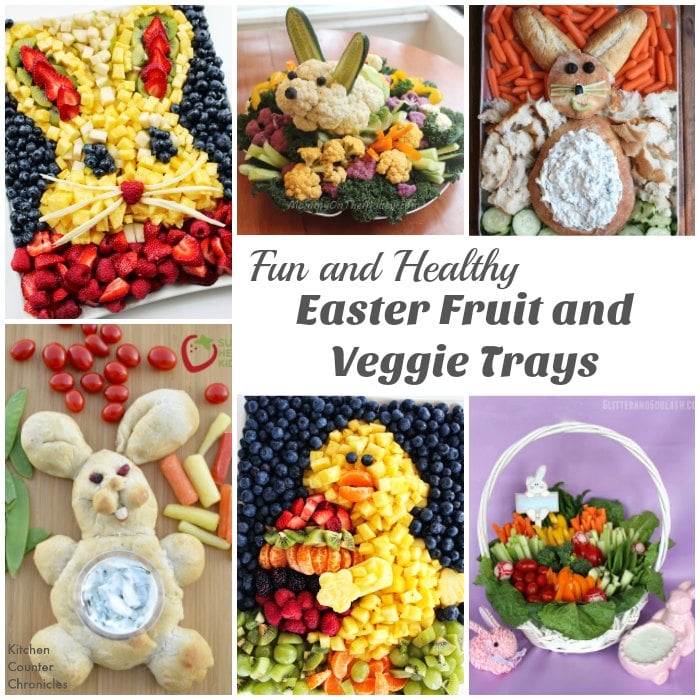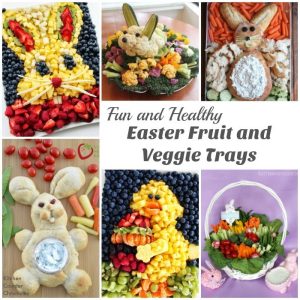 Make a springtime fruit tray
Or, what about a fun Christmas themed fruit and veggie tray for the holiday party?
---
Make sure you are following along…
SUBSCRIBE TO KITCHEN COUNTER CHRONICLES TO HAVE OUR DELICIOUS RECIPES, FUN CRAFTS & ACTIVITIES DELIVERED DIRECTLY TO YOUR INBOX.
FOLLOW KITCHEN COUNTER CHRONICLES ON
---