We have shared many Valentine's Day crafts over the years. From Valentine's Day crafts for tweens to Valentine crafts for younger kids to make. There's something about making a gift to show your feelings, that makes me smile. And, these hilarious Valentine love bugs seriously make me smile so much!
Disclosure: There are Amazon Affiliate links in this article which means, at no additional cost to you, we could receive compensation for our recommendations. You can read our full disclosure policy on our Disclosure Page for more details.
When I was thinking of how we could share the love during a pandemic, I thought it would be fun to figure out another toilet paper roll craft to make. Everyone has a lot of toilet paper rolls laying around…right?!
When my kids were little we made a fun swarm of Bee Mine buzzing bee Valentine cards for their classmates. We've never made love bugs. These toilet paper roll bugs are made from all the little crafty things we have in our craft cupboard. We don't have the ability to go out to our local craft store – we had to use up the supplies we have on hand. They're colourful and full of love.
Toilet Paper Roll Love Bug Craft
toilet paper rolls
colourful cardstock or construction paper
colourful pipe cleaners
colourful pompoms
googly eyes
recycled newspaper hearts
glue gun
double-sided tape and regular tape
This craft is a super open-ended activity. We gathered up a colourful collection of craft supplies and our toilet paper rolls and had some creative fun.
Our first step was to wrap our toilet paper rolls with a strip of cardstock. This gave us a solid base to work from. Alternately, you could paint the paper rolls or you could wrap them with construction paper. Whatever you have on hand to give you a coloured base to build your love bug from.
The rest of the buggy creation is totally up to you. One tip – to get the pipe cleaner limbs in the side of the bug, we poked a hole with the tip of our scissors. This move is best left to the big kids or the adult.
We used a few of our recycled newspaper hearts for the love bug wings. We shared how to make newspaper hearts in another post and we even turned them into beautiful Valentine's Day heart garland. Trace a heart-shaped cookie cutter onto construction paper to make the wings.
Don't forget the feet! We added giant heart feet to a few of our love bugs…some of our bugs didn't get feet. Whatever you like.
When these funny toilet paper bugs are done it's time to share them with friends. We will be wrapping up a little bag of chocolate hearts and popping the chocolates inside the toilet paper roll. Then we will be dropping off these love bugs for my nieces and nephews to enjoy. Make a whole swarm of bugs to share with classmates.
What will your crafty love bugs look like? Will they fly or crawl? How many sets of legs will your toilet paper bug have?
---
Related Posts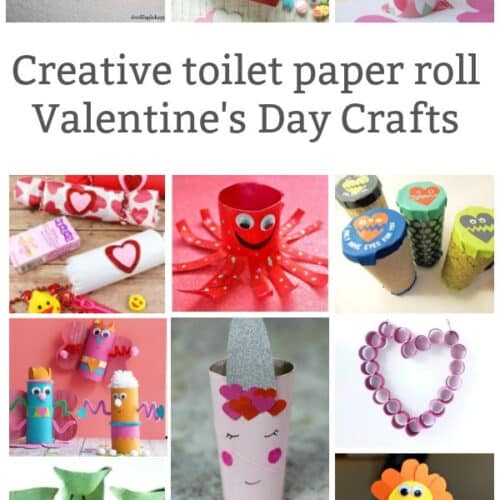 Have fun creating all kinds of toilet paper roll Valentine's Day crafts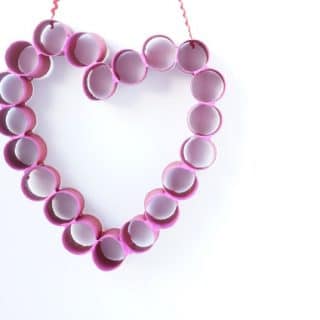 Decorate your front door with our toilet paper roll heart wreath for Valentine's Day
---
Make sure you are following along…
SUBSCRIBE TO KITCHEN COUNTER CHRONICLES TO HAVE OUR DELICIOUS RECIPES, FUN CRAFTS & ACTIVITIES DELIVERED DIRECTLY TO YOUR INBOX.
FOLLOW KITCHEN COUNTER CHRONICLES ON