Camping with kids. So, the plan is that once you arrive at the campground the kids will be well rested, fed and ready to run around and play. Well,we can dream can't we? The reality will probably be more along the lines of – tired and hungry kids…whining that they want to go swimming. Your at the campsite…now what? How to survive camping with kids.
Tour the site
First things first, get the lay of the land. Take your child for a tour of your campsite. Identify the perimeter of your site. Where can they go and where can they not go. Find out where the closest washroom is and make a pit stop before setting up the site.
Get the site set up
Get the kids to help out! Include the kids in the setting up of the tents, the kitchen area and of course finding the kindling wood. Clearly this is entirely depends on the age and ability of your child. There are always rocks to be moved and sticks to be cleared on a campsite. Kids love helping out around the campsite.
Research
Do a little research before you get to the campground. Most campgrounds are situated in or near active and welcoming small towns. Check out the local area's websites for festivals or events that might be taking place when you arrive. When we went camping at Algonquin Park and the website was packed with great things to do. There is a museum, different kid-friendly hikes and even campground clean up events! Print out the campgrounds schedule and bring it along.
Swimming
There is nothing quite like swimming in the lake. If you have never been swimming in a lake before, it is pretty amazing. You might feel a fish brush up against your leg…or is it just some sort of weed…who knows. Be sure to bring along the sand toys, floaty devices, life jackets and a collapsible umbrella. Spending the day swimming means having lots of snacks (and drinking water) and being sure to spend some time in the shade. If your child is not a strong swimmer be sure to pack a life jacket. Lake swimming can be effected by currents and winds. Pay attention to the signage at the beach. Often times beach campgrounds will have a sign detailing the swimming conditions – wave size, currents, etc. If you feeling at all unsafe, only swim at beaches that are staffed by a campground lifeguard.
Crafts
My eldest daughter has recently become obsessed with making bracelets with gimp. Any craft that can be done indoors – can be done outdoors. Pack the glue, scissors, beads, paper, pipe cleaners and cardboard boxes. Don't forget to gather up rocks, sticks, shells, leaves and other treats from the nature that is all around you. Craft supplies can be found everywhere in nature.
Safety Tips
I grew up camping. Every summer we road tripped to a different campground. We learned about the importance of safety while camping. Being aware of a few safety tips can take the stress out of your camping trip for mom and dad.
On a hot day, tents can get as hot as the inside of a car. Be sure to have adequate ventilation when the kids play in the tent.
No diving into unknown water. Test the depth of the water first. You can test the depth by using a long stick.
Life jackets on when boating…even the adults. It's easy to remember to put the jacket on your child – but even competent swimmers can drown in a lake – how will you help your kids then?
No snacks in the tent, especially in bear country! Keep food in a communal area and lock it up inside a car or tied up and elevated in a tree at night.
Drinking and camping – use your common sense.
Water, water, water – bring lots of water with you. Kids will be running, swimming, playing all day long…they are going to need some safe drinking water.
First aid kit – bandaids, cold pack, gauze, tape, scissors, tweezers, thermometer, Benadryl, Tylenol, antibiotic creams, etc.
Know where the site office is and how to contact the park staff in case of an emergency.
The reality is that camping in a tent, takes some effort. But, there really is nothing like it. Sleeping in the fresh air, waking up when the sun rises and creating lasting memories with your children. I totally remember our camping trips from my childhood. Have you ever gone tent camping? How was your experience? Any tips to share?
---
Related Posts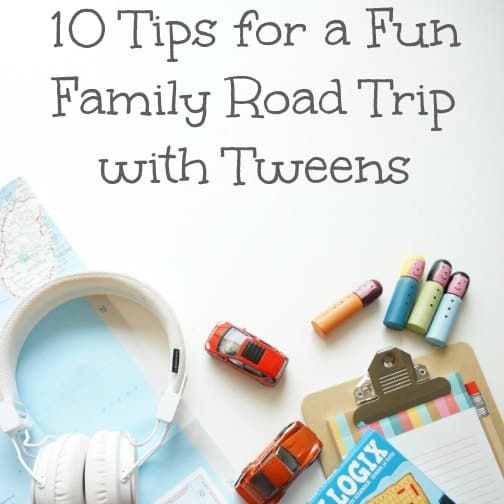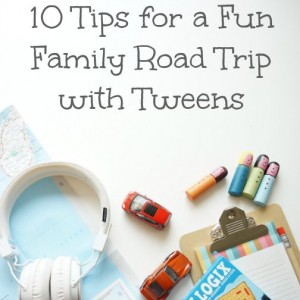 Tips for road tripping with tweens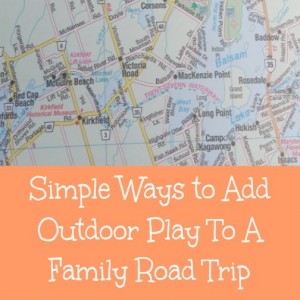 How to work a little outdoor play time into your road trip
---
BE SURE TO SUBSCRIBE TO KITCHEN COUNTER CHRONICLES TO HAVE OUR DELICIOUS RECIPES, FUN CRAFTS & ACTIVITIES DELIVERED DIRECTLY TO YOUR INBOX.
---