When the kids are back at school it is time for me to do some big batches of baking. I love spending a Sunday afternoon mixing and creating in the kitchen. With a freezer and pantry stocked with muffins, cookies and loaves we are prepared for easy breakfast ideas, packed school lunches and after school snacks. I am so happy that I decided to take a chance on a classic combination of strawberries and bananas. I know my daughter loves smoothies and I had a feeling they would work well in a muffin too. The addition of oats and whole wheat flour make these strawberry banana oatmeal muffins a delicious and nutritious treat.
Strawberry Banana Oatmeal Muffins
1 cup oats
1/2 cup whole wheat flour
1/2 cup all-purpose flour
1 tsp baking soda
1 tsp baking powder
1/2 tsp cinnamon
1 cup chopped strawberries
2 cups mashed banana (about 3 bananas)
2 eggs
1/4 cup room temperature unsalted
1/4 cup sugar
1 tsp vanilla
Whisk together oats, whole wheat flour, all-purpose flour, baking soda, baking powder and cinnamon in a small bowl.
Add chopped strawberries to the flour mixture and toss to coat…this will help stop the strawberries from sinking in the batter.
Combine mashed bananas with eggs…add one egg at a time and stir until incorporated.
Stir in butter, sugar and vanilla.
Pour wet ingredients into dry ingredients and stir until everything comes together, don't over stir.
Place 1/4 cup of batter into greased muffin tin, we used butter to grease the muffin tin.
Bake muffins in 350°F oven for 20-25 minutes. If baking mini-muffins, bake for 10-15 minutes.
Muffins are done when a toothpick inserted comes out clean.
Let muffins cool for 5 minutes in the tin and then remove and let cool on a rack.
Enjoy.
These muffins have a lovely fluffy consistency. To freeze the muffins, arrange them on a baking sheet and place them in the freezer. Once frozen transfer to a freezer-proof container or a freezer bag. Muffins can be defrosted in a microwave or inside the oven. The best part about making these muffins is sharing them with my girls. Taking a moment to enjoy a muffin and share a little chat is the absolute best time of the day.
---
Related Posts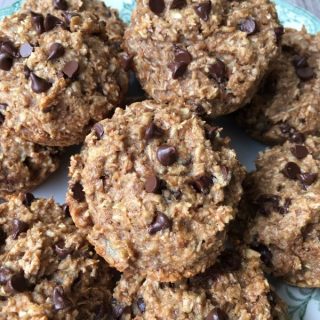 More muffins! Check out our banana bran chocolate chip muffins.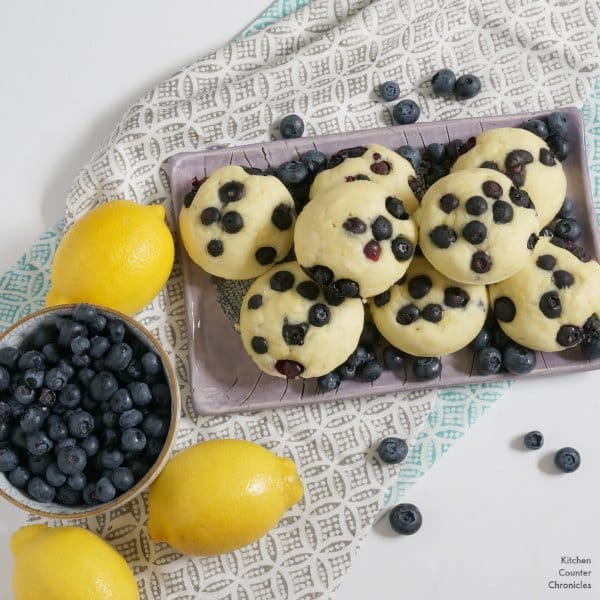 Or, the kids can help make these easy lemon and blueberry pancake muffins.
---
Make sure you are following along…
SUBSCRIBE TO KITCHEN COUNTER CHRONICLES TO HAVE OUR DELICIOUS RECIPES, FUN CRAFTS & ACTIVITIES DELIVERED DIRECTLY TO YOUR INBOX.
FOLLOW KITCHEN COUNTER CHRONICLES ON