We are always looking for ways to green our holidays. We reuse our decorations and reduce the amount of "stuff" that we purchase every year for holidays, like Easter. This year we took inspiration from our newspaper Valentine's heart garland to fill our Easter baskets. Skip the plastic Easter grass and grab an old newspaper and paints to make your own truly green (eco-friendly) homemade Easter grass. Be sure to check out all of our amazing Green Living Ideas for Families.
Recycled Homemade Easter Grass
newspaper
green acrylic paint
paint brush
pencil
ruler or scissors
Lay out the sheets of newspaper on a water proof surface. Coat the paper with a thin layer of green paint. The paint doesn't need too thick. Thin the paint with water. When the first side has dried, turn the paper over and paint the second side of the paper. This is an important step. If you don't paint both sides of the newsprint, the paper will crumple and won't dry properly. Let the paper completely dry.
Place a long ruler on the newspaper, rip a thin strip of paper. Alternately, you can use scissor to cut strips. I found the ruler was a quick and simple way to make the grass.
Tightly wrap the strips of green paper around a pencil. Unroll the strips and they will be curly grass. Alternately, you can cut the grass into shorter grass strips and skip the curling step altogether.
Another easy option is to cut strips of green magazine pages. Follow the same step, but skip the green paint. We will be lining our Easter baskets with our recycled newspaper homemade Easter grass. While we stuck with classic green grass, don't be afraid to paint your grass whatever springtime colour you like. The best part is that once the holiday is over, we can easily recycle the grass, or store the grass with our other reusable Easter supplies and bring it out again next year.
Enjoy!
---
Related Posts
Bake a batch of candy filled Easter egg sugar cookies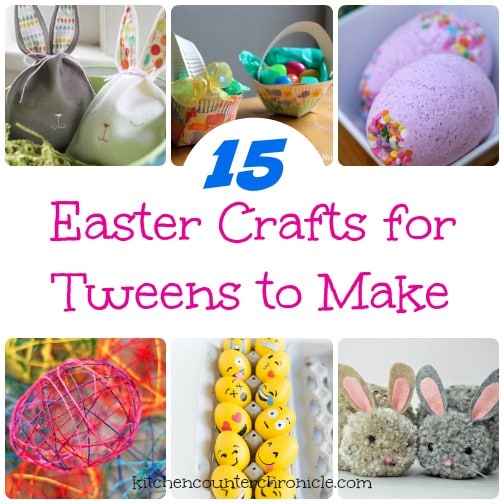 15 awesome Easter crafts for tweens to make
Host an outdoor Easter egg hunt (with free printables)
---
BE SURE TO SUBSCRIBE TO KITCHEN COUNTER CHRONICLES TO HAVE OUR DELICIOUS RECIPES, FUN CRAFTS & ACTIVITIES DELIVERED DIRECTLY TO YOUR INBOX.
---