Only a few days left until the Easter bunny arrives at our house. That means only a few days until the annual Easter Day parade in our neighbourhood. We're getting ready to host a big Easter feast after the parade. Aside from the food we'll be serving, we are working on creating some Eastery decorations for the house. Here's an easy last minute Easter craft idea. All you need is a piece of card stock, a pencil, white glue and some scraps of tissue paper.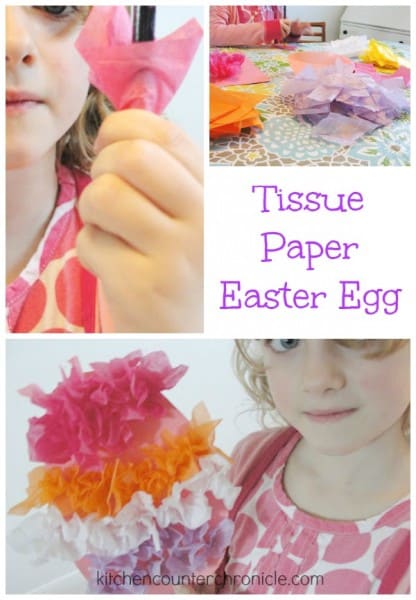 Tissue Paper Easter Egg
First step, sketch an egg onto the card stock.
Let your child design the Easter egg, with the pencil or, you can draw on the design.
Cut colourful tissue paper into small squares and have fun sorting it.
Place the end of the pencil into the centre of the tissue paper square. Wrap the tissue paper around the pencil.
Dip the end of the pencil into a dish of white glue.
Place the glued tissue paper into the design. Repeat until the egg is completely decorated.
Once dried, cut out the Easter egg and hang!
Yep, it's that simple. Yep, it's that festive. A great craft that kids can do from beginning to end on their own. They don't even realize they are working on a math concept…pattern creation. Love it! We are making many, many more for Easter.
---
Here are a few of our other awesome Easter crafts, activities and recipes…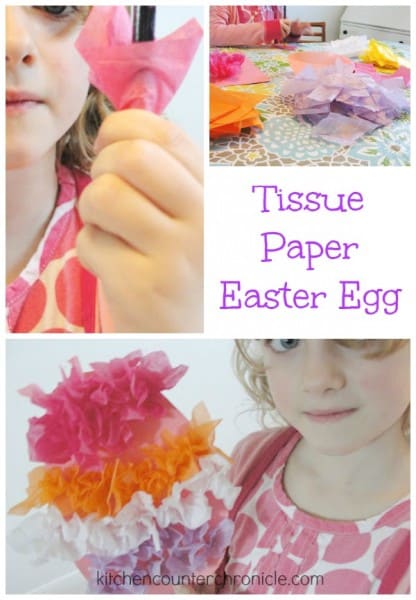 Make a simple tissue paper Easter egg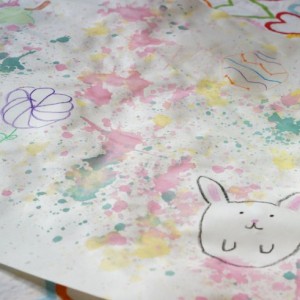 Have fun creating an Easter table runner with the blow painting technique
Sew a super sweet Easter Bunny necklace
---
Be sure to subscribe to Kitchen Counter Chroniclesfollow to have our delicious recipes, fun crafts & activities delivered directly to your inbox.
---