It is the absolutely the best time to find fresh, local fruit at our neighbourhood farmers' market. We were at the farmers' market today and we could not resist picking up some gorgeous blueberries, cherries and raspberries. What makes them so glorious? Each fruit is perfectly ripe right now and full of so much potential. While we did eat some of the fruit straight out of the little green baskets…I knew I wanted to find a way to bake something special.
Summer Berry Galette
I decided to pair the beauty of fresh summer fruit with the simplicity of puff pastry, oh and I added an extra layer of creamy and sweet mascarpone spread. This summer berry galette is so easy to make. Baking the fruit intensifies its sweetness and the layer of the mascarpone spread adds the perfect balance. A galette is an easy way to make a quick dessert. The best part is the kids can help make this treat…and they will love to eat it too.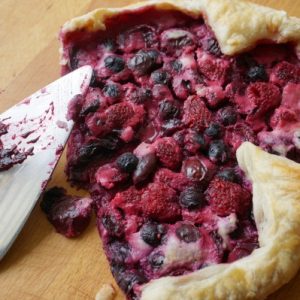 Print Recipe
Summer Berry Galette
Delectable summer berry galette with a creamy mascarpone spread.
Ingredients
1

cup

blueberries

1

cup

raspberries

1

cup

cherries

pitted

1

tbsp

lemon juice

1

sheet puff pastry

1/3

cup

mascarpone

1/4

cup

whipping cream

zest of 1 lemon

2

tbsp

honey

1

large egg
Instructions
Combine blueberries, raspberries, cherries and lemon juice in a medium bowl.

Whisk together mascarpone, whipping cream, lemon zest and honey in a small bowl until smooth.

Roll out puff pastry sheet and place on a parchment paper lined baking sheet.

Spread mascarpone on puff pastry, leaving a 1 inch edge around puff pastry.

Scoop berries on top of mascarpone spread.

Fold edge of puff pastry up and over the edge of the fruit.

Make egg wash by combining egg and 1 tbsp water, brush egg wash on edge of puff pastry.

Bake galette in 350F oven for 30-40 minutes...until pastry is golden brown and fruit is bubbling in the middle.
We made our summer berry galette with blueberries, raspberries and cherries. However, it would be delicious to use plums, peaches or strawberries. A galette is very versatile. Also, we scooped the left over mascarpone into a small piping bag and piped some spread on top of each slice of the galette. My daughters weren't interested in having the extra topping, but my husband and I loved it. Oh, and I'm pretty sure this galette would pair perfectly with vanilla ice cream. There are so many ways to enjoy this dessert.
Have you made a galette before? What ingredients did you use?