We have been making oodles of berry and fruit compotes of late. It seems like everything we bring home is simmered and becomes a delicious thick sauce. While we have loved pouring this summer sauce all over ice cream, we decided that we needed to have another option and pound cake seemed like a lovely alternative.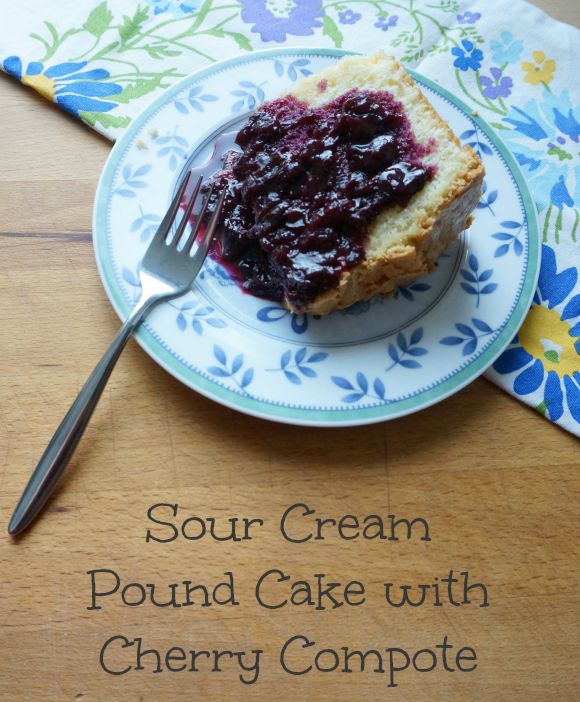 What makes this pound cake a little extra special is the GayLea Gold Premium Sour Cream we used. The addition of sour cream gives the cake a lighter texture than traditional pound cake. The perfect pairing with a medley of summer fruit.
Sour Cream Lemon Pound Cake
1 ½ cup butter, room temperature
3 cups granulated sugar
6 large eggs
¼ tsp vanilla
zest of 1 lemon
3 cups cake flour/all purpose flour
½ tsp salt
¼ tsp baking soda
8 oz GayLea Gold Premium Sour Cream
1 pint cherries
1/4 cup granulated sugar
1/4 lemon
1. Cream butter and sugar together, until creamy and smooth.
2. Beat in eggs, one at a time. Beat until light and fluffy.
3. Beat in vanilla and lemon zest.
4. In separate bowl, whisk together flour, salt, baking soda.
5. Mix dry ingredients and sour cream into wet ingredients, alternating between the two.
7. Grease and flour 12 cup tube pan, bundt cake pan or 2 loaf pans. Pour batter into pans. Use an offset spatula to spread batter into the pan evenly.
8. Bake cake in 325°F oven for 60-90 minutes, checking after 60 minutes. Cake is done when wooden skewer inserted comes out clean and top is lightly golden.
Cool cake in pan for 10 minutes and then remove from pan and let cool on wire rack.
To make the compote – combine cherries, sugar and lemon juice in small sauce pan. Bring to a boil and then drop to a simmer. Simmer cherries until skins fall off and fruit are softened. Press the cherry sauce through a fine sieve and remove the pits. Return the thick fruit that is in the sieve to the cherry sauce (or leave it out, if you like a clear sauce).
Once cake and sauce have cooled, serve with cherry compote, whipped cream or ice cream or whatever you like. Enjoy.
Gay Lea BBQ Kit Giveway
We have a super delicious giveaway for you. Enter for a chance to win a Gay Lea BBQ kit, valued at $180…including 1 year supply of Gay Lea products. * Giveaway is open to Canadian residents only (excluding Quebec).
Readers may enter across many blogs, they may only win from one participating blog. Giveaway closes July 31, 2015.
Good Luck!
a Rafflecopter giveaway
Disclosure: I am part of the Gay Lea Ambassador Campaign with Mom Central Canada and I receive special perks as part of my affiliation with this group. The opinions on this blog are my own.