Last month I let you know that I have taken on the role of Food Revolution Ambassador. I am still super excited about joining the international movement that believes passionately in the importance of access to healthy food for all. In October, I took up the challenge of finding new ways to work with leftovers – it is so easy to turn turkey dinner into a delicious turkey stock. This month I'm taking to the slow cooker. Whether you call it a slow cooker, or a crock pot, this handy device is a great way to get healthy meals on the table…even on busy weeknights. I was looking for a new way to get my family eating squash and I decided to try making a batch of slow cooker turkey chili with butternut squash.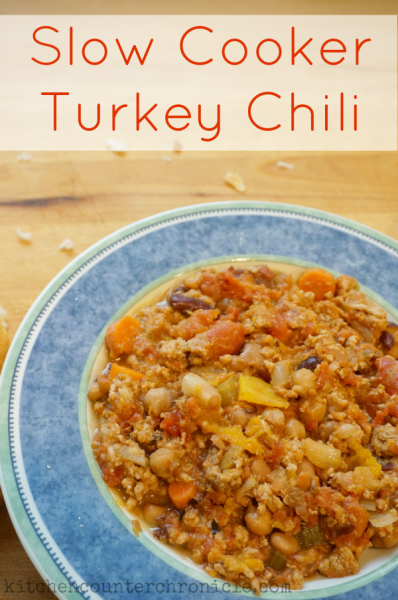 My goal was to make a stew that was light and healthy, but still filling. Last weekend I invited my siblings, their significant others and their toddlers over for dinner. The plan was to gather around the television and watch the big Toronto Santa Claus parade. I thought this would be the perfect time to try out the recipe that had been floating around my head. With a few basic ingredients (carrots, celery, butternut squash and beans) I was able to pop everything in the slow cooker and enjoy the day with our family. This dish would make a great weeknight dinner. I made a big batch, you could easily half the recipe for a family of 4. Alternatively, make the big batch and freeze the leftovers to reheat another night.
Slow Cooker Turkey Chilli with Butternut Squash
1 tbsp olive oil
2 lbs ground turkey
2 cans (15oz) beans (I used a variety mix)
2 cups chopped butternut squash (1/2″ cubes)
2 cans diced tomatoes
2 finely chopped shallots
1 cup chopped carrots
1/2 cup chopped celery
2 cloves garlic, minced
1 tbsp cumin
1 tbsp chilli powder
1 tsp salt
1/2 tsp pepper
Saute turkey meat, with olive oil, until it is no longer pink. Once cooked add to slow cooker.
Add beans, tomatoes, squash, onion, celery, carrots and spices to the slow cooker.
Stir ingredients well. Cover and cook in slow cooker 4-5 hours on high, or 8 hours on low.
---
Looking for more ways to connect with your kids?
Come join Kitchen Counter Chronicles on Facebook and Pinterest.


Be sure to

subscribe

 to receive our ideas delivered to your inbox.