We love creating, playing, and sharing printable Christmas games. We shared a roll-a-reindeer game and it was super popular, so I decided we needed to create a roll-a-Santa game to celebrate the big guy.
Disclosure: There are Amazon Affiliate links in this article which means, at no additional cost to you, we could receive compensation for our recommendations. You can read our full disclosure policy on our Disclosure Page for more details.
I don't know about your family, but in our house, the holidays are when we slow things down and pull out the board games and puzzles. The lead-up to Christmas and the holiday break are a chance to unplug and spend time together. Playing games is a fantastic way to connect with family and friends. I suppose that's why I love making all kinds of games.
Roll A Santa Game
What is Roll a Santa Game? Roll a Santa is a simple dice game that can be played with 2 or more players. The game can be played with people of any age…if you can roll a die then you can play!
The objective of the game is to be the first player to gather all of the Santa pieces and build your Santa.
The first step is to print our roll a Santa game. The printable game sheets come with 2 Santa bodies and 2 sets of Santa "parts". Therefore, if you are playing with more than 2 players you will need to print more pages. I suggest you print the pieces on cardstock, so they are more durable and easier to handle. However, you could totally use regular printer paper.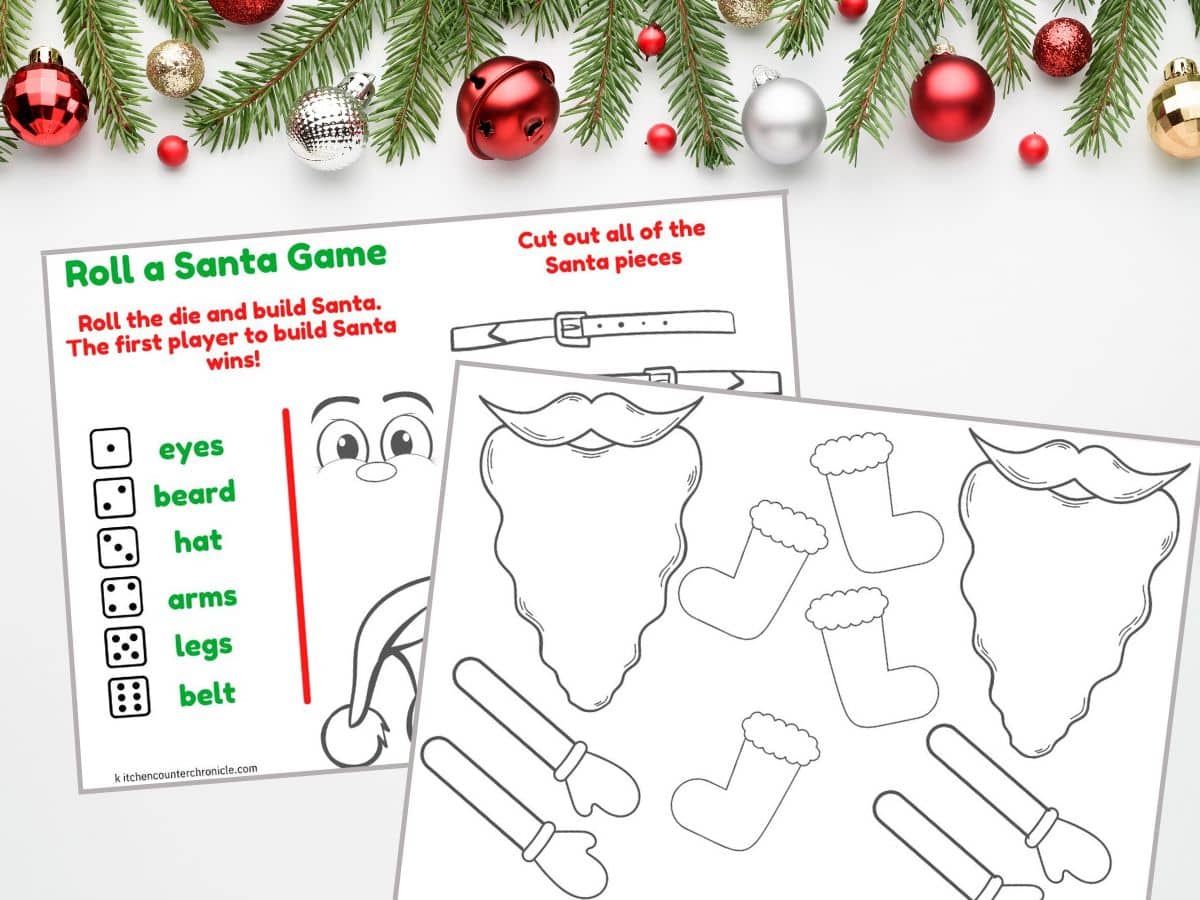 I have created 2 versions of the game. The first is a colour roll a Santa game and the second is a black and white roll a Santa game. The colourful version can be played as is, while the black and white version is fun to colour in. This adds an extra level of fun to the game, in my opinion.
Once you have the pieces printed and cut out give each player a blank Santa body. Then players take turns rolling a single die. The number you roll corresponds to a body part. The scoring is on the printable. Players take turns rolling and building Santa. Undoubtedly, players will roll the same numbers more than once, this is all part of the game. The first player to build Santa wins the game.
This is a great game to play in the classroom or at any time over the holidays. And don't forget you can also play our roll a reindeer game too.
---
More printable Christmas games
Check out our complete collection of free printable Christmas games to play
---
Make sure you are following along…
SUBSCRIBE TO KITCHEN COUNTER CHRONICLES TO HAVE OUR DELICIOUS RECIPES, FUN CRAFTS & ACTIVITIES DELIVERED DIRECTLY TO YOUR INBOX.
FOLLOW KITCHEN COUNTER CHRONICLES ON