We love creating and sharing printable games for kids. We've shared all kinds of fun games and this time around we are focusing the fun on Easter. These Easter games for kids are great for the classroom, Easter holiday parties, or just for when you're hanging out at home. So, let's get into these printable Easter games.
Disclosure: There are Amazon Affiliate links in this article which means, at no additional cost to you, we could receive compensation for our recommendations. You can read our full disclosure policy on our Disclosure Page for more details.
Easter is a favorite holiday of mine. Every year we walk down to our neighborhood's main street, grab a seat on the curb and watch our community's Easter Parade. It's actually one of the largest Easter parades in North America. The hardest part about attending the parade is having to arrive early to get a good seat. It means we spend a lot of time sitting and waiting…patience is a virtue. This is why I love these Easter games. They are great for keeping the kids and adults entertained and occupied.
Printable Easter Games for Kids
our Easter Word Search Game
our Easter Word Jumble Game
our Easter Crossword Puzzle
Easter Word Search Game
Okay, truth be told I still love playing word search games…even as an adult. Yep, I love searching through the rows of letters looking for those words. In this Easter word search game, you will find the Easter-themed words hidden diagonally, forward, and backward. And, if you get stuck and simply cannot find a word be sure to check out the Easter word search answer key.
Easter Word Jumble Game
Word jumbles are great fun. The simplest words can be so hard to decipher. If you have a kid who likes coding then they are going to love our Easter word jumble game. Our word jumble uses familiar Easter words…but that doesn't mean it is easy. So, don't forget you can always find the answers in our printable Easter word jumble answer sheet.
Easter Crossword Puzzle
A crossword puzzle can be a little more challenging for kids. Our Easter crossword puzzle requires players to answer the questions and the answer will be the word in the puzzle. I've also included images of most…not all…most of the words. If you are still stumped check on our Easter crossword puzzle answer sheet.
Tips for Playing Word Games with Kids
Word games are a wonderful way to get kids excited about reading, writing, and word recognition. Without even realizing it, kids are learning as they play. Isn't that a wonderful way to learn?!
Each of these games can be laminated and then used over and over again. Lamination is a great option for classrooms. Store the games seasonally and pull them out year after year. They would make a great addition to a classroom Easter party.
Allow the kids to complete the games at their own pace. Or, if you have older, more experienced readers, set a timer and see who can complete the most in an allotted time. This is a fun idea for family parties. Will Grandma be faster than your aunt?!
Finally, our word games are perfect for long road trips. Print them and clip them to a clipboard. The backseat is much more fun when the kids have games to play. And, if you're looking for an inexpensive gift – print the games and grab a package of pencil crayons and you have a gift ready to go.
There really are endless ways to play with our printable games. I'm sure you will come up with even more fun ways to play.
---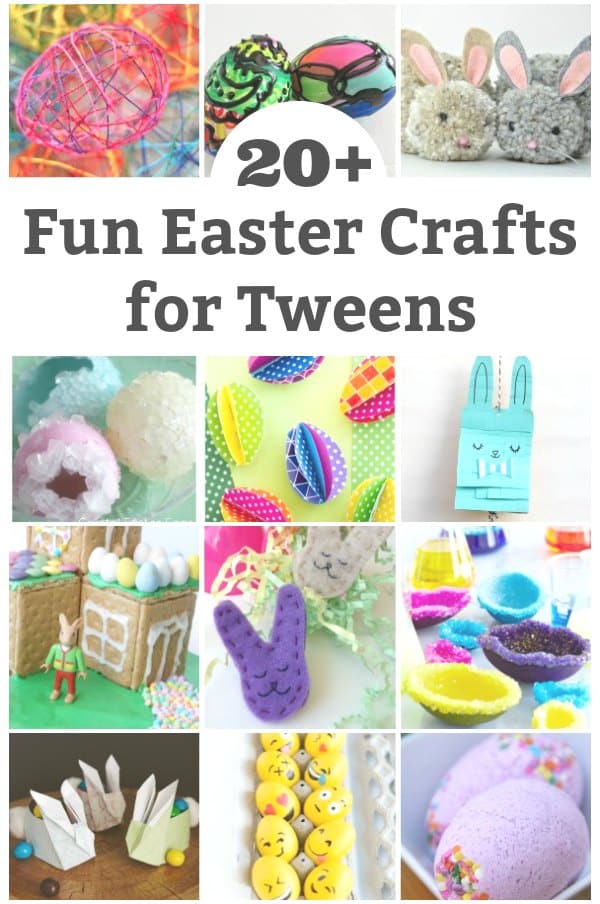 Check out all of our fun Easter crafts for tweens to make!
---
Make sure you are following along…
FOLLOW KITCHEN COUNTER CHRONICLES ON
SUBSCRIBE TO KITCHEN COUNTER CHRONICLES TO HAVE OUR DELICIOUS RECIPES, FUN CRAFTS & ACTIVITIES DELIVERED DIRECTLY TO YOUR INBOX.