Do you ever wonder if your kids are actually listening to you? They are. Let me explain why I know this. I have been taking my daughters outside to play since they were babies. You know how I feel about the importance of outdoor play. My wish has always been that by taking my kids outside they would grow up with the same passion. Last week it was freezing out. When I say freezing I mean below freezing…like 30° degrees below 0°C. That is really, really cold. My daughter had swim class. Swim class was at 6:30pm and we would be walking about 15 minutes to get to the community centre. I didn't really want to make the walk. I wasn't looking forward to the cold and the dark with a kid.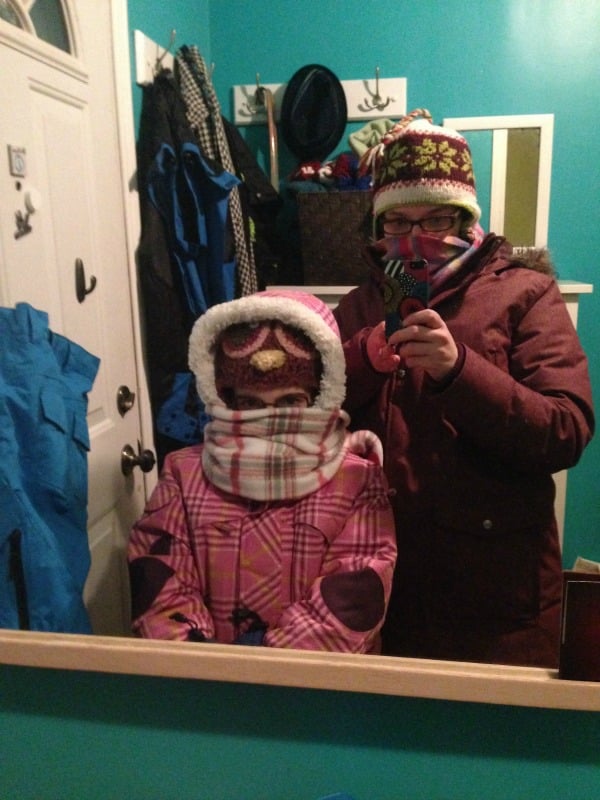 To my surprise, despite the extreme cold, my daughter still wanted to go.  Not only did she want to go, she started using my own words to convince me. She suggested we "wear layers" to keep warm. She said the walk would "be an adventure". These are the lines I use! She had been listening and learning. I couldn't argue with my own words…she had me beat. So, we bundled up…we really bundled up. We made the walk. We giggled, chatted and enjoyed the walk. I listened to my daughter and we were perfectly fine. Lesson learned…the kids are listening.
There were so many great posts linked up at the last Outdoor Play Party. Here are a few of my absolute faves…

Go winter birding with What We Do All Day
Build a Christmas tree den with Takoma Park Cooperative Nursery School
Explore the beauty of a winter fairy with Let's Play Kids Music.
If you were featured this week, go ahead and grab our "Featured at the Outdoor Play Party" button for your site. Feel free to grab our button and place it in your site's side bar, or add a link back to our party. We will happily share your post on Facebook, Twitter and the Outdoor Play Party Pinterest pagefollow. By contributing your post to this linky party you are giving permission for an image and link to your post to be republished if you are featured.