Here we go. Every year I put together a gift guide for outdoor-loving kids. As my girls grow…they just don't seem to want to stop growing…I am realizing that "outdoor play" for tweens is different than for younger kids. Generally speaking, young kids love being outside. Little ones will spend hours running around outside. Well, with tweens it is a little more challenging. As kids grow up they are drawn to indoor activities; computers, television and general mopping around (I think that's what you would call it). So, how do we encourage our pre-teens to get outside and play? We offer appealing activities, we find creative ways to engage them outdoors and in some cases, we give them a push out the door…literally. Here is our best of the best outdoor gift guide for tweens that will have your pre-teen spending more time outdoors.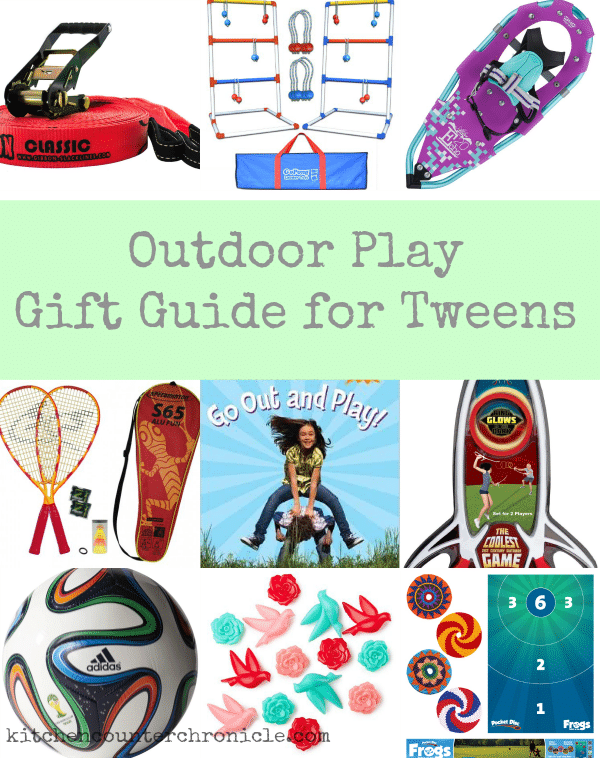 Disclosure: There are Amazon Affiliate links in this article which means, at no additional cost to you, we could receive compensation for our recommendations. You can read our full disclosure policy on our Disclosure Page for more details.
Outdoor Play Gift Guide for Tweens
Gibbon Classic Slackline – A slackline is the newest craze. It takes only a few minutes to set up a slackline in your yard or local park. The kids will be balancing and doing tricks in no time.
Bike Spoke Decorating Kit – Let your pre-teen add some bling to her bike with a spoke decorating kit.
Speedminton – Not badminton and not tennis – it's Speedminton. No net is required, the speeder is wind resistant and the whole kit glows in the dark.
The Outdoor Scientist – A book jam-packed with games and activities for kids of all ages to play outdoor.
Cornhole Game – A classic game of tossing the bean bags into the holes that is seriously hours of fun to play. This kit comes even comes with a carrying case too.
Ring Toss Game – A simple and fun game of throwing and catching rings on sticks…how easy is that?
Ladder Golf Game – Made famous on Late Night with Jimmy Fallon, ladder toss is a great game to play in any backyard.
---
More Gifts for Kids of All Ages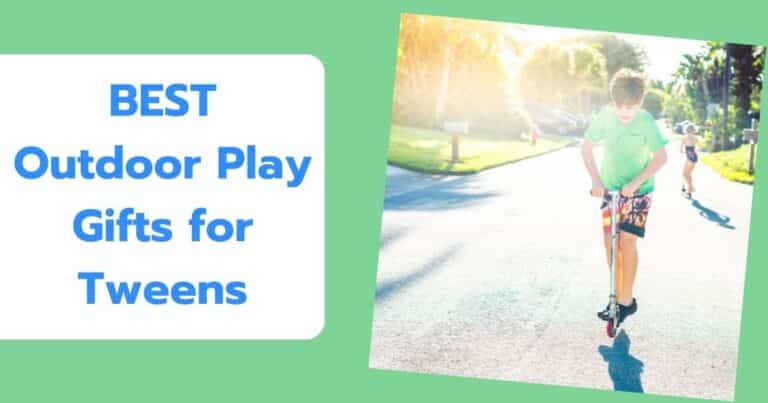 Check out all of these cool outdoor gifts for older kids
---
Make sure you are following along…
FOLLOW KITCHEN COUNTER CHRONICLES ON
SUBSCRIBE TO KITCHEN COUNTER CHRONICLES TO HAVE OUR DELICIOUS RECIPES, FUN CRAFTS & ACTIVITIES DELIVERED DIRECTLY TO YOUR INBOX.