Here we go. Every year I put together a gift guide for outdoor loving kids. As my girls grow…they just don't seem to want to stop growing…I am realizing that "outdoor play" for tweens is different then for younger kids. Generally speaking, young kids love being outside. Little ones will spend hours running around outside. Well, with tweens it is a little more challenging. As kids grow up they are drawn to indoor activities; computers, television and general mopping around (I think that's what you would call it). So, how do we encourage our pre-teens to get outside and play? We offer appealing activities, we find creative ways to engage them outdoors and in some cases we give them a push out the door…literally. Here is our best of the best outdoor gift guide for tweens that will have your pre-teen spending more time outdoors.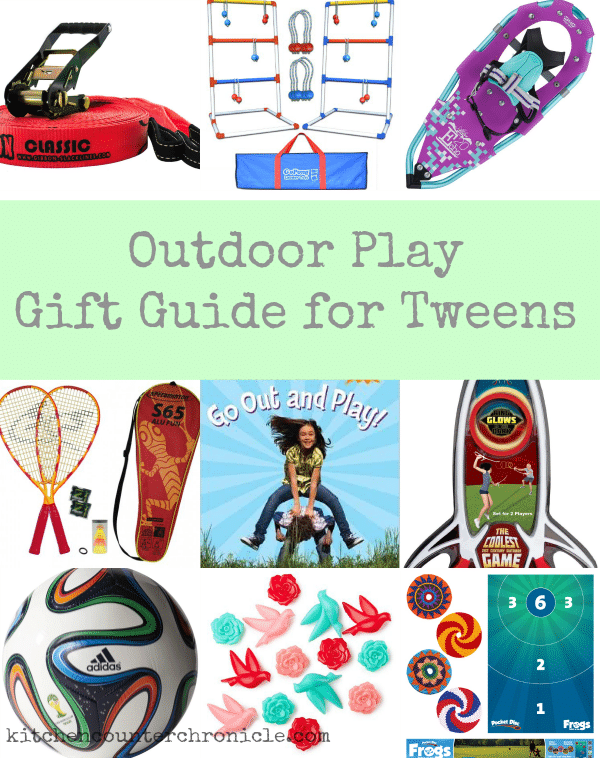 for your convenience, this post contains affiliate links
Outdoor Play Gift Guide for Tweens
Gibbon Classic Slackline – A slackline is the newest craze. It takes only a few minutes to set up a slackline in your yard or local park. The kids will be balancing and doing tricks in no time.
Bike Spoke Decorating Kit – Let your pre-teen add some bling to her bike with a spoke decorating kit.
Speedminton – Not badminton and not tennis – it's speedminton. No net required, the speeder is wind resistant and the whole kit glows in the dark.
Frogs Game Kit – Set up a game of throwing, lightweight discs…a game that kids and adults will love to play.
Kaboom! Go Out and Play! – A book jam-packed with games and activities for kids of all ages to play outdoor.
Snow Shoes – We are planning on trying out snow shoeing this year…love this cute pair.
RingStix Pro – A simple and fun game of throwing and catching rings on sticks…how easy is that.
Ladder Toss Game – Made popular on Late Night with Jimmy Fallon, ladder toss is a great game to play in any backyard.
Now it's time for the last Outdoor Play Party of the year. I truly hope that you have a fabulous holiday season. We are hoping that we have a big snowfall for Christmas…perfect for sledding. No matter what, we will be heading to a few outdoor rinks to skate, our family's favourite winter outdoor activity. I loved the Natural Christmas Scavenger Hunt idea that Inside Outside Michiana linked up to the Outdoor Play Party last time. What a fun idea.
We would appreciate it if you included a link back to this post (either in your post or sidebar) to help us spread the word about the importance (and fun!) of outdoor play! In return, we'll gladly further share your post on Pinterest. Please feel free to grab the Outdoor Play Party button from my sidebar and/or include a text link back. Please note, that by contributing you are giving permission for an image and link to your post to be republished if featured. Share your ideas for outdoor play activities with us every other week.