May the 4th be with you…
So, we don't talk a lot about Star Wars around here. I'm not sure why we don't? My girls fell in love with the movies over the last Christmas holiday. It is really hard not to fall in love with the story and the characters. One character that stood out for my girls was Yoda – wise Yoda. So, when my youngest daughter wanted to create a Yoda Valentine I jumped at the idea. We discovered that is was easy to make a toilet paper roll Yoda and we found a way to slip a secret note inside – making this Yoda perfect for every day of the year.
Make a toilet paper roll Yoda
The first step is to paint the top half of the toilet paper roll Yoda green – a slightly brownish green. Set Yoda aside to dry.
While the green paint is drying, cut out strips of brown construction paper that will wrap around Yoda's body – this will be his robe. For our toilet paper roll the strips were 2 1/2 " x 5″…judge yours according to the size of your cardboard roll.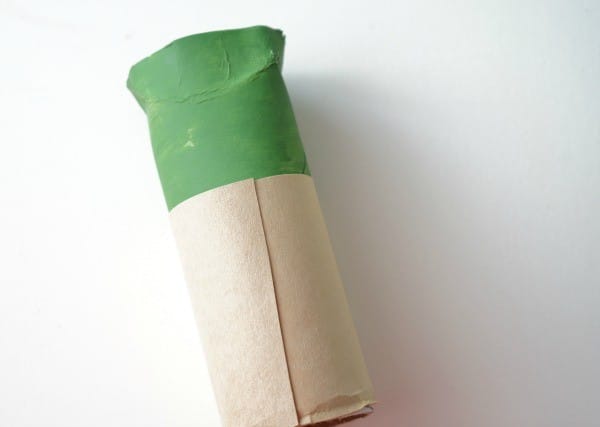 When Yoda's paint has dried, wrap the paper around the body and glue it in place with white glue.
Now it's time to make Yoda's head. Press the two sides of the top of the toilet paper roll together, they will overlap. Press them together and as you press them down the two points on the side will form. Press the points down as well – creating Yoda's floppy ears. Squish and press Yoda's head as you like. If the paper roll splits at all, just touch up with a little green paint. This sounds more complicated then it actually is – go for it – use the force!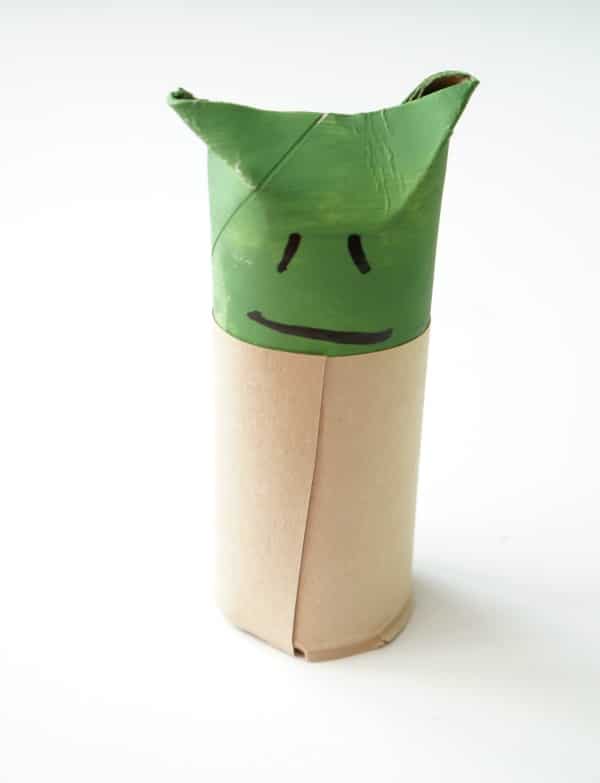 Draw on Yoda's face with a black marker – my daughter decided to go with a simple contemplative looking Yoda.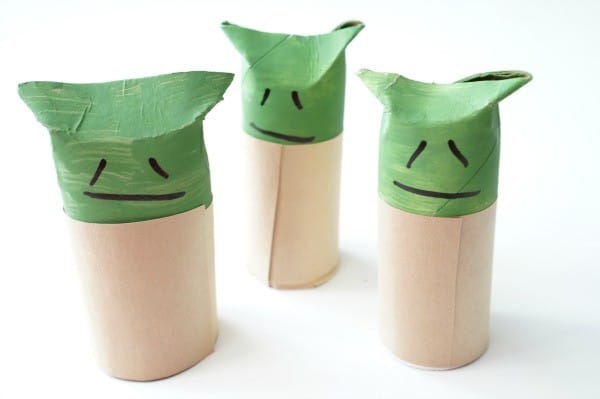 Now it is time for writing a secret message to roll up and put inside Yoda. For Valentine's Day we went with Yoda Best Valentine Card There are plenty of other options – Yoda Best Teacher – The Force is Strong in You – Calm You Shall Keep and Carry On You Must – Have a Happy Birthday, You Will – the possibilities are endless. I guarantee your child will be able to come up with an endless selection of funny Yodaisms. Write them down, roll them up and slide them inside Yoda's body and you have a great gift for any occasion. Click here to print off our Yoda Best Valentine Card
How will you be celebrating May the 4th? Check out all of these other awesome Star Wars inspired activities and crafts…
Star Wars Tatooine Desert Sensory Bin– Frogs and Snails and Puppy Dog Tails
Star Wars Family Fun for May 4th – Mama Smiles
Star Wars kids' embroidery: Yoda quote – Hodge Podge Craft
Star Wars R2-D2 Craft for Kids – Mom Inspired Life
Light Saber Fine Motor Activity – Something 2 Offer
Make Your Own Star Wars Landscape – Planet Smarty Pants
Yoda Puppet Star Wars Craft – Coffee Cups and Crayons
Counting Blocks Light Saber – Sugar Aunts
Awesome Star Wars ABC Games with Printable- JDaniel4's Mom
Star Wars Children's Books – Kelly's Classroom
Crayon Resist Death Star – Fun-A-Day!
Star Wars Moon Dough – In The Playroom
Light Up May the Fourth Be With You Cards – Left Brain Craft Brain
Star Wars Perler Bead Pattern R2-D2 Brain Power Boy
LEGO Star Wars Putty – The Pleasantest Thing
Lego Light Saber Glow in the Dark Slime – Little Bins for Little Hands