In our family, every holiday gathering is a potluck. Whoever is hosting a dinner will reach out to everyone attending the event, asking for people to volunteer to bring their favourite dish. Everyone loves a good holiday appetizer. I love contributing a good holiday appetizer. But, what really makes a good appetizer?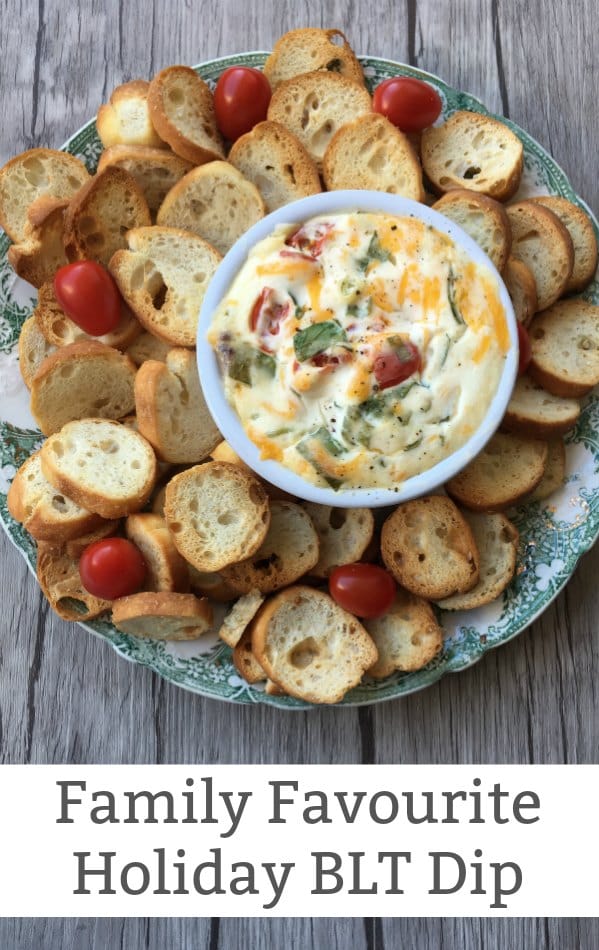 If you ask me, a good holiday appetizer is simple to make, feeds a crowd of people and is packed full of flavours. This fully loaded BLT dip hit all of these notes. Packed with bacon, tomatoes, spinach (a more resilient lettuce) and cheese – this dip is a crowd pleaser.
Holiday BLT Dip
6 slices of cooked bacon
16 cherry tomatoes, chopped
handful of baby spinach
2 green onions, thinly sliced
1/2 cup grated cheddar cheese
1 cup sour cream
2 tbsp mayonnaise
salt and pepper to taste
Bake the bacon – I like to bake bacon in a 375°F oven for 15 minutes, on a foil lined baking sheet. The bacon comes out crispy and I skip the splatters of bacon everywhere that happens when I would fry it on the stovetop. Set the bacon aside to cool and then chop it into 1/4″ slices.
Thinly slice the spinach and green onions. Depending on the size of your cherry tomatoes, quarter the cherry tomatoes. You want small pieces of cherry tomato.
Pour the sour cream into a medium sized bowl. Stir in the bacon, spinach, green onions, cherry tomatoes and shredded cheese until everything is combined. Add salt and pepper to taste.
Now, you have two options – serve it cold or hot. If you opt to serve the dip cold (pictured below), then let it sit in the refrigerator for at least an hour before serving. If you opt to serve the dip warm (pictured above), transfer the dip to a heat proof dish and warm in a 350°F oven for 15 minutes before serving.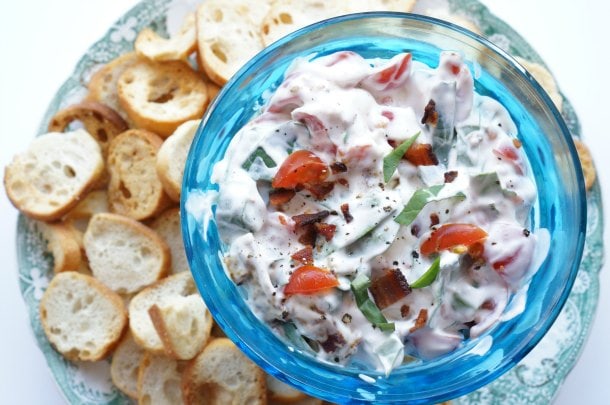 Serve the dip with sliced baguette, crackers or breadsticks.
This dip is destined to become a family favourite in your house. On a cold night, this warm dip is a perfect dish to warm everyone to gather around at a holiday party.
---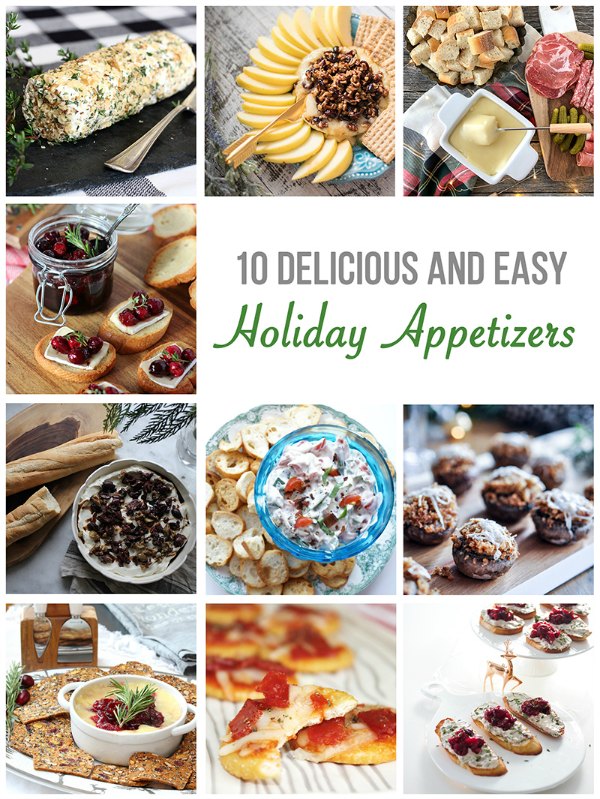 Looking for more festive holiday appetizers? Check out the Holiday Appetizer Blog Hop being hosted on A Pretty Life in the Suburbs.
Goat Cheese Log by Barbara of Hodge:Podge
Cranberry Pecan Baked Brie by Christina of The DIY Mommy
Cheese Fondue Appetizer by Jo-Anna of A Pretty Life
Festive Crostini with Cranberry Compote & Brie by Shauna of Satori Design for Living
Stuffed Mushrooms by Dannyelle of Life is a Party
Olive and Cream Cheese Dip by Beth Ann of The Hunted and Gathered
Loaded BLT Dip by Jen of Kitchen Counter Chronicles
Cranberry Baked Brie by Jenn of Clean & Scentsible
Ritz Pizza Crackers by Shannon of AKA Design
Whipped Goat Cheese and Cranberry Jalapeno Crostini by Kristeena of Motherhood in Stilettos
---
BE SURE TO SUBSCRIBE TO KITCHEN COUNTER CHRONICLES TO HAVE OUR DELICIOUS RECIPES, FUN CRAFTS & ACTIVITIES DELIVERED DIRECTLY TO YOUR INBOX.
---