It has finally arrived. The new Netflix series – Lemony Snicket's A Series of Unfortunate Events. We have been waiting patiently for this show ever since we heard whispers of is inevitable arrival. Why have we been looking forward to this series? After all A Series of Unfortunate Events is quite possibly the most dreadful tale ever told. Children orphaned, the devious Count Olaf (and his team of terrible actors), a neverending stream of accidents, near misses and close calls – every moment putting the children in impending danger. So, why have we been excitedly awaiting the arrival of this series?
Honestly, it can be really challenging to find programs to watch that everyone in our house enjoys…together. Finding programming that is mature enough for a 13 year old and with content that is age appropriate for a 10 year old is a tough balancing act – and don't forget about us parents. The Lemony Snicket stories fit perfectly into our family's wheel-house. A wonderful combination of mystery, thriller, comedy, unpredictability and adventure.
The next question is – what the heck does all this have to do with a lemony dessert? Of course, for us the first question we asked before we sitting down to watch a new series is – what should we make to eat while watching the show? A Series of Unfortunate Events has a delightful variety of foodie moments. The children make food and are faced with various interesting dishes throughout the tales. However, as soon as I said "Lemony Snicket" the idea that was permanently stuck in my kids' brains was lemon bars. So, we found ourselves baking up a batch of deliciously tart and sweet, Lemony Snicket inspired Lemon Bars. Actually, the tartness and the sweetness work perfectly with the cantankerous Count Olaf and the adorably, intelligent Baudelaire children.
Lemony Lemon Bars
For the crust
2 cups all purpose flour
1/2 cup granulated sugar
1/4 tsp salt
1 cup, chilled and cubed unsalted butter
For the filling
1 1/2 cup granulated sugar
1/4 cup all purpose flour
4 large eggs
1 1/3 cup fresh lemon juice
2 tbsp lemon zest
1/4 cup icing sugar
Begin by thoroughly buttering a 9″ x 13″ baking dish. Make sure to spread the butter on liberally. Preheat the oven to 350°F oven. Set aside buttered pan.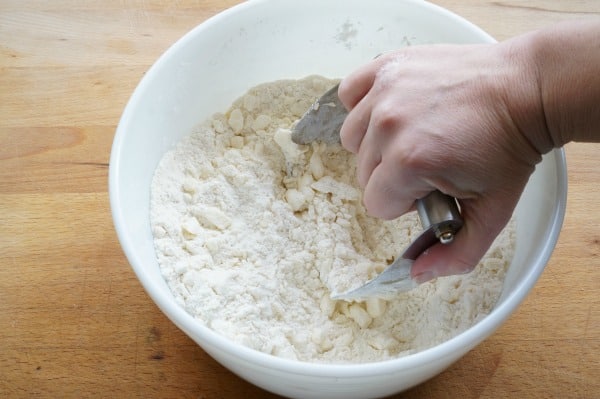 In a large bowl, whisk together flour, sugar and salt. Drop in butter and use a pastry cutter to combine the butter with the dry ingredients. Cut in the butter until the flour resembles a coarse crumb.
Dump the buttery flour into the baking dish. Use your hands (or your kids' hands) to press the flour into the pan. Press the flour 1/4″ up the sides of the baking dish. Bake in the 350°F oven for 20-25 minutes – until the edges are lightly golden.
Once baked, set aside to cool and drop the oven down to 325°F.
Okay, onto the filling. In a large bowl, whisk together the flour and sugar. Whisk in the eggs, lemon juice and lemon zest.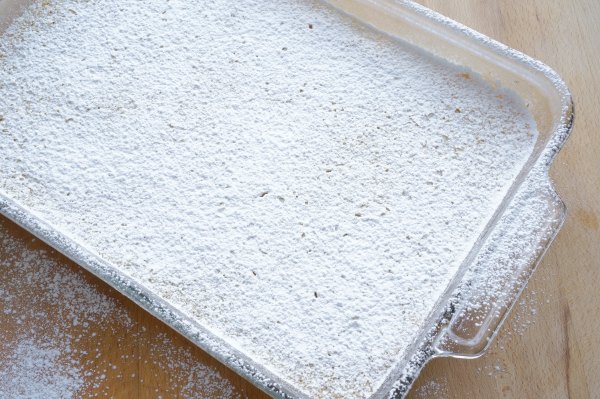 Pour the filling onto the slightly cooled crust and bake in 325°F oven for 15-20 minutes – give the pan a jiggle and the filling should be set…not jiggly.
Remove from the oven and let cool completely. Once cooled dust with icing sugar, slice and serve.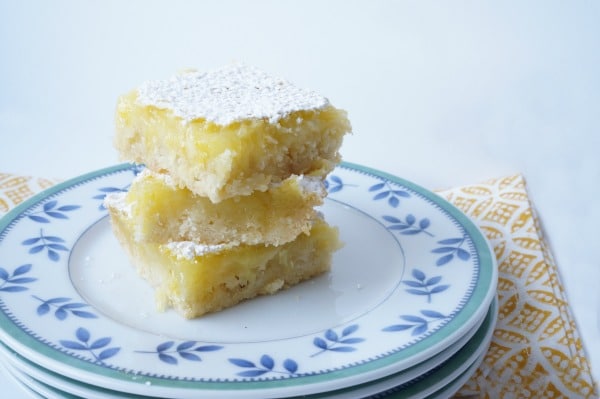 The lemon bars were gobbled up while we binge watched the first three episodes on Netflix. We cannot wait to discover what terrible turn of events Violet, Claus and Sonny will come up against next.
DISCLOSURE: I AM PART OF THE NETFLIX STREAM TEAM AND HAVE BEEN COMPENSATED FOR THIS ARTICLE, HOWEVER THE OPINIONS ARE MY OWN.
---
Related Posts
Nanny's lemon meringue pie
Kid made lemon poppy seed cookies
---
BE SURE TO SUBSCRIBE TO KITCHEN COUNTER CHRONICLES TO HAVE OUR DELICIOUS RECIPES, FUN CRAFTS & ACTIVITIES DELIVERED DIRECTLY TO YOUR INBOX.
---