At the end of the school year, my daughters brought home mountains of paper work from their classrooms. The pages were filled with drawings and stories. One particular sketch book drew my attention. As I was flipping through my youngest daughter's sketchbook I noticed that most of the pages were filled with drawings of buildings. Page after page she had drawn buildings. The drawings were the all cross-sections  of buildings…you could see the busy activity going on inside.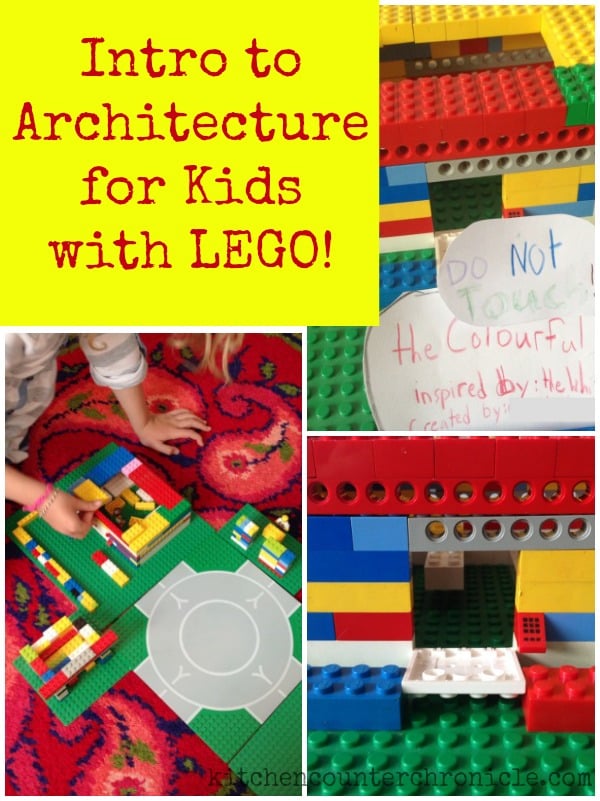 Intro to Architecture for kids with Lego
For your convenience, this post contains affiliate links
I have always known that my youngest loved houses. We used to have a bookcase specifically filled with doll houses (we called it her apartment building) where she would spend her days playing. My daughter has innate, undeniable love of buildings, houses, structures and architecture. To her, this is is simply how she chooses to play. As her mom I see this ever present passion and am always looking for learning opportunities. Enter a simple Lego game.
First, I had my daughter find a famous building from anywhere in the world. Once she chose a building, she did a little online research about the building. We try and use our computer as an educational tool…as much as possible…computers are a powerful resource. After her research was complete the task was to build her own building, inspired by the famous one.
My daughter chose the White House…an interesting choice. She decided to focus on the colour of the building, or lack there of. We talked about the different ways that her structure similar to the White House. Her building is low and wide and has a state of the art security system (thus the keypad at the doorway). However, in one way her building is the complete opposite, a rainbow of colours. I loved her vision, her description of "The Colourful House" and her funny little sign. 
This activity is a simple way to introduce architecture to kids. There is no "right" or "wrong" way to build. This isn't about being accurate, this is all about learning about structures and being creative with what you have learned. I love child-directed activities, I find for my daughters they are always the most successful. We will come back to this same activity many, many more times this summer. Research another building, construct another building and talk about it. Learning through play…is there any better way to learn?
Here are a couple of our favourite books that introduce kids to architecture.
The Future Architect's Handbook by Barbara Beck
Draw 50 Buildings and Other Structures by Lee J.James
Iggy Peck, Architect by Andrea Beaty
---
Related Posts  
Build a Lego Solar System
Play a Lego planetary orbit game
---
LOOKING FOR MORE WAYS TO CONNECT WITH YOUR KIDS THIS HOLIDAY SEASON?
COME JOIN KITCHEN COUNTER CHRONICLES ON FACEBOOK AND PINTEREST.
BE SURE TO SUBSCRIBE TO RECEIVE OUR IDEAS DELIVERED TO YOUR INBOX.
---