Books offer a unique way into conversations about difficult topics. Whether it's exploring war, racism or Residential Schools, reading the pages of a book can help children, and adults, learn and understand other people's experiences. As we approach Orange Shirt Day we've pulled together a collection of books about Residential Schools for children.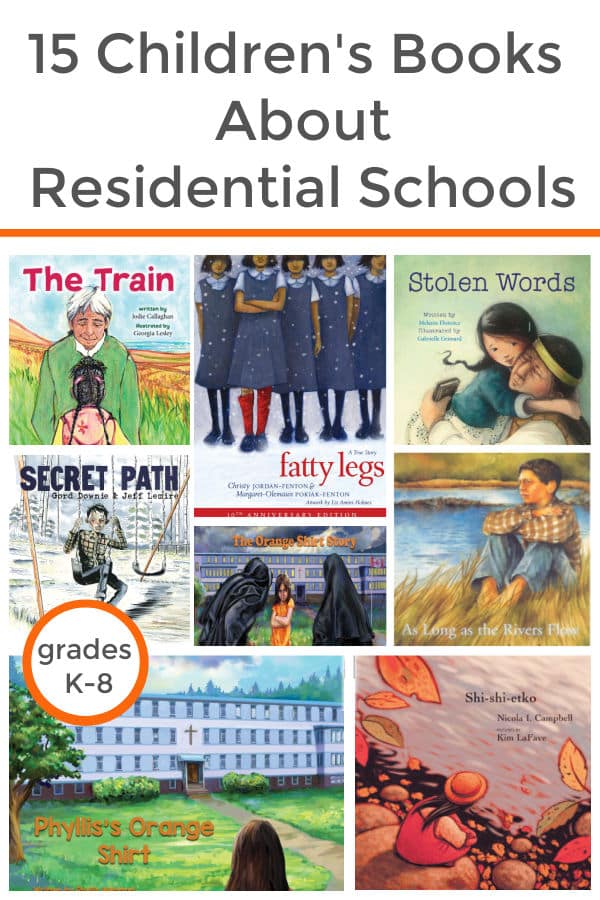 Disclosure: There are Amazon Affiliate links in this article which means, at no additional cost to you, we could receive compensation for our recommendations. You can read our full disclosure policy on our Disclosure Page for more details.
What is an Indian Residential School?
Before I get to the list of books I wanted to start with a brief explanation of the history of residential schools within Canada. In the late 1800s, the Canadian government established the Indian Residential School system. The school system would continue to exist and operate until the 1990s. Residential schools were created with the goal of assimilating Indians, in particular Indian children. Approximately 150,000 First Nations, Metis and Inuit children (aged 4-16) were forced to live and "learn" in residential schools across Canada.
During the 10-12 months each year, they lived at the schools, these children were stripped of their native identities. They could not speak their native languages – only French or English. They had to take on the religion of the school (Catholic, Methodist, Presbyterian, Anglican and United). The children were forced to wear a uniform and cut their hair. They were subject to ongoing racism, sexual assault, physical and psychological abuse. Most importantly, they were cut off from their families and their native communities.
While Residential Schools are now closed, the consequences of this multigenerational abusive system will continue to unfold for many years to come. As a white Canadian woman, this is my academic interpretation of the history of residential schools. I know that I cannot possibly offer up the best perspective on this subject, it is not my lived experience. This is why I am reaching for books. In my experience, it is best to listen, read and learn from the people who have lived the experience.
This collection of books about residential schools includes true and fictionalized stories. The stories are suitable for young readers, thru to teens. In fact, these are great books for adults to read as well. This is a great list of books for Orange Shirt Day at home or in the classroom.
Books About Residential Schools for Kids
When I Was Eight by Christy Jordan-Fenton & Margaret-Olemaun Pokiak-Fenton – The Olemaun, a strong-willed eight-year-old Inidegnous girl who is determined to learn how to read. Her desire to learn to read leads her to a residential school, where she is renamed Margaret and forced to cut her hair…and is not taught to read. However, Margaret overcomes the chores and challenges of residential school and escapes into the pages of her favourite book. An adaptation of the original "Fatty Legs" story for younger readers. Grades K-4
I Am Not A Number by Dr. Jenny Kay Dupuis & Kathy Kacer – A young girl's story of her first year at a residential school. She fights to hold onto the memory of her loving family and is proud to know that while they have tried to take her identity, she is not a number. Grades 4-7
When We Were Alone by David A. Robertson – When We Were Alone follows the shared memories of a grandmother with a curious grandchild. The grandmother gives her granddaughter glimpses into her time at the residential school and how that time impacts how she lives her life now. An easy reader for younger children. Grades K-3
Shi-shi-etko by Nicola I. Campbell – In the few days before Shi-shi-etko departs for residential school, she spends time with her loved ones and gathers momentoes and memories. A beautifully illustrated window into the life of a child before she is pulled from her family. Grades 2-6
Shin-chi's Canoe by Nicola I. Campbell – Shi-shi-etko helps her younger brother prepare for his first year at residential school. Although they will be separated from each other and their family for months on end, they dream of taking a trip in their own canoe when they return home. Grades 2-6
Stolen Words by Melanie Florence – When his granddaughter asks questions about the Cree language, this grandfather is forced to face the consequences of his residential school experience. Sharing his story with her brings them closer together and this lovely granddaughter helps him reconnect with his Cree language…bringing back the words that were stolen so many years ago. Grades 1-3
The Train by Jodie Callaghan – A young niece spends time with her great-Uncle, playing in the fields near an old train track. When the niece notices sadness in her great-Uncle's eyes she asks him why he is so sad. He tells her about his memories from his childhood of the train that arrived on those tracks and took him and other children to the residential schools. He details his experiences and as tears well in his eyes, she tries to understand how that could happen and asks what she can do to help him. Grades 1-3
As Long As the River Flows by Larry Loyie – The beautiful story of the summer before Larry must leave his Cree community for residential school. Larry's summer is filled with family and adventures of a child enjoying the land where he lives. Sadly, the ending of the book is his departure for residential school, when Larry's life changes forever. Grade 4+
Phyllis' Orange Shirt by Phyllis Webstad – This book tells the story that inspired the annual Orange Shirt Day. When Phyllis' granny takes her shopping for a special orange shirt, to wear to her first day of residential school and it is stripped from her, it has a profound impact on this young child. A good introduction to residential schools for very young children, with rhyming text and bold illustrations. Preschool-Grade 1
The Orange Shirt Story by Phyllis Webstad – The Orange Shirt Story provides more detail of the life of Phyllis and her experience at the residential school. A deeper dive into the story that inspired Orange Shirt Day. Grades 2-4
Fatty Legs: A True Story by Margaret-Olemaun Pokiak-Fenton & Christy Jordan-Fenton – We return to the story of Olemaun and her desire to learn how to read English. This edition is written for older readers and delves deeper into her life at a Northern Residential School. Grade 4-8
A Stranger At home: A True Story by Christy Jordan-Fenton & Margaret-Olemaun Pokiak-Fenton – When Margaret (Olemaun) returns to her Inuit community after being away at residential school for 2 years, her family and community have a difficult time welcoming her back. This book details Margaret's experience returning home to a place she no longer feels connected to. This book provides a look into the devastating impact the residential school experience has had on families, individuals and communities across Canada. Grades 4+
No Time to Say Goodbye by Sylvia Olsen – The fictionalized story of 5 Tsartlip First Nations children who are taken to live at the Kuper Island Residential School. The book follows their 5 different experiences with adapting and coping with the harsh realities of living at the residential school. Grade 4-8
Sugar Falls: A Residential School Story by David A. Robertson – Sugar Falls is a powerful introduction to the realities and impacts of residential schools on Indigenous Canadians. Based on the true story of Betty Ross and her lived experiences, told through the pages of a graphic novel. This book addresses the harsh realities of physical and psychological abuses and the long-term negative impacts that residential schools had on these children. Grades 7+
Secret Path by Gord Downie & Jeff Lemire – The story of Chanie Wenjack as told through music and a beautifully illustrated graphic novel by renowned Canadian Gord Downie. When Gord Downie heard Chanie's story he was inspired to create this epic book and music experience. Chanie Wenjack was a 12 year old boy who died after escaping his residential school and attempting to walk to his home community…400 miles away. Grades 7+
If you have a book you think we should add to our list, please share it in the comments below.
---
Related Posts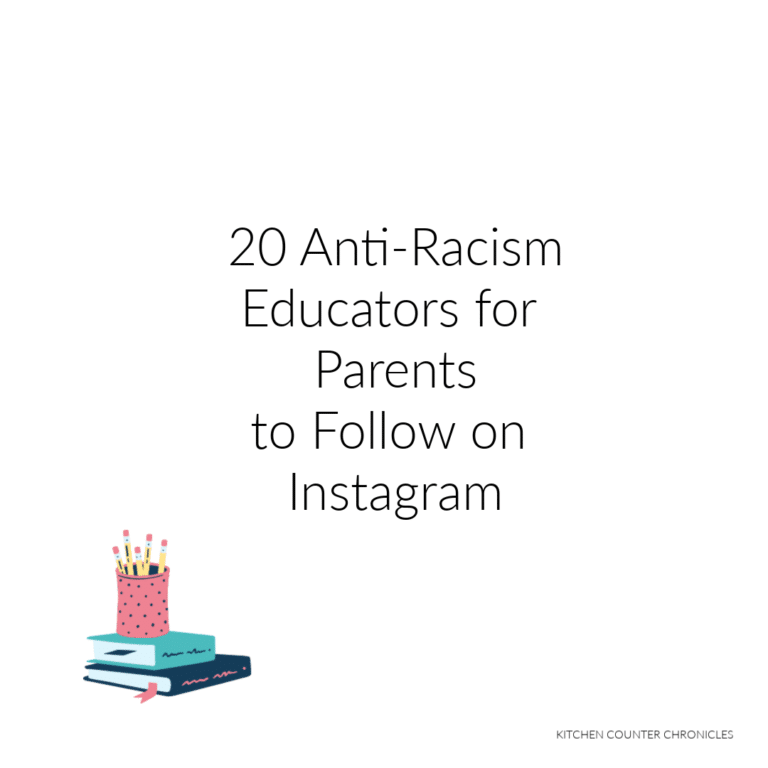 Discover 20 anti-racism educators to follow on Instagram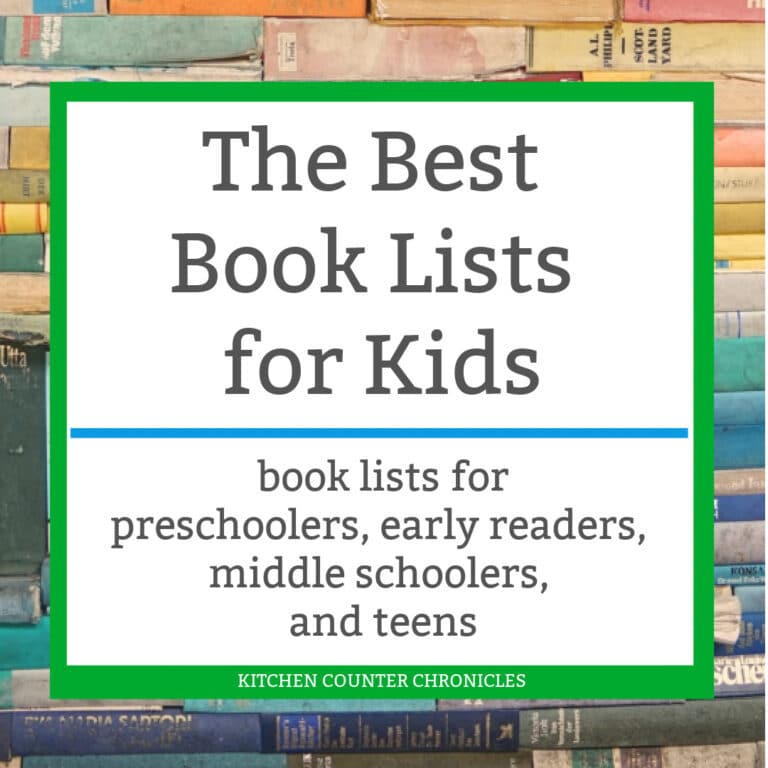 Dive into our EPIC list of great children's books– covering all kinds of topics and themes
---
Make sure you are following along…
SUBSCRIBE TO KITCHEN COUNTER CHRONICLES TO HAVE OUR DELICIOUS RECIPES, FUN CRAFTS & ACTIVITIES DELIVERED DIRECTLY TO YOUR INBOX.
FOLLOW KITCHEN COUNTER CHRONICLES ON