It can be intimidating and challenging to know where to begin a new project. If that project is a life-altering quest to live an anti-racist life – the fear can stop you in your tracks. But, we can't let the fear, the intimidation hold us back from creating a better society for our children, our neighbours and ourselves to grow up in.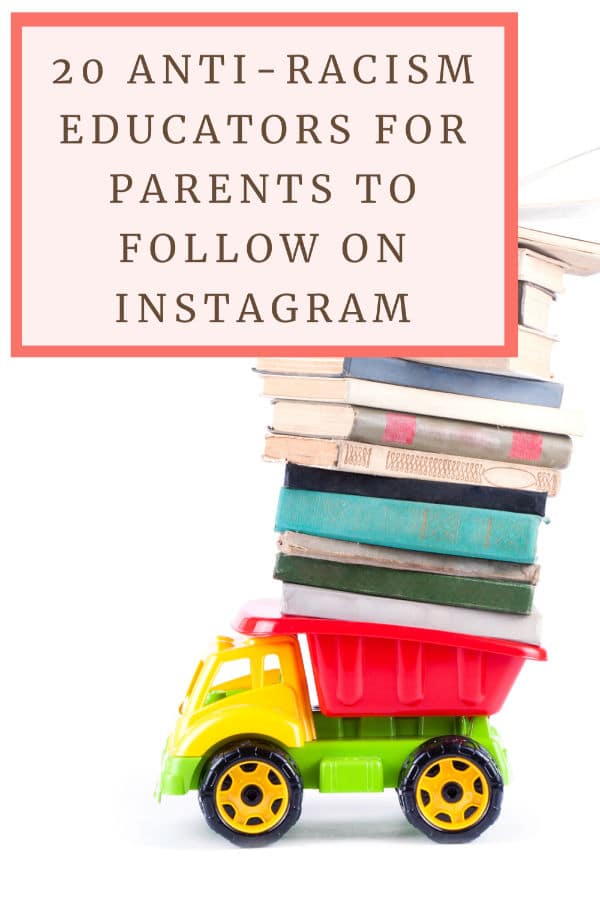 I am learning the best way to move forward is to first listen to others. Look for the experts and listen to everything they have to offer. When it comes to anti-racism the experts are waiting for us to step up and learn.
I don't know about you, but I spend a lot of my time on Instagram. Without even realizing it, I consume a lot of news and information over there. So, this is why I've compiled a collection of some amazing Black educators and authors to follow on Instagram. These women, and men, are a tremendous resource for parents. They are sharing books, online lessons, advice and their personal stories with followers…they are doing tremendously important work. I hope that you will check out these folks, give them a follow and fill your Instagram feed with more diversity. To me, this is an important step for parents who want to raise anti-racist children and lead an anti-racist life.
20 Anti-Racism Educators for Parents to Follow on Instagram
Diverse Reads @diversereads – Diverse Reads is a fantastic source of books for young children. New book recommendations daily.
Teacher Magic @teachermagic – Take a peek through the window into the life of a Black teacher. Sharing educational information and inspirational ideas.
Biracial Bookworm @biracialbookworm – Mother and teacher, Bethany shares book recommendations for older children. She also shares her experience living as a biracial woman in America.
Love Tanesha @love.tanesha – Tanesha Forman is a force. You will be inspired by all of the anti-racism work that she has done. Be sure to check her website for online resources for addressing racism and social justice in the classroom, in the home and in the community.
Black Baby Children's Books @blackbabybooks – A fantastic place to discover books featuring Black characters. There is a huge need for more Black children being featured in children's literature…representation matters.
Monique Melton @moemotivate – Monique Melton is an anti-racism educator, podcaster, author and much more. Her Instagram account is a fantastic resource for parents who aren't sure where to start. She offers online anti-racism courses and is always sharing insightful pieces of information that educate her audience.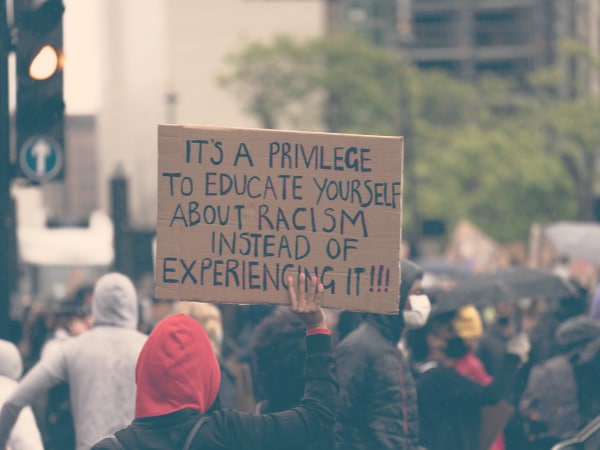 A Kids Book About @akidsbookabout – A Kids Book About is a series of books that explore a wide range of topics and makes the information easily accessible for children. For example – A Book About Racism or A Book About Disabilities.
Education With An Apron @apron_education – Another great teacher Instagram account. Providing free 0nline resources for parents to educate themselves and their kids about all kinds of topics, including racism.
Helping Kids Rise @helpingkidsrise – Sharing diverse and inclusive books for children of all ages
Here Wee Read @hereweeread – Here We Read is a source of an amazingly bountiful and thoughtfully recommended books for kids. So many books!!
The Conscious Kid @theconsciouskid – The Conscious Kid is also all about being a conscious parent. Examing the school systems that perpetuate racism and inequality.
Read Like a Rockstar @readlikearockstar – Naomi O'Brien shares clear and concise information that is easy to understand and is highly educational. Here Guides for Talking About Racism for families are amazing resources for all parents.
The Tutu Teacher @thetututeacher – I want to go back to school and have Vera teach me. The Tutu Teacher is a great resource for parents who are wondering how to have challenging conversations with their kids about racism. An informative, educational and approachable voice.
Little Black Book Nook @littleblackbooknook – The Little Black Book Nook is filled with book recommendations that address diversity and social justice – environmental issues, women's rights and more.
Kwame Alexander @kwamealexander – Kwame Alexander is a poet, author and father. He shares books that highlight diversity and stories of Black youth. He is always involved in interesting conversations with other authors and educators.
Afrominimalist @afrominimalist – The Afrominimalist is the Instagram account of author Christine Platt. Christine Platt is the author of the Ana and Andrew book series – two Black siblings travelling around the world and having amazing adventures. She is also currently releasing her second book in The Story Of… series – the newest edition will feature The Story of Martin Luther King Jr.
Tiffany Jewell @tiffanymjewell – Tiffany Jewell is the author of the best selling This Book is Anti-Racist: 20 Lessons on How to Wake Up, Take Action and Do The Work. This is her passion and it pours into her Instagram account. Educating, calling readers to action and offering tool…like her amazing book…to guide the way.
Mr. Woods @wonderingwithwoods Mr. Woods is another one of those teachers I wish I had when I was growing up. On his Instagram page, Mr. Woods shares his opinions and experiences, often through the use of video. His positive attitude and totally engaging personality make you want to sit down and learn…as a parent and as a kid.
Black Education Matters @black_education_matters – Another must-follow account for parents who love a good book list. BEM includes lists and online resources for young children through teens.
Okay, these are a handful of amazing Instagram accounts of Black educators and authors, who I think you should be following. By following these folks and interacting with their accounts you are opening up to listening and learning stories and experiences you might not have been truly listening to before.
Do you have an account you'd like to recommend, drop the name in the comments below or send me a quick email. I'd love to know the diverse voices you are listening to right now.
---
Make sure you are following along…
SUBSCRIBE TO KITCHEN COUNTER CHRONICLES TO HAVE OUR DELICIOUS RECIPES, FUN CRAFTS & ACTIVITIES DELIVERED DIRECTLY TO YOUR INBOX.
FOLLOW KITCHEN COUNTER CHRONICLES ON