This year will be our third year building a home for fairies in our garden. My girls love the magic of fairies. In fact, when my youngest daughter asked me yesterday if pixies are real, my eldest daughter said "I believe in pixies and fairies". I have to say, I believe in pixies and fairies…why not? So, if there are fairies it makes sense that they might need a house. Three years ago we made houses out of popsicle sticks. We also made winter fairy houses out of empty yogurt containers. This year we stepped things up…we decided to weave a fairy house for our fairy friends.
First, we planted some begonias and moss in our rectangular garden boxes. Every year we use the same containers for our fairy gardens. My daughters chose the flowers and helped to plant the gardens. They strategically place the plants, allowing enough room for the fairy house and anything else they might have planned. Each daughter has her own container. Next, we gathered up some sticks and made a stick tee-pee which would become the fairy house.
My girls ripped scraps of flanellette into 1/4″ thick strips. Our scraps were already cut pretty short, you might want to try and make the pieces as long as possible. Once the pieces were cut, my girls then tied each piece together…creating a long rope.
I stepped in to do the weaving…it was a little to finicky for my girls. I started by tying the rope around the top of the tee-pee and then weaving the rope through the sticks, leaving one side open, all the way to the bottom of the tee-pee.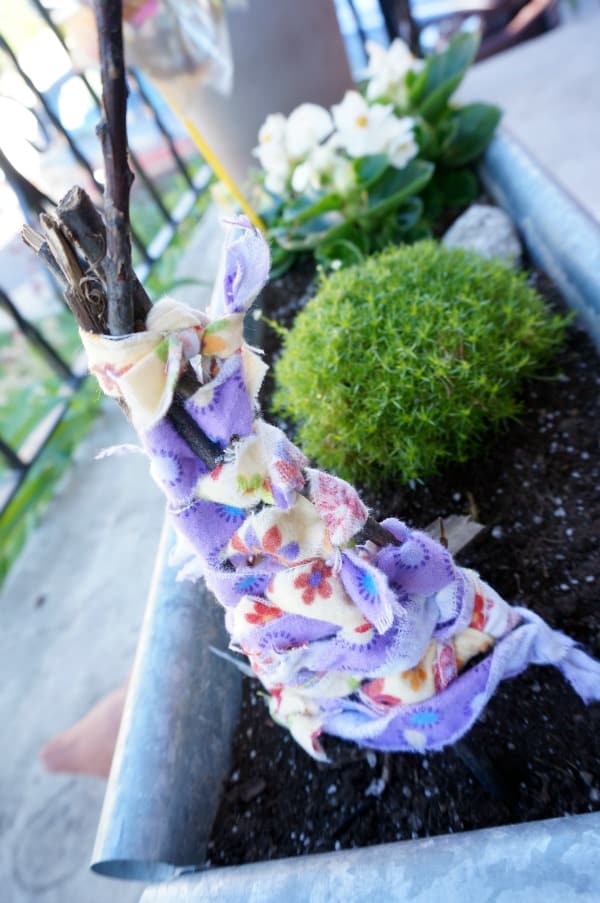 I know the pictures don't really do these sweet little fairy houses justice. They turned so really well. My girls added some rocks, a piece of an old aluminum container became a "pond". Here's the final fairy garden…
I really enjoy making fairy gardens and houses. This is something I never made as a child. I am so glad that I have introduced this to my daughters. I have a feeling that I will be making fairy gardens long after my daughters have lost interest.  We build fairy gardens everywhere we go; in the schoolyard, in the park and at the beach. I mean really, you never know when a fairy might need a place to rest her head at night.