Christmas is the perfect time to bust out a beautiful holiday vegetable tray. We've shared all kinds of fun and festive Christmas vegetable platters over the years. We've even shared vegetable trays and fruit trays that are great for all the holidays. It was so much fun to build this delightful Christmas tree vegetable platter.
Disclosure: There are Amazon Affiliate links in this article which means, at no additional cost to you, we could receive compensation for our recommendations. You can read our full disclosure policy on our Disclosure Page for more details.
My family has a long history with Christmas trees. My father's family is one of the largest growers and distributors of Christmas trees in Canada. When I was a kid we would gather every November and visit the tree lot, before they started shipping out their trees. Everyone would pick a tree or two. Then we would head to my great Aunt and Uncle's house for a pre-Christmas party. I have some lovely memories from those days.
Maybe that's why I had so much fun pulling together this vegetable Christmas tree appetizer? It makes me smile and I love sharing beautiful food with my family and with all of you.
How to Make a Vegetable Christmas Tree Platter
4 broccoli heads (about 4 cups of florets)
1 yellow pepper, 1 red pepper
cherry tomatoes
1 English cucumber
parsley or other fresh herbs
star cookie cutter
small round cookie cutter
Okay, let me begin by saying this Christmas tree will probably turn out best if you build it on site. So, if you are planning on taking this to a party, bring everything with you, prep the veggies at home and then build it at the party. Yes, you could build it at home and transport it covered tightly with plastic wrap…but I think ideally it is best to build it where it will be served.
The very first step is selecting your vegetable platter. I chose to build ours on a wood cutting board. I made one tree directly on the board and one tree on a piece of crumpled parchment paper. If you have a festive Christmas platter, go for it! Bear in mind, the size of your platter will determine the size of your veggie Christmas tree.
First up is preparing the broccoli florets. Cut your broccoli heads into small, bite-sized florets. A variety of sizes works best. I used 4 small broccoli heads for this board. Prepare enough for the tree and then a bowl of extra to refresh the board as people eat. Fill a large bowl with the broccoli florets and set them aside.
Now we make the Christmas tree stump from the broccoli stalk. Use a vegetable peeler (or knife) to peel a 3-inch piece of broccoli stalk. Cut a flat side on the stalk, so it lays flat on the platter. Slice a wedge out of the top of the stalk, so the stalk can neatly tuck under the broccoli florets.
When you have the tree stump in place, begin piling the broccoli florets in a Christmas tree shape. Work your way from the bottom of the tree to the top. Start with the larger broccoli florets as the base and then add the smaller pieces to fill any holes. You want a lush, full veggie Christmas tree.
Now, it's time to work on the star topper for the tree. Clean the yellow pepper and slice it in half, removing the seeds and white pith that are inside the pepper. If you cut the top edge and the bottom curled edges off the pepper you should be able to lay the pepper out relatively flat on your cutting board. Use a star cookie cutter to cut a star from the pepper. Press firmly and you'll have a beautiful star that you can place at the top of your tree.
Don't throw away the yellow pepper scaps. Cut thin, lengths from the scraps of the yellow pepper. This will be your tree garland. Arrange it on the tree just like a holiday garland.
Next, repeat the cleaning of the red pepper. Use a round cookie cutter to make Christmas tree baubles to "hang" on the tree. Again, don't throw away the scraps, simply slice them and bring them along for folks to eat alongside your tree.
For the cucumber stars, you will need to clean and cut the cucumber into 1/4 inch slices. Either use a small star cookie cutter or freehand cut the stars with a knife. I couldn't find my cookie cutter, so freehand it was. I think they turned out pretty well.
Pop some cherry tomatoes around the tree for some added colour as little shiny Christmas decorations. They do a good job filling in any holes in the tree.
Finally, arrange a pile of parsley over the broccoli tree stump for your tree skirt. Feel free to use whatever kind of herbs you have on hand for the tree skirt.
Once your vegetable Christmas tree is complete you can serve it with our cottage cheese vegetable dip or our easy fresh herb vegetable dip. Again, be sure to have plenty of extra broccoli on hand, to fill in as the tree is eaten. Bring along all the extra veggies and serve them alongside your tree.
This Christmas tree vegetable platter is a great addition to any holiday buffet. Have fun, let the kids help, use whatever vegetables you have on hand to make it a totally delightful Christmas appetizer.
---
More Christmas Recipes
Make our festive Christmas wreath vegetable platter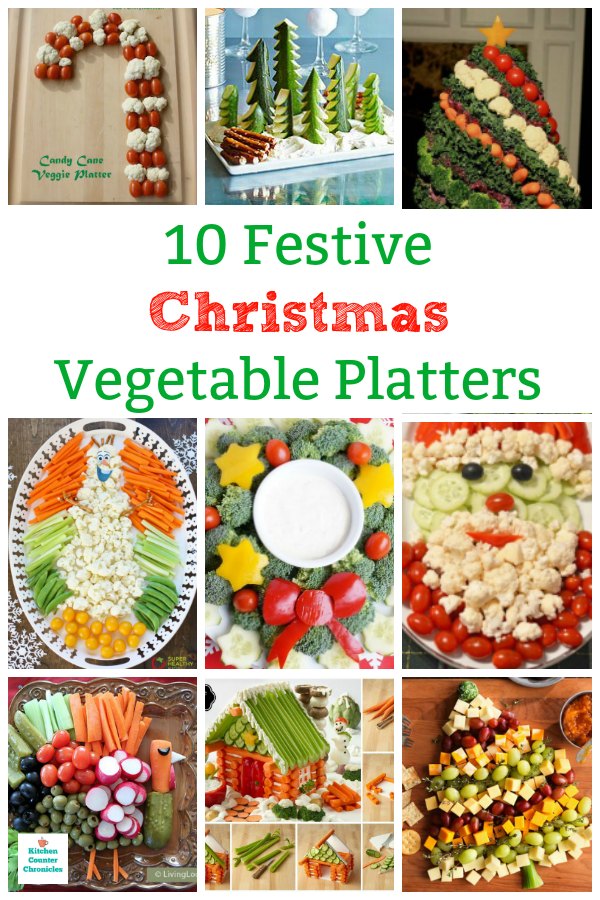 Take inspiration from this collection of Christmas vegetable platters
---
Make sure you are following along…
SUBSCRIBE TO KITCHEN COUNTER CHRONICLES TO HAVE OUR DELICIOUS RECIPES, FUN CRAFTS & ACTIVITIES DELIVERED DIRECTLY TO YOUR INBOX.
FOLLOW KITCHEN COUNTER CHRONICLES ON