I love to dip…my veggies…and so do my kids. In fact, I haven't met a kid who doesn't like to dip veggies and actually eat them. This is one of the easiest ways to get little ones to eat their vegetables. Add a bowl of dip and suddenly eating vegetables is fun and yummy. Typically we dip in hummus or tziki, our favourite dips…a little bit of garlic, smooth, thick and bright flavours. This spring I thought I would step outside of our usual dips and make a bright and healthy smooth cottage cheese dip for our veggies. Add a little garlic, chives and lemon and we have a winner – that the kids will happily eat.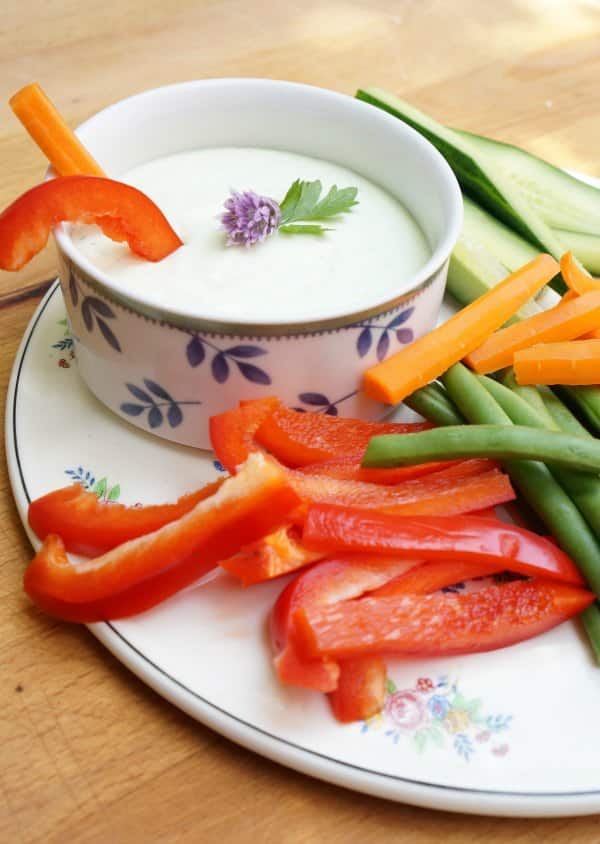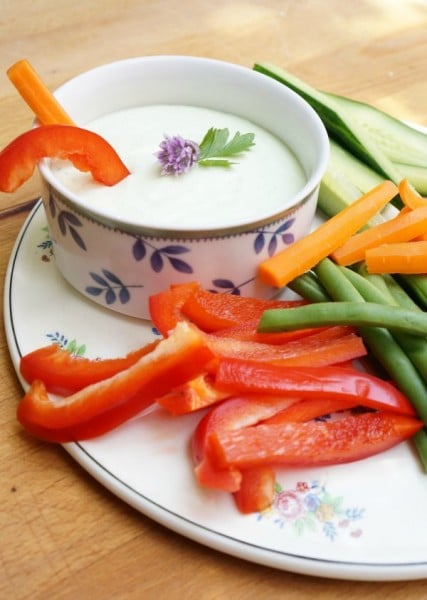 Cottage Cheese Vegetable Dip
1/2 a tub of Nordica cottage cheese
1 garlic clove minced
1 tbsp chopped chives
1 tbsp chopped parsley
1tbsp olive oil
1 tbsp lemon juice
salt and pepper
assorted dippable vegetables – carrot sticks, green beans, red pepper slices, cucumber slices, broccoli florets, snap peas, asparagus, etc.
1. Combine cottage cheese and garlic in a blender or food process – process until smooth.
2. If your children don't like to see "things" in their food – add the chives and parsley to the blender and process. If your child is okay with seeing "things" in their food, pour the cheese and garlic mixture into a medium bowl.
3. Stir chopped chives and parsley into cheese mixture…if you didn't process them previously.
4. Pour cheese and garlic mixture into a medium bowl and stir in olive oil and lemon juice.
5. Add salt and pepper to taste.
6. Serve with sliced vegetables and dip away!
Some recipes are too simple to be true…but they are true. With all the lovely fresh spring vegetables filling the farmers' market stands, now is a great time to get dipping. What will you dip?
******
Looking to have a little fun? The Nordi-Cows is back! Head to the GayLea Facebook page and check out this silly interactive game. Pick your favourite cow, and milk her twice a day, once in the morning, and once in the evening. The more you milk your cow, the more chances there are to win great weekly prizes. The contest runs from the end of May through June.
Check out the GayLea website for more great cottage cheese recipes and product information.
Be sure to subscribe to Kitchen Counter Chronicles to have our delicious recipes, fun crafts & activities delivered directly to your inbox.
Follow Jen at KitchenCounterChronicle's board Family Food and Recipes on Pinterest.
DISCLOSURE: I AM PART OF THE GAY LEA AMBASSADOR CAMPAIGN WITH MOM CENTRAL CANADA AND I RECEIVE SPECIAL PERKS AS PART OF MY AFFILIATION WITH THIS GROUP. THE OPINIONS ON THIS BLOG ARE MY OWN.