It is almost Food Revolution Day! On May 20th, and over the following days, there will be Food Revolution Day events taking place around the globe. Quick reminder: Food Revolution Day is an initiative created and championed by chef Jamie Oliver. Supporters of Food Revolution Day believe in the need for food education to be brought back to school curriculum…around the globe. With food knowledge, comes health and a better future for our children. As I said, events will be taking place in communities around the world. Our family has decided to take on host a Food Revolution Day party with kids at our house. Yep, we are throwing our 2nd annual hands on cooking party in our very own kitchen and you can too.
How to Host A Food Revolution Day Party with Kids
Where to have the party – The first thing to consider is your space. Do you have a space in your house to host a food party? We don't all have giant kitchens that can accommodate a huge number of kids…my kitchen is tiny. But, who said the party has to take place in the kitchen? It is easy to transform a dining room table into a work surface for cooking – with the addition of a plastic table cloth and cutting boards you have a work surface. Remove the chairs from your space, food preparation is typically a standing activity. Still worried about not having enough space? Take the party outside or to your basement. Be creative and don't be afraid to cook outside the box.
Who to invite – Now that you know where the party will take place, it is time to start planning the guest list. Be realistic about how many kids you can invite. The idea is for the event to be fun and engaging for the children- if you have too many kids and not enough space then kids won't be engaged, they'll be bored. Think of the space you have in your home, how many kids can you reasonably manage?
What to make – Once you have decided on who will be attending the party it is time to think about what you will make. Head over to the Food Revolution Day website and you will find a fabulous selection of recipes. Keep the recipe age appropriate. If your crowd is preschoolers, think about a recipe that you can prepare ahead of time. The preschoolers can investigate the ingredients, explore the ingredients and assemble the dish. We will be hosting kids aged 9-12 years, so the recipes we choose can be a little more complex. This year the Food Revolution team are sharing 10 delicious and basic recipes. Perfect for teaching kids. Fun, interactive and very hands on.
Gather the supplies – Now that you know how many kids and what you will be making it is time to make the supply list. This goes beyond a simple grocery list. Think about cutting boards, knives, tea towels, aprons, etc. Ask your guests to bring their own apron and cutting board…why not? Or, decide to give each child their own apron as a parting gift…it's up to you. Think through everything you will need to make the recipe ahead of time, so you aren't stuck without something on the day of the party. After all this is your kitchen, not a professional restaurant space.
Recruit Help – Moms are legendary multitaskers…but depending on the number of kids you invite, you might be taking on a bit too much. Perhaps you know a few older kids who would like to lend a hand, or an additional parent or two. Again, this depends on the number of kids and the ages of the kids. If you are working with preschoolers, it might be fun for mom or dad to stay and participate too. My advice – don't try and do it alone.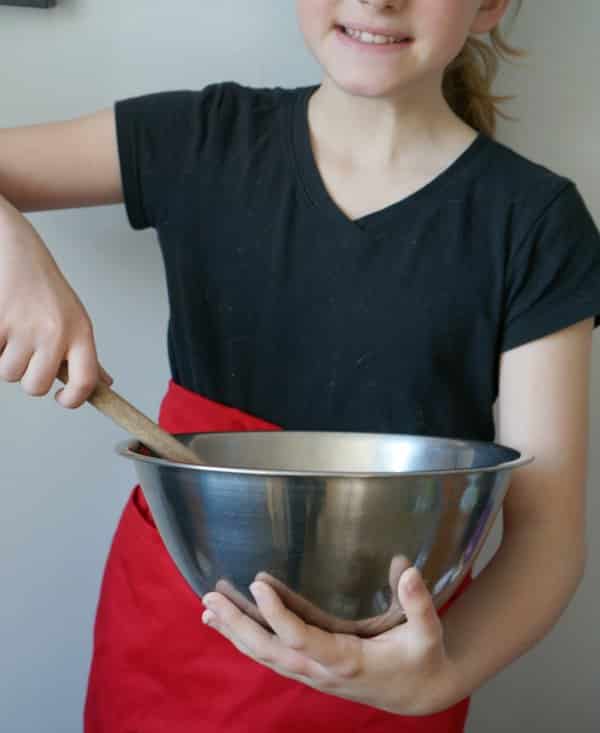 Make time for Play – A Food Revolution Day party is all about food education and getting hands on with food. Have a few food games on hand for when the cooking and eating are done. Pick up fruit and veggies that the kids might be unfamiliar with and have a "Name this Veg" game. Print off food colouring pages and crossword puzzles. Let the kids play with food.
Check out the Online Resources – Be sure to check out the classroom resources on the Food Revolution Day website. The FRD team have lesson plans, colouring pages and other resources that will help make any house party a great success. Although a home isn't a classroom, if the intention is to teach the kids, why not take advantage of all the fabulous resources available.
With a little planning and preparation a Food Revolution Day house party with kids will be an awesome experience for kids of all ages. I know I'm getting excited about our party. The invites will be going out this week.
---
Be sure to subscribe to Kitchen Counter Chronicles to have our kid activities, fun crafts & family friendly recipes delivered directly to your inbox. You may also like to follow along on Facebook and Twitter.
Looking for more fun family food inspiration? Check out our Family Food & Recipe board on Pinterest.
Follow Jen at KitchenCounterChronicle's board Family Food and Recipes on Pinterest.