The sun has been shining brightly on our little backyard garden and as a result, our plants are growing beautifully. All of our springtime planning and planting is paying off. We made a plan to grow an herbal tea garden and the first of our tea crop is ready to be harvested…chamomile. I noticed the plant was covered in tiny white and yellow flowers, ready to be plucked. I called my daughters into the garden so that I could teach them how to harvest chamomile.
How to Harvest Chamomile
The best day to harvest a chamomile plant is a dry day. Harvesting wet flowers might lead to your flowers turning mouldy instead of actually drying nicely. You will know the flowers are ready to be harvested when the blooms are completely open. The white petals should be fully extended…if they are past this point, and the petals have begun to point downward, you can still harvest the flowers. By harvesting the flowers at their peak point they will have the most essential oils in the flower head.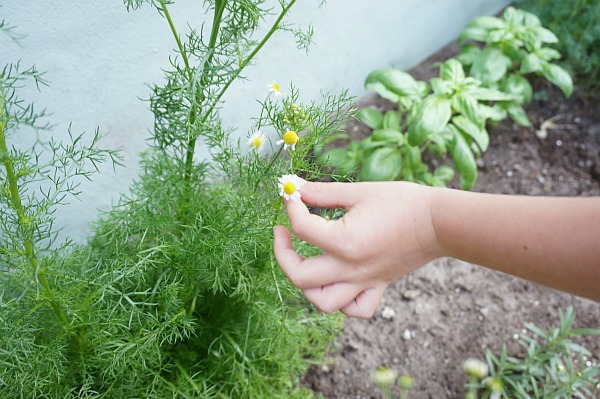 The first step in harvesting is to gently pinch the stem of the plant, just below the flower head, with your left (or non-dominant) hand.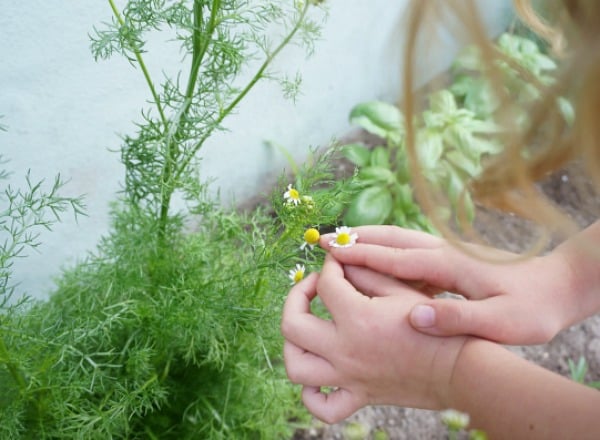 Next, place your fore finger and middle finger under the head of the flower…between the flower head and your other pinched fingers. My daughter was most comfortable facing her hand downward. On the other hand, I preferred turning my palm up. Whichever way you are comfortable will work.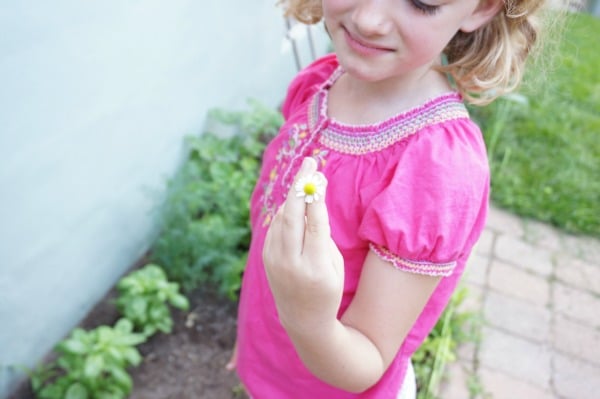 Gently pull and pop the flower head off. It is quite simple to do…they really do pop right off. In a few moments you can clean off all the flower heads. Be sure to leave behind any heads that have not come into bloom…these will be your very next crop. By removing the blooming heads the chamomile plant will reward you with many, many more flowers.
To dry the flowers, simply place them between two pieces of cheese cloth, or paper towel, in a dry spot. Once dry, place in an air tight jar until ready to use. Alternately, at the end of the summer, we will harvest the entire chamomile plant and dry the entire plant. Drying the entire plant means that you can use the leaves as well as the flowers. The flowers have a more powerful flavour than the leaves. We'll share how we harvest and dry the entire plant when the time comes.
Do you grow chamomile in your garden? Any tips for us?
---
Related Posts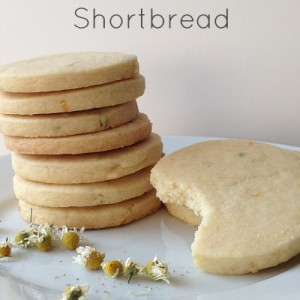 Bake a batch of chamomile & lemon shortbread cookies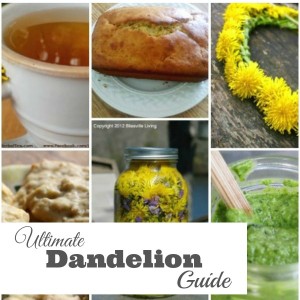 The ultimate dandelion guide – how to get rid of, recipes & crafts
---
BE SURE TO SUBSCRIBE TO KITCHEN COUNTER CHRONICLES TO HAVE OUR DELICIOUS RECIPES, FUN CRAFTS & ACTIVITIES DELIVERED DIRECTLY TO YOUR INBOX. YOU MAY ALSO FOLLOW ALONG FACEBOOK AND TWITTER.
---