This holiday we are trying to focus on thinking about the meaning of giving to others. Last week I shared a collection of posts all about ways to give in meaningful and thoughtful ways this holiday. Today, I am super excited to share a fun way that you can make a difference in a child's life this Christmas and share the joy…right from your computer.
For the second year, Kinder® has partnered with the Children's Miracle Network with the "A Joy to Share" program. Kinder® is hoping to raise $25,000 for the Children's Miracle Network. All you have to do is help your kid create a fun e-card on the Kinder® Facebook page. For every card created, Kinder will donate $1 to the Children's Miracle Network. Plus, the card you make will be sent to a child who is staying in a Children's Miracle Network member hospital. How wonderful is that?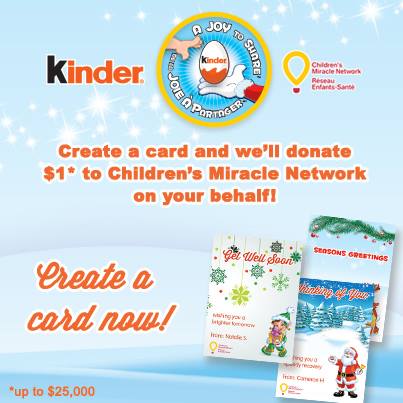 The girls and I had a fun time creating our cards on the Kinder® Facebook page. We each took a turn designing a card. My girls put a lot of thought into what another child might like on a card. This was a great way to get my girls thinking about giving to others, what other children might need and want. It can be hard for kids to understand that some kids will be spending the holiday in the hospital.
Once our cards were complete we got chatting about a story we heard on the radio that morning. We heard that there is a shortage of children's toys for the annual police toy drive. How could we help out? The girls went through a toy catalogue and picked out two toys that we will purchase and donate to the police toy drive this year. If you are looking for another fun way to give back this holiday, check out our post about making your own food bank collection box for your home.
Disclosure: I'm part of the Kinder® Mom program and Ireceive special perks as part of my affiliation with this group.  The opinions on this blog are my own