Part of our ongoing quest to lead a "green" life includes teaching our kids how we can grow our own food. The last few years we have been growing vegetables in our tiny backyard. As small as our garden space is, we do manage to grow a good variety of vegetables and herbs. We have shared many home garden ideas and a vegetable garden is definitely on our family's to-do list.
This year I asked the girls what they wanted to grow in the garden. If kids are involved in the planning process then they are much more committed and will enjoy gardening even more. From planning, purchasing the plants, growing our seedlings through to planting the vegetables – the girls were totally involved. Last weekend we got busy planting this years herb and vegetable garden. Check out our collections of herbs and vegetables to grow with kids.
First, we gathered up our seedlings…that have been growing on our window ledge. We went to the garden centre to purchase those vegetables and herbs that we didn't grow from seed.
When the fear of frost passed, we jumped into our backyard and got our hands dirty planting.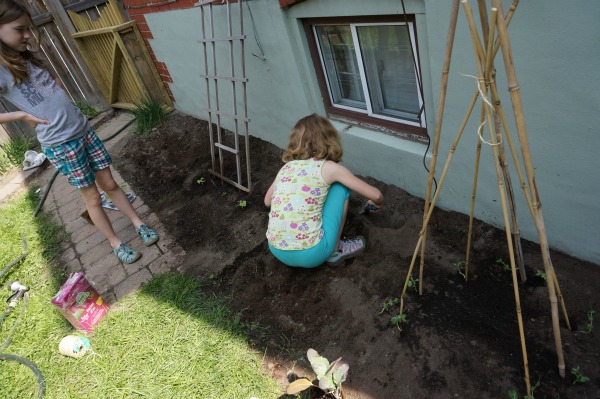 What to Plant in a Kids' Vegetable Garden
What did we plant in our kids' vegetable and herb garden this year? Well, we aimed for vegetables and herbs that we can preserve, dry and use long after they are harvested this fall. We really want to try making our own dill pickles, our own herbal teas, salsa verde and tomato chutney. Preserving food is such a lost art. I'm trying to bring it back. I'm actually looking forward to the fall just so we can get harvesting and preserving our herbs and veggies! Why not grow some herbs and veggies along with us? Here's a collection of great herbs and vegetables to grow with kids. These plants are hardy, easy to grow, are good producers and are fun to watch grow. Perfect for kids!