My eldest daughter was in junior kindergarten when she first learned a festive Halloween song "5 Little Pumpkins". She loved the hand actions that went along with the song and it quickly became a family favourite. So, when I was thinking about making a new
Halloween craft for the kids
I took my inspiration from this song.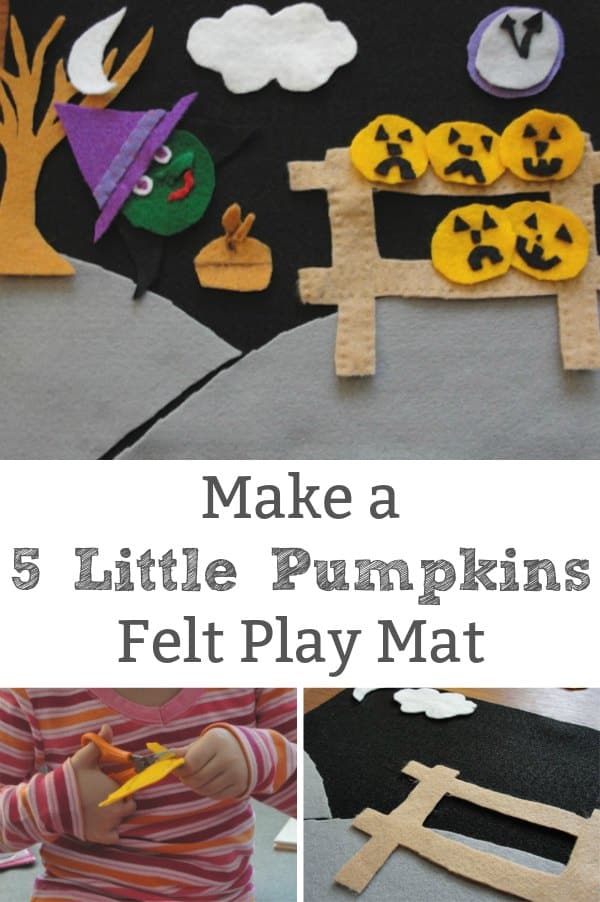 Disclosure: There are Amazon Affiliate links in this article which means, at no additional cost to you, we could receive compensation for our recommendations. You can read our full disclosure policy on our Disclosure Page for more details.
Even after all these years we still are in the habit of singing the song. If you have a preschooler or a child in kindergarten then you might be familiar with this song by Raffi. We love the recorded a version on his 1996 album
Singable Songs Collection
.
We decided to take the song to the next level and create our very own 5 little pumpkins felt play board. My daughters have a couple of different felt story boards. These boards allow them to use their imaginations and play independently…which I love!
5 Little Pumpkins Felt Play Mat
For the Background
Cut the grey felt sheet into "rolling hills"
For the 5 little pumpkins
For the Witch, Clock and Running Shoe
To make the witch start by cutting a circle out of green felt (for her face) and a small wedge of green felt (for her nose). Cut 2 small circles out of the white felt for eyes. Cut the hat out of purple felt and the hair out of the black felt. Finally, cut a mouth out of the red felt.
For the clock, cut a circle (about 2 inches diameter) out of purple felt and slightly smaller of white felt. Cut the clock hands out of black felt. Assemble clock using either fabric glue or thread.
Finally, draw a running shoe and cut out of the brown felt (my daughter made the running shoe, she's very proud of the running shoe).