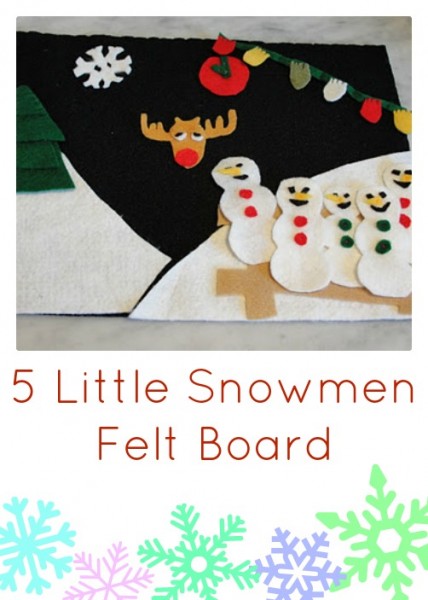 Yesterday we had our very first snowfall.
Great big fluffy snowflakes filled the air. The kids were beyond excited…beyond! I had forgotten how wonderful the first snowfall can be. After I dropped the girls at school for the afternoon, I went for a walk to enjoy the snow.
Sadly, as fast as it came – it left. As I walked back home I could hear the melted snow flowing out the downspouts of every house. Gone.
Seemed like the perfect time to bust out our 5 Little Pumpkin felt board and give it a winter makeover.
5 Little Snowmen
5 Little Snowmen sitting on a gate
The first one said, "oh my its getting late"
The second one said, "there are reindeer in the air"
The third one said, "but we don't care"
The fourth one said, "let's run and run and run"
The fifth one said, "isn't Christmastime fun!?"
Then oohh went the snow
And out went the Christmas lights
And 5 little snowmen rolled out of sight
Last winter the girls and I made these changes to the original song as a way to continue singing our fall favourite. We made a few simple alterations to the song and the board…
pumpkins = snowmen (white felt shapes)
flying witches = flying reindeer (brown felt shapes)
wind = snow (white felt snowflake)
lights = Christmas lights (colourful felt shapes)
Also, I updated the board by blanket stitching a green piece of felt to the back side of the black felt. I only sewed 3 sides, creating a pocket. Inside the pocket I slipped a piece of cardboard (cereal box). Now, our felt board is firm and can be easily played with on my girls laps!
Such a simple and fun activity for kids of all ages. A super fun way to celebrate the first snowfall of the year!