Does playing with your kids take you back to your own childhood. In this post, we create a cool game to play with marbles.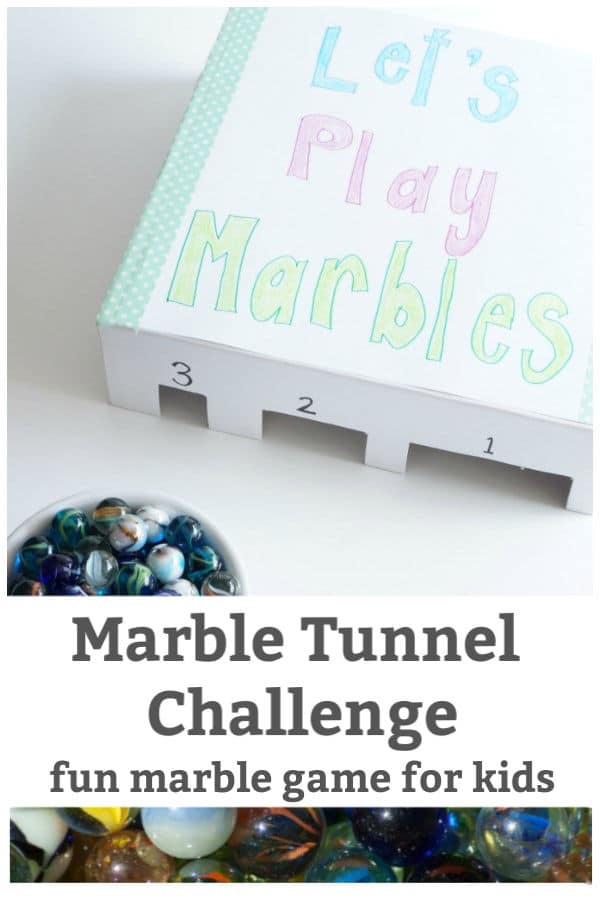 Disclosure: There are Amazon Affiliate links in this article which means, at no additional cost to you, we could receive compensation for our recommendations. You can read our full disclosure policy on our Disclosure Page for more details.
How many times have a I started a sentence with these five words?
"When I was a kid…"
Those words are usually followed up with a tale of growing up in an age before cell phones, iPads and computers. The "glory days" when summer break meant playing outside all day and coming home when the street lights came on.
Kid games didn't involve anything needing to be plugged in.
Right?
This can be a really hard concept for kids to understand. To be honest, sometimes I find it hard to believe. However, sometimes when I'm playing with my kids I am taken straight back to those carefree summer days. Recently, my daughter was given a box of marbles and those little glass marbles took be straight back.
I try my best to introduce my kids to simple games and activities that I played when I was a kid. We jump rope, play hop scotch and build forts in the backyard. So it seemed like a great chance to create a fun game to play with marbles. Funnily, I had forgotten how much it hurts your finger when you flick a marble.
Fun Marble Game for Kids
The Marble Tunnel Challenge
empty cardboard box
scissors
markers
marbles
sidewalk chalk or painters tape
You will want to start by decorating a cardboard box. We used a shoe box…well, a boot box. Decorate the box any way you like.
Use the scissors to cut a small hole, that is a little bit wider than a single marble. Write "3" – 3 points – above the hole with a permanent marker.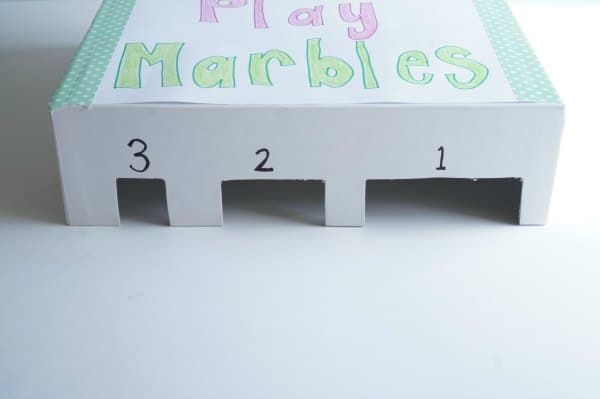 Use the piece of cardboard that you cut out from the first hole, to make the second hole twice as large as the first. Write "2" – 2 points – above the hole with a marker.
For the final hole, use the cardboard you removed from the second and first hole, to make the third hole three times as large as the first hole. Write "1" – 1 point – above the hole with a marker.
Set the box down on a smooth surface, like the driveway, and use chalk or painters tape to mark the position where the marbles must be flicked from.
Let the challenge begin. Have the kids take turns shooting, flick or roll the marbles into the various holes.
If a marble makes it through a hole, the appropriate number of points are awarded.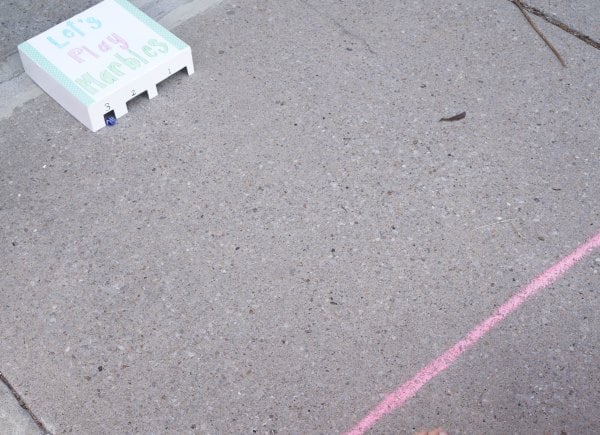 Keep score with the sidewalk chalk. The player with the most points wins.
In the end, I was not the player with the most points. It was a real challenge to get the marble through the 3 point hole. I know we will have a rematch.
This is such a simple game to play with marbles. Change up the terrain – try playing on a bumpy surface, the lawn or on a slope. Place an obstacle in the way. Maybe you need to take multiple turns to get the marble in the hole?
How would you switch up the marble tunnel game?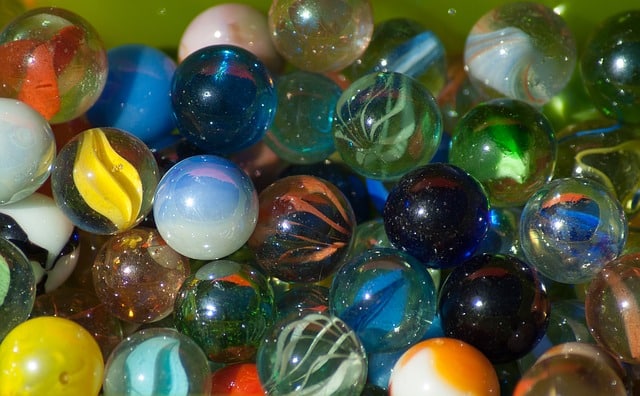 Is the low tech world of summer games more fun than today's gadgets? Well, this marble game certainly did engage my daughter and we laughed a lot. I love introducing my girls to the things I liked to do when I was a kid. Perhaps one day she'll tell her kids all about playing marbles way back "when she was a kid".
---
Be sure to check out our other retro crafts and activities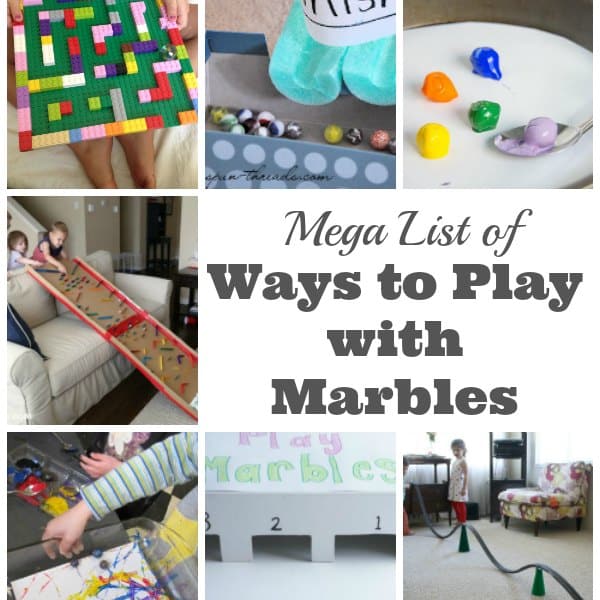 A Mega List of fun games to play with marbles and marble activities for kids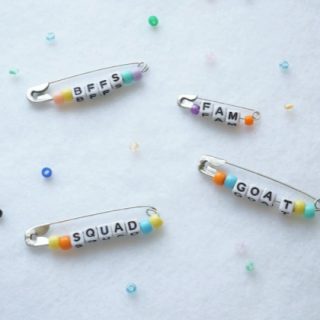 Grab the beads and make a totally 80's friendship pin to share
---
Today's post is part of the Summer Throwback Blog Hop, being hosted by Playground Parkbench. Be sure to check out all the awesome classic games being shared. What cool game did you love playing when you were a kid?
---
Make sure you are following along…
SUBSCRIBE TO KITCHEN COUNTER CHRONICLES TO HAVE OUR DELICIOUS RECIPES, FUN CRAFTS & ACTIVITIES DELIVERED DIRECTLY TO YOUR INBOX.
FOLLOW KITCHEN COUNTER CHRONICLES ON