Let's face it, chicken is a staple in most houses. After a while, trying to come up with yet another way to prepare chicken can get boring. So, we end up making the same dishes over and over again. But, that's why I've pulled together this collection of delicious easy peasy chicken recipes. Simple, quick and family-friendly.
Disclosure: There are Amazon Affiliate links in this article which means, at no additional cost to you, we could receive compensation for our recommendations. You can read our full disclosure policy on our Disclosure Page for more details.
I like to think of myself as being a totally prepared person. But, in reality, I usually end up pulling together dinner at the last minute. This is why I love these chicken recipes. They don't require specialty items. A well stocked pantry and a couple of pieces of chicken are all you need. Chicken pasta dishes, chicken stews, chicken stir fry, chicken casseroles, and more! Let's go!!
Easy Peasy Chicken Recipes
Chicken and Rice Recipes
You really can't beat a good bowl of chicken soup. And, our chicken with rice soup is packed with veggies too. The perfect remedy for your cold and a great addition to the school thermos.
A Farm Girl Dabbles shares a quick, easy, and delicious Honey Garlic Chicken Bowl recipe. Tender, lightly crispy chicken tossed in a sweet and sticky garlic sauce, and then served over rice. Add your family's favorite fresh vegetables to make it a meal!
---
This Toshiba rice cooker is very well reviewed and rated. Such a handy kitchen appliance for families.
---
Chicken Salad Recipes
This couscous chicken and mango salad is great for the school lunch box, or make a big batch for a potluck. The addition of sweet mango is amazing.
We love a good salad bowl. Adding all kinds of ingredients into one bowl and then tossing them all together is a great dinner option for picky eaters. This chicken spinach salad bowl is packed with strawberries, quinoa, and more.
Roast Chicken Recipes
Tired of the same old roasted chicken dinner? Check out our Greek roast chicken. Add all the Mediterranean flavours to the roasting pan and you won't be having the same boring chicken again.
Our classic sweetheart roast chicken recipe is a Sunday special in our house.
---
You can't go wrong with a simple roasting pan with a good rack.
---
Chicken Stew Recipes
We took a culinary trip around the world and discovered a new family favourite – Kenyan Swahili pilau. This pilau dish brings together Kenyan spices, rice and chicken in a deliciously stewed together dish.
This Moroccan crock pot beef stew will warm you up with warm spices and is the perfect dinner for a chilly day.
Did you know that chicken tikka masala is one of the most popular dishes in the UK? We love making a big batch on a Sunday night and then enjoying the leftovers in the kids' lunch boxes all week long. It takes a little time to make, but the flavours are so deep and delicious, it is worth the effort.
And, this Moroccan-inspired chicken stew has the warm spices and sweetness from dried apricots and raisins. Served with a big batch of couscous, this dish will transport you to Morocco.
Chicken and Noodle Recipes
A simple sweet and sticky sauce brings buckets of flavour to this chicken vegetable stir fry recipe. Served with noodles or rice, stir fry is a quick and easy, family friendly recipe.
Easy Chicken Lo Mein Recipe is sure to be a family favorite recipe that you can make quickly and easily on a weeknight from April Go Lightly.
Chicken Crockpot Recipes
This is a crockpot twist on chicken pot pie. The chicken pot pie filling cooks in the crockpot and then you top each serving with individual pie toppers. A lovely dish for large family gatherings.
You probably have everything you need to make this crock pot sticky chicken thigh recipe in your pantry right now. It takes 10 minutes to prep…which is great for a weekday morning…right?!
Platter Talk takes advantage of a classic secret ingredient for this creamy crock pot chicken recipe…head to your grocery store soup aisle for this one!
---
We love our Hamilton Beach slow cooker. It's perfect for our family of four.
---
Chicken Sandwich Recipes
This chicken caesar salad wrap from Butter Your Biscuit packs all the caesar salad flavours into a wrap sandwich. Perfect kid-friendly way to get the kids to eat their greens.
Food Meanderings shared an easy recipe for chicken souvlaki pita sandwiches. This is a great busy weeknight dinner option. Throw everything in a pita and go.
Everyone will love eating chicken parm in the form of a slider. This easy-to-make shredded chicken sandwich recipe is the perfect easy weeknight dinner.
Chicken Pasta Recipes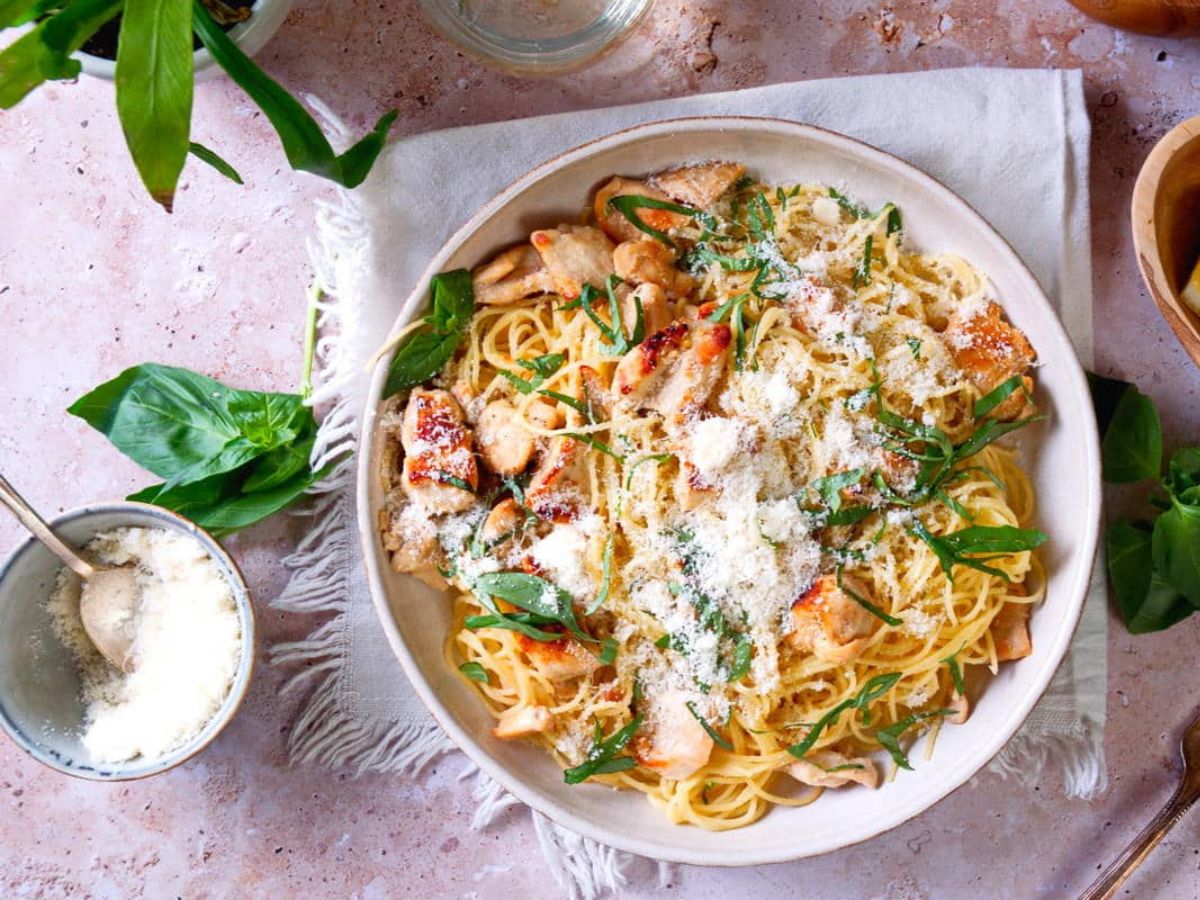 Oh, we love a lemony pasta dish in our house. And, this lemon basil chicken pasta recipe from In the Kitch has become a new family fave.
The Clean Eating Couple shares this easy Baked Chicken Parmesan recipe. Perfectly crispy, coated with a delicious sauce and cheese for dinner!
Chicken Casserole Recipes
Adventures of a Nurse shares this epic Million Dollar Chicken Casserole has a creamy sauce baked with pieces of chicken and topped with buttery crackers, which makes this meal taste like a million bucks!
Berly's Kitchen shares a crowd-pleasing fiesta chicken casserole. Chicken, pasta, and Mexican spices come together in this casserole dish.
Chicken Party Food
My husband has totally perfected this chicken wing rub. Make a big batch and use it on wings and any barbecue chicken you are making.
Chicken strips or chicken fingers? What do you call them in your house? They are definitely a staple in most households with kids. This crispy chicken strip recipe is super simple to make and flavorful. Great for dipping in your fave sauce.
Our chipotle chicken dish is a crowd-pleasing alternative to the usual nachos. Skip the soggy chips and cook up a batch of our chipotle Mexican chicken, smothered in cheese and use the chips to scoop up the delicious chicken. Add all the usual nacho fixings too! Great for Superbowl Sunday.
So, the only question is which chicken recipe will you make for dinner tonight?!
---
Make sure you are following along…
SUBSCRIBE TO KITCHEN COUNTER CHRONICLES TO HAVE OUR DELICIOUS RECIPES, FUN CRAFTS & ACTIVITIES DELIVERED DIRECTLY TO YOUR INBOX.
FOLLOW KITCHEN COUNTER CHRONICLES ON