You can't have a celebration without food. Earth Day is no exception. In the past, we shared our favourite banana bread recipe…bananas should never go in the garbage bin…recycling at it's most delicious. This year I wanted to surprise my girls with a fun planet Earth Day sugar cookie to help celebrate Earth Day. These cookies are pretty easy to make and are perfect for classroom Earth Day parties or picnics with family and friends.
for your convenience, this post contains affiliate links
Earth Day Sugar Cookies
Martha Stewart's basic sugar cookie recipe
blue and green food colouring
for the icing
1 cup icing sugar
2 tsp meringue powder
red food colouring
Start off by making a batch of Martha Stewart's basic sugar cookies. I cannot beat this simple recipe. It takes 5 minutes to make and takes food colouring really well. So, once you have mixed up a batch, divide the batch in half. Colour one half blue and one half green. We use gel food colouring, I find it is easier to control the colour with gel versus liquid.
Roll out each batch to about 1/2 inch thickness.
Now for the fun part. Rip the dough into pieces and start patching the two colours together. Press the seams together with your fingers. Keep ripping and patching until you have mixed the two colours.
Roll the cookie dough to 1/4 inch thickness.
Use a round cookie cutter to cut out planet Earth cookies.
Bake cookies on a parchment paper lined baking sheet, in 325°F oven for 10-14 minutes. Until lightly golden on the bottom of the cookie. The baking time depends on the size of your cookie.
Remove from the oven and place on cooling rack to cool completely.
Make the icing. Combine icing sugar, meringue powder, water and food colouring. Stir until smooth. If the icing is too thick, add 1/4 tsp more water until icing is the thickness you like. Transfer icing to piping bag, with small circle tip, and pipe hearts onto the cooled cookies.
Once the icing is dried, enjoy the cookies. How fun are these Earth cookies? I love how each cookie is different. The heart is an expression of the love we have for our beautiful planet. These cookies are perfect for Earth Day, but would be fun for any space themed birthday party as well.
---
Related Posts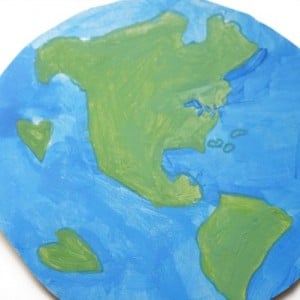 Make a 3R's pledge this Earth Day
Use old magazines to make an Earth collage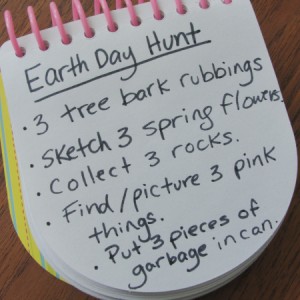 Go out on a simple Earth Day scavenger hunt
---
BE SURE TO SUBSCRIBE TO KITCHEN COUNTER CHRONICLES TO HAVE OUR DELICIOUS RECIPES, FUN CRAFTS & ACTIVITIES DELIVERED DIRECTLY TO YOUR INBOX.
---