Let's bake a super fun Father's Day cake this year. Yep, we have shared all kinds of Father's Day crafts to make, cards and activities. We have even shared cupcakes and cookies to bake Dad, but this year I wanted to pull together a collection of inspiring Father's Day cakes to bake. Be sure to check out all of our amazing Father's Day ideas for kids too.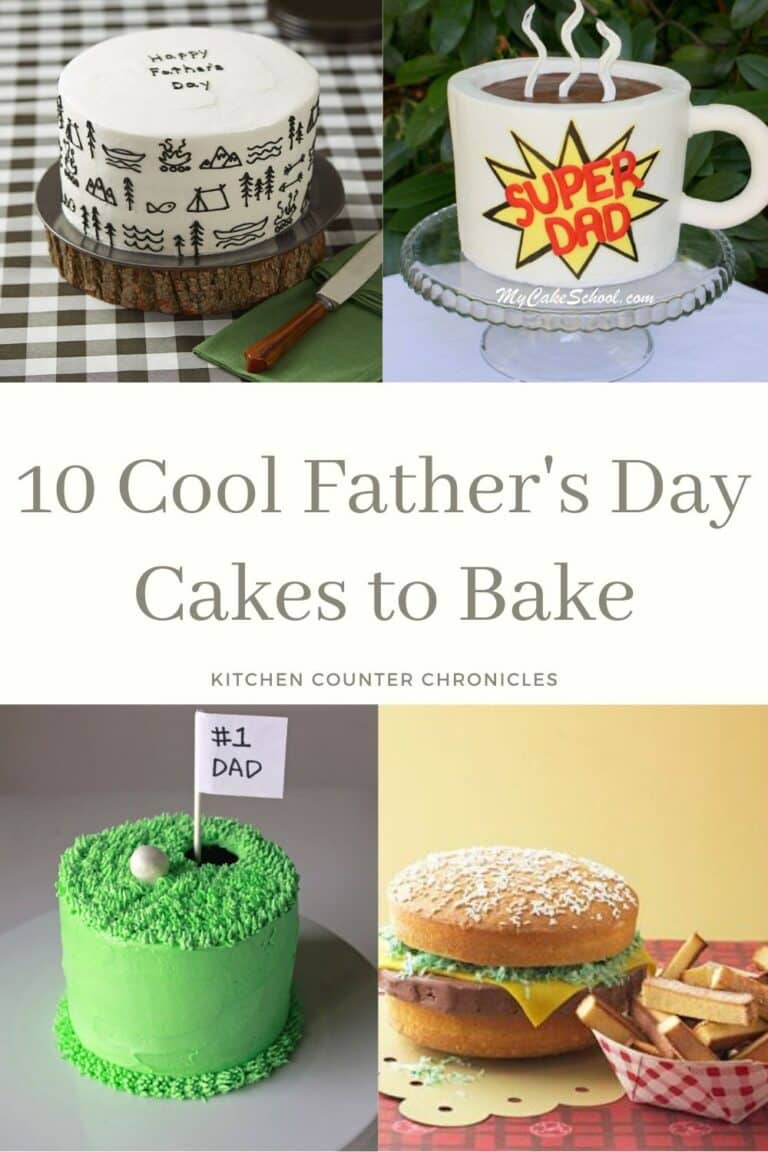 In our house, dad is all about the music. Yep, my husband is the kind of guy who always has an ear to the ground searching for the newest, coolest tunes for us to listen to. So, while we were looking for a little music cake inspiration we found that there are all kinds of really cool cakes to make for Father's Day.
What does the Dad in your life like to do? Does he like to go camping? Does he like golfing? Does he like drinking coffee? Whatever your Dad likes to do, there's a Father's Day cake to celebrate Dad.
10 Cool Father's Day Cakes to Bake
Jenny Cookie shares how to make a super trendy Dad cookie cake. Love this alternative to traditional cakes and cupcakes.
I'm not sure about the Dad in your life, but the Dad in our house loves coffee. So, this coffee mug Super Dad cake, from My Cake School, is going on our to-do list.
Got a Dad who loves spending time at the cottage and really loves wearing a lot of plaids? How surprising would it be to cut open this lumberjack cake from Sugar Geek Show?
Um, this beer mug cake is totally epic. I mean how great would this be on the Father's Day table…or at a birthday party. Check out the full tutorial on Chelsweets.
Mommy Moment shares how to make this fun grill master Father's Day cake…complete with all the little cake toppers. The perfect end to a Father's Day BBQ dinner.
This golf cake is really easy to make, but it is bound to be a hole-in-one for your golf-loving Dad! Sorry, that was a total Dad pun. The cake is from Oh Sweet Day.
Taste of Home shares how to make a dimpled, realistic basketball cake for Dad. This would be a hit in our Raptors house!
Another fun cake for the Dad who likes to spend time at the grill. Check out this chilly Cheeseburger Ice Cream cake from Better Homes and Gardens…don't put it near the grill!!
I love how bright and super simple this "Dad" cake is, from I Am Baker. This would be super easy to make with the kids. Customize it by using Dad's favourite colours.
Couldn't resist sharing this cute camping cake. The best part is it is a S'more's cake! Feeling Nifty shares how to make the cake and all the fun little cake topping accessories too.
Wilton shares a simple, graphic Father's Day. I love the look of the white icing and the black drawings. I can only imagine what a kid could come up with to draw on Dad's cake.
---
Related Posts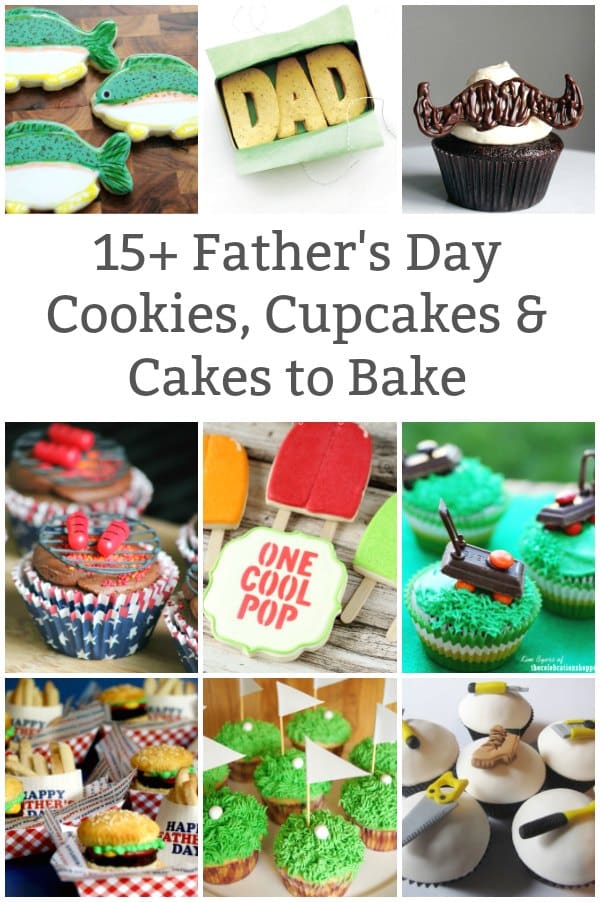 Check out our round-up of creative Father's Day cookies and cupcakes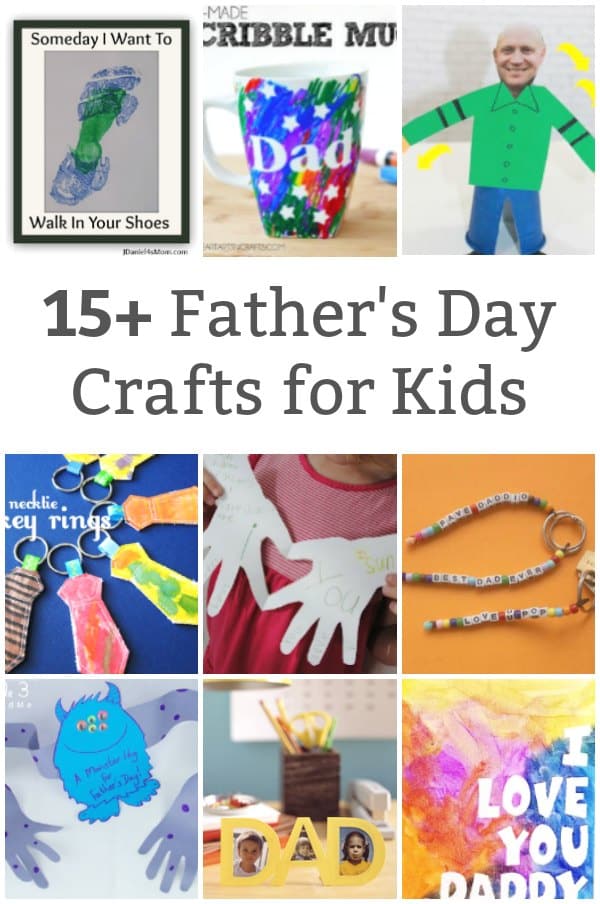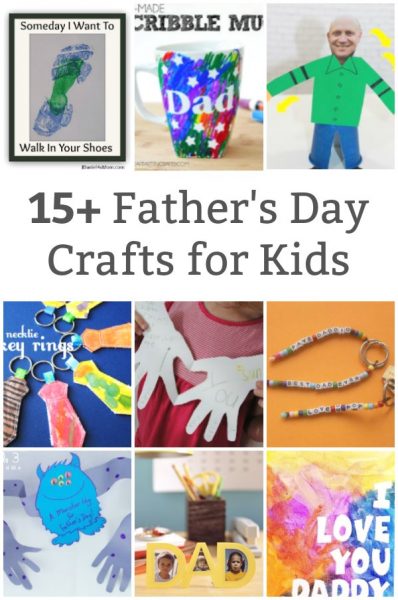 Make Dad a handmade gift for Father's Day
---
Make sure you are following along…
SUBSCRIBE TO KITCHEN COUNTER CHRONICLES TO HAVE OUR DELICIOUS RECIPES, FUN CRAFTS & ACTIVITIES DELIVERED DIRECTLY TO YOUR INBOX.
FOLLOW KITCHEN COUNTER CHRONICLES ON