One of my blog/personal goals for 2015 is to find more ways to connect kids with food. I feel passionately that children need access to nutritious food. Last week, I had an opportunity to attend FoodShare's one day "Recipes for Change: School Grown Solutions for School Food" summit. On this single day I learned about the fabulous work that many educators, parents, health agencies, community organizations and members of the food industry are doing to provide children with access to healthy food choice in schools.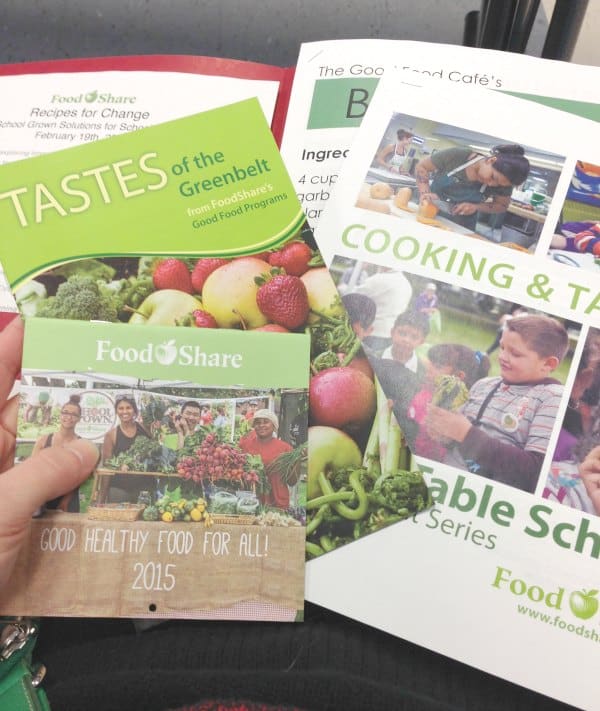 So, what is FoodShare? FoodShare is a Toronto based not-for-profit organization that was founded over 25 years ago with the goal of addressing hunger in neighbourhoods across the city. FoodShare joins forces with other individuals, families and other community organizations. They look at access to food from all angles; growing food, processing food, the distribution of food, cooking and consumption. Currently, FoodShare programs touch the lives of over 145,000 children and adults every single month…amazing.
On this chilly Thursday in February, the folks from FoodShare brought together a group of people who share their passion. We heard inspiring presentations from Rachel Schofield and Rachel Allain of Reseau de Cafeterias Communautaires. Schofield and Allain created a healthy school cafeteria program, from scratch, that now serves 22 schools in New Brunswick. They have found ways to connect children to every step of the school cafeteria program – from defining what "local" food means, connecting with local farmers, creating the menu, preparing recipes and business planning – children have been involved. Aside from the healthy benefits of children eating quality food, Schofield and Allain have seen economic benefits for the greater community. The work they have done is an incredible example of what can be done.
Our day also included a delicious meal served out of FoodShare's Good Food Cafe. It would be amazing to see The Good Food Cafe model replicated across Toronto schools and beyond. The cafe is situated inside two French high Schools. This is unlike any high school cafeteria I have ever been inside. Chef Jesus Gomez prepares and serves nutritious, delicious and beautiful food to over 100 students every day. While the high schools are located relatively close to a strip of fast food restaurants, many student choose to eat at the Good Food Cafe. Supporting the belief that, when given the option, children will make healthy choices.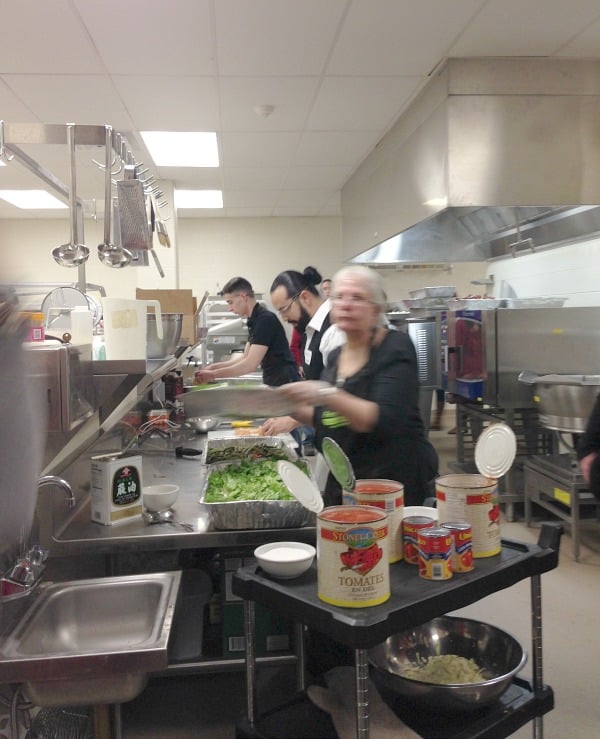 As for the future of FoodShare programs and school food in our city, there are many ambitious ideas in the works. On February 26th FoodShare will be hosting their annual fundraiser "Party for the Future of Food" at Toronto's historic St.Lawrence Market. The event will bring together 30 local chefs, 2 craft breweries, 4 wineries and promises to be a most delicious way to support this amazing organization. Tickets are still available, click over to Recipes for Change for all the details. If you are interested in learning more about the work that FoodShare is doing, or would like to support the good work they do, please visit the FoodShare website and check out how you can become involved.
Be sure to subscribe to Kitchen Counter Chronicles to have our delicious recipes, crafts & activities delivered directly to your inbox.
Looking for family friendly recipes? Follow our Food and Recipe board on Pinterest.
Follow Jen at KitchenCounterChronicle's board Food and Recipes on Pinterest.