I am truly excited to be along side a group of amazing international kid bloggers, in the incredible Christmas Around The World Series. I am always amazed at how much smaller the world seems to be these days. This series is all about learning the holiday traditions of people all around the world.
We live in Toronto, Ontario, Canada. Today I would love to share how people in Canada celebrate the holiday season.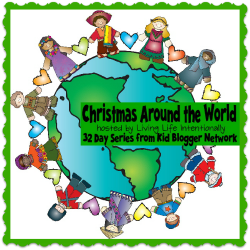 First, let me say that Canada is the second largest country in the world in land area. Canada is home to people from just about every country in the world…we're a multicultural mecca. So, when I was thinking about sharing what Christmas means in Canada I knew I was going to face some serious challenges. Canada is geographically, racially, linguistically and culturally diverse…seriously how could I sum things up?! Then I decided that I would have to focus on what I know, Christmastime in urban Toronto, Canada.
The first real signs of Christmas in Toronto arrive in mid-November. All around the city fences go up and Christmas trees come out…these handy tree lots are where many Torontonians go to get their trees. I must say, seeing the tree lot fencing being installed always brings a smile to my face.
If folks are feeling more adventurous, they can venture out to one of the tree farms and chop down their own tree. There are quite a few tree lots about an hour outside of Toronto's city limits. In our house, we switch from visiting tree lots in the city, to heading out of town and chopping down our own tree.
Another Toronto tradition is our Santa Claus Parade. The parade has been making its way through the downtown every November since 1905. The Toronto Santa Claus parade is one of the largest and one of the oldest Santa Claus parades in the world. Our family heads downtown early to get a seat at the side of the road and take in the show.
My youngest daughter and I even volunteered and participated in the parade a couple of years ago. It was an amazing experience to walk the crowed streets of Toronto – seeing all the smiling children. I'm sure we will sign up again!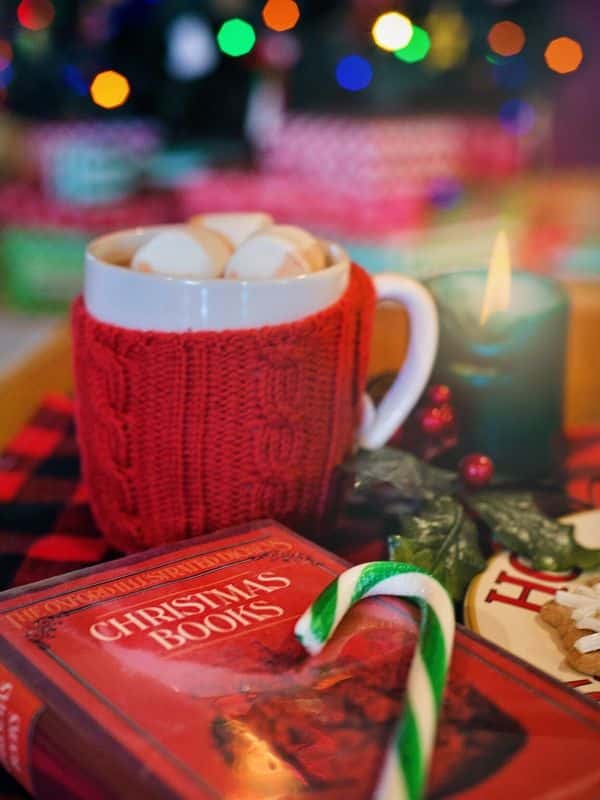 In our house, Christmas Eve is almost as important as Christmas day. Many folks in Canada head to Christmas Eve services at their local church or enjoy a large dinner with family. In our house, we gather with family for a nice meal followed by group reading of "The Night Before Christmas" and "How the Grinch Stole Christmas". Every member of the family, if they are old enough to read, has to take turns reading the pages of each book. The tradition of reading out loud on Christmas eve was handed down from my own childhood. I love the sweet sound of children's voices reading these magical books.
Moving right along to the BIG DAY, Christmas day. Here is where the diversity of Canada comes into play. Since Canadians come from all around the world, not all Canadians celebrate on Christmas day. However, almost everyone has the day off from work…so everyone gets to spend time with their friends and family. Our family gathers over a festive meal. The menu always includes a
delicious roast turkey
. This year we'll be contributing a
yummy brussel sprout side dish
to the meal at my in-laws home. The meal is filled with seasonal crops; parsnips, carrots, potatoes and squash. And, no Christmas dinner would be complete without apple pie…a favourite Canadian seasonal fruit.
In Canada, schools are out from just before Christmas until after New Years Day – which means we have about two weeks with the kids at home. The holiday season would not be complete without a trip to an outdoor skating rink. In Toronto there are many, many outdoor rinks. All around Canada people tie on their skates and hit the ice. I must say this is a very Canadian activity.
Ponds, lakes, indoor and outdoor rinks are filled with skaters over the holidays. I wanted to share an iconic song, "River" originally sung by the legend Joni Mitchell. If you want to know what Christmas is all about in Canada then please give this song a listen. This video is filled with Canadian winter images, quite lovely.
And, if there's enough snow on the ground then Canadian kids are sure to find their way to the closest hill with their toboggans. Yep, pull on a touque (what we call a knit winter hat) and spend the day climbing up and sledding down…over and over and over again. With the end reward being a big mug full of hot chocolate and maybe even another Canadian favourite – a butter tart.
Taking the time to reflect on Christmas in Canada has really got me looking forward to the holiday season. Please, hop over to 123 Homeschool for Me to find the other featured blogs and posts from around the world. You will also find a free, fabulous eBook filled with holiday activities, colouring sheets and information about every country in the Christmas Around The World series.
---
Related Posts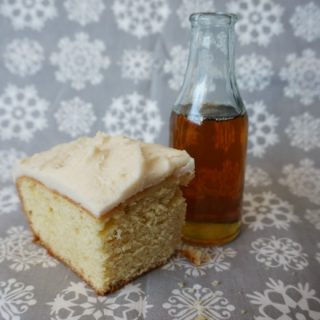 Enjoy a slice of one of our favourite recipes – a
Canadian maple syrup cake, with a maple syrup frosting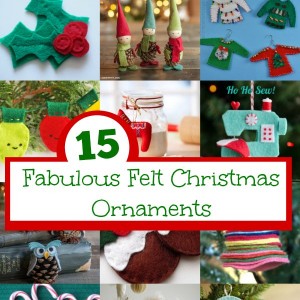 Discover how to make lovely felt Christmas ornaments – make and share a beautiful homemade gift this Christmas
---
Make sure you are following along…
SUBSCRIBE TO KITCHEN COUNTER CHRONICLES TO HAVE OUR DELICIOUS RECIPES, FUN CRAFTS & ACTIVITIES DELIVERED DIRECTLY TO YOUR INBOX.
FOLLOW KITCHEN COUNTER CHRONICLES ON