Every year my girls make their classmates Valentine cards. They have made cute "Bee Mine" buzzing bees, potato stamped heart cards, "Yoda Best Valentine" Yoda and cardboard roll owls Valentine cards. This year we wanted to find a way to use the cool newspaper hearts that we used for our Valentine heart garland. So, with that as inspiration we made lovely newspaper heart Valentine cards.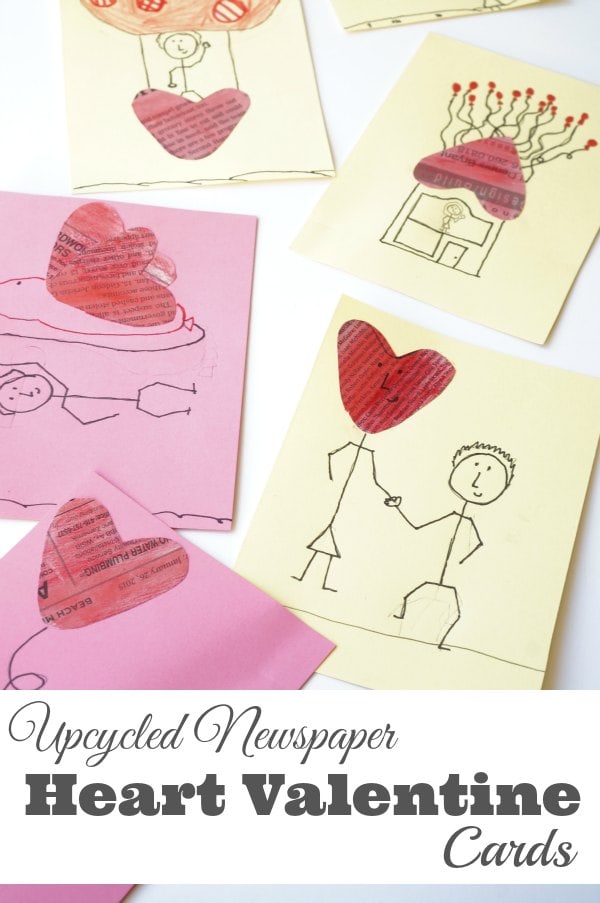 Heart Valentine Cards
old binder dividers or card stock
newspaper
red paint
small cookie cutter
glue stick
pencil
black thin marker
To make the newspaper hearts, paint both sides of the newspaper. Be sure to let the first side dry before you flip it over and paint the second side. Click through to see how to make our newspaper hearts in our heart garland post. Once the paint has dried trace a small heart shaped cookie cutter onto the painted paper. Cut out the hearts.
We have a big supply of old office supplies, that family members have passed on to us. We trimmed down old binder dividers to make our cards. Alternately, cut card stock down to a size that you want to use. Our cards are 10cm x 14cm.
Now it's time to get creative. Place the heart on the card and let your child imagine what it could possibly be…
Is the heart the roof of a house being lifted into the air by balloons?
Is the heart the basket of a hot air balloon?
Could the hearts be the wings of a magical bird that is lifting you off the ground?
Don't forget to write the Valentine message on the back of the card. We kept the message simple "Happy Valentine's Day" or "You Blow Me Away Valentine".
My daughter enjoyed how open this art project was. Her imagination shone through. What will your child see? What will your little heart become?

We love finding ways to reduce, reuse and recycle – even during the holidays. Take a look at these other creative upcycled Valentine's Day crafts for you and your children to make and share…
Make an upcycled tissue paper heart frame with Rythyms of Play
Embrace nature with Rain of Shine Mama's Valentine's Day nature art project
Shine light on the holiday with Bren Did's Valentine's Day tin lantern
Create an upcycled button wreath with The Crunchy Chronicles
Gather up some rocks to make a fun nature tic-tac-toe game from Outdoors Mom
Transform your junk mail into a upcycled Valentine heart wall hanging from Om Living
---
If you loved this Valentine craft, then you might love our other Valentine's Day crafts…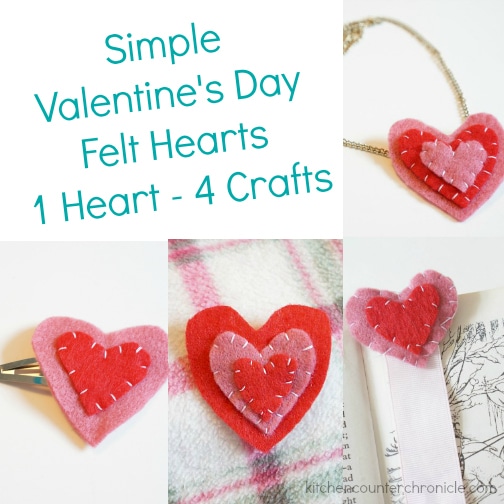 Turn a simple Valentine felt heart into 4 different crafts
Have the kids made these super cute Bee Mine Valentine's
Countdown to Valentine's Day with a treat filled calendar
---
Looking for more ways to connect with your kids this holiday season?
Come join Kitchen Counter Chronicles on Facebook and Pinterest.
Be sure to subscribe to receive our ideas delivered to your inbox.
---