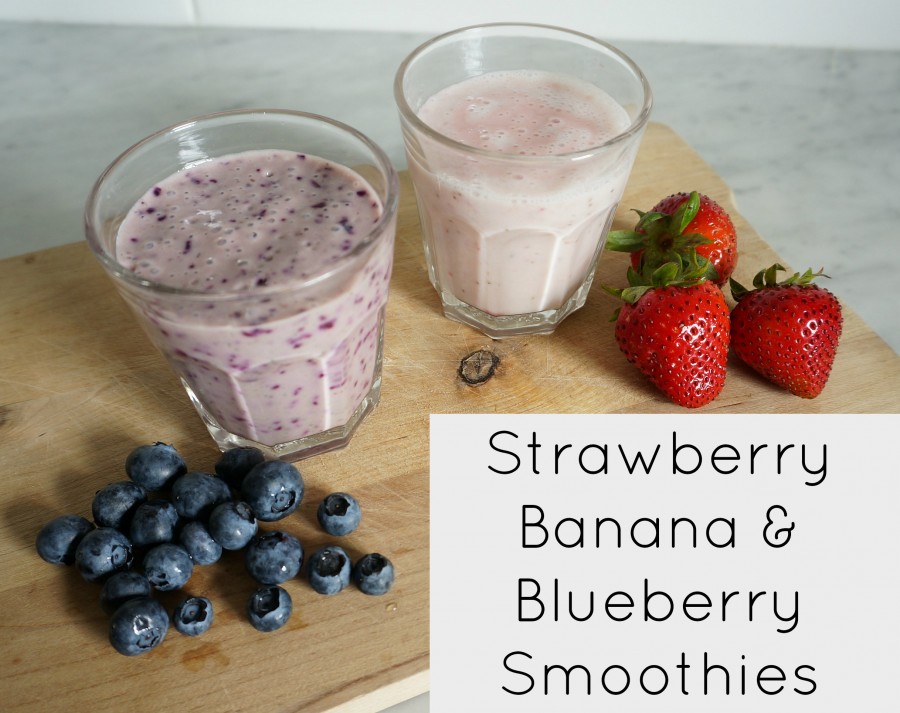 We're a few weeks into the school year and the kids are looking for a little more breakfast variety. After a while toast and cereal get a little bit boring…even for kids. While we were on vacation in New York City this summer, my girls enjoyed a smoothie every single morning as part of their breakfast. So, I decided to see if I could easily add smoothies to our morning routine. What I didn't want to do was spend a whole lotta time washing fruit and cutting fruit. I came up with a way to make fruit smoothies a quick, easy and healthy breakfast menu option. So, here is our recipe and tricks for making a kid-friendly strawberry banana smoothie and a blueberry smoothie.
Simple Strawberry Banana Smoothie Recipe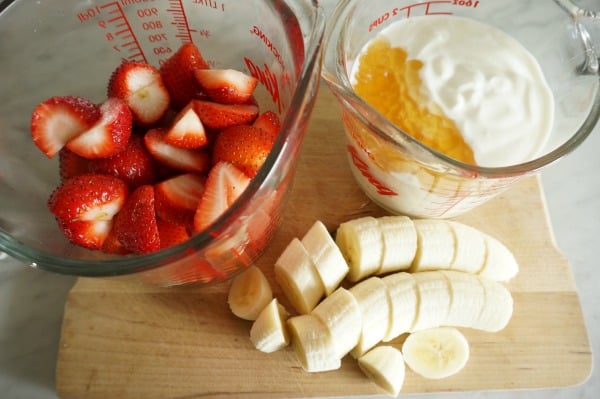 2 bananas, sliced
2 cup sliced strawberries
1 cup plain yogurt
1 tbsp honey
Blueberry Smoothie Recipe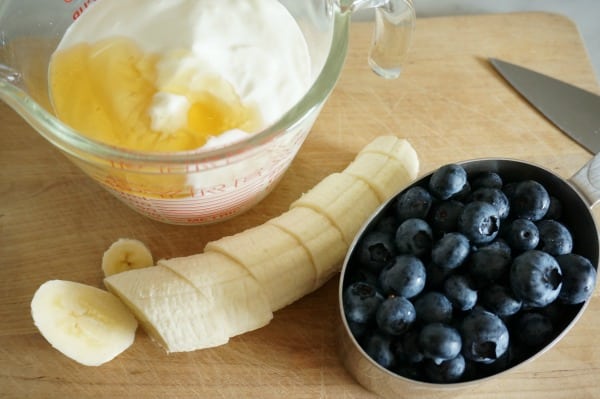 1 sliced banana
1 cup blueberries
1 cup plain yogurt
1 tbsp honey
Use the same method for each smoothie recipe
Start by placing all the ingredients in a blender, or food processor and puree until smooth.

Next, pour the smoothie into a cup and serve immediately OR pour into a large resealable plastic bag (or a freezable container). Label the bag (date and type of smoothie)

Remove the air from the bag and flatten the bag, this is easier for storing in the freezer. Lay the bag inside the freezer.
When you want to eat the smoothie…remove the bag the night before and place in the fridge. In the morning, pour the smoothie into the blender and add 1-2 tbsp of orange juice…blend and serve.
This method makes it super easy to make an entire week's worth of smoothies at once, and have them ready to go for breakfast, or snacks, all week long. Another good tip: whenever you have left over fruit, fruit that has started to go bad, slice the fruit and freeze it on a baking sheet. Once the fruit is frozen, pour it into a freezer bag and keep it in the freezer. This fruit can be used to make smoothies. Experiment with different types of fruit. Most fruit works in a smoothie…mango, peaches, plums, cherries, kiwi and oranges. Smoothies are packed with fibre, vitamins and calcium. They are a great way to start the day or make a perfect after-school snack.
What fruit do you love to use in a smoothie?
---
Related Posts
Pumpkin spice and everything nice! Check out our pumpkin spice latte smoothie for something totally different.
---
Make sure you are following along…
SUBSCRIBE TO KITCHEN COUNTER CHRONICLES TO HAVE OUR DELICIOUS RECIPES, FUN CRAFTS & ACTIVITIES DELIVERED DIRECTLY TO YOUR INBOX.
FOLLOW KITCHEN COUNTER CHRONICLES ON