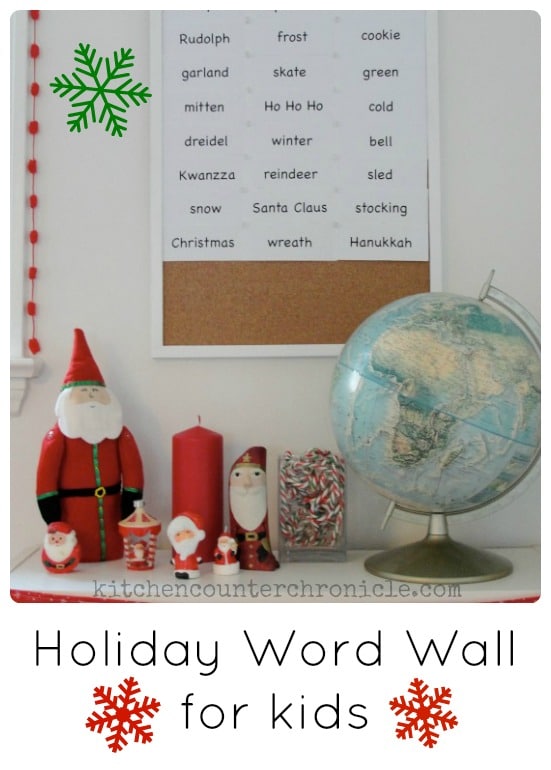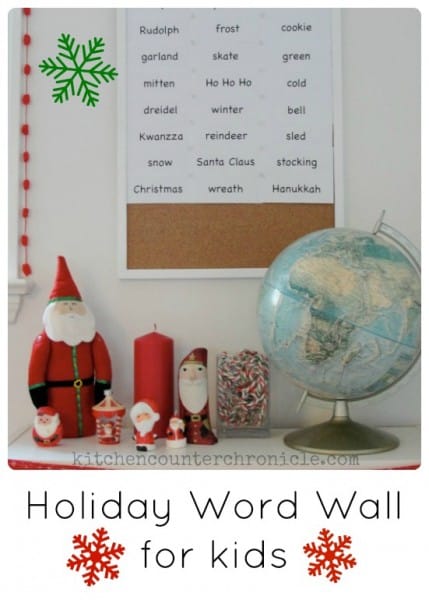 You might remember that we created a
word wall
 in our dining room. Using a basic bulletin board and a pack of first sight words we turned our dining room into a learning room. The words have changed over the last few weeks. My daughter's reading skills have been improving. With the holiday season upon us I decided that we had to make some changes to the dining room (enter decorations) and some changes to create a holiday word wall.
As I have said before, our home is pretty kid friendly…but that doesn't mean it has to look too kid friendly. Here is our original word wall, and the bookcase below.
I have since moved in a larger bookcase and created a simple cloth cover for the bookcase…to conceal the "stuff." Next thing I had to tackle was the word wall itself. I started by painting out the frame of the bulletin board white. Using some left over white trim paint and a little painters tape to protect the board…in an afternoon the transformation was complete.
With every changing season, the books we read change. We are no longer reading about fall trees and butterflies. With the cool weather come books about sledding and the holidays ahead. It was time to change the words on the wall. Now, my first sight word set didn't include seasonal cards. I pulled up the computer and made my own cards.
1. Use the same measurements as the store bought cards, just plug in a list of words associated with winter and the holidays. Here is my list…
touque
peace
boot
Rudolph
frost
cookie
garland
skate
green
mitten
Ho Ho Ho
cold
dreidel
winter
bell
Kwanzza
reindeer
sled
snow
Santa Claus
stocking
Christmas
wreath
Hanukkah
Clearly there are many, many more words we could have chosen. And, I'm sure I'll add more words as the season rolls along…but this is a good start.
2. Print the words on white card stock, or a heavy weight paper – then cut out the cards
3. Pin the words to the wall using clear push pins (or push pins of your choice)