I did a little cookies experimentation the other day and the results are delicious. When the folks at GayLea asked me to come up with a recipe for their Cinnamon & Brown Sugar Spreadable butter I knew I wanted to do some baking. My first thought was to add the spread to pocket pies…which would have been equally delicious. But, then I thought I would try making something I've never made before, a pinwheel cookie. Well, I think these cinnamon roll cookies are going to be a new family favourite.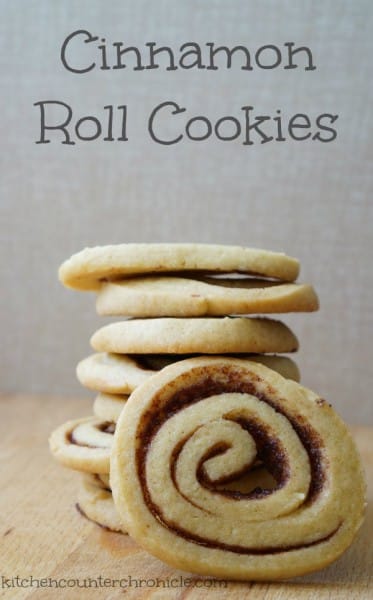 I know something is loved when I have to hide a dozen in a container, so I have something to photograph for my post. I'm sure if I hadn't hidden some, they all would have been eaten.
Reader GayLea Giveaway - To celebrate all of the delicious ways you can infuse Gay Lea's Cinnamon & Brown Sugar Spreadables into fun recipes, we're giving away an amazing brunch kit consisting of one Cuisinart Professional Rotary Waffle Maker, one Cuisinart Conical Burr Coffee Grinder and one Staub En France Cast Iron 10" Frypan (total approximate value: $340). The grand prize giveaway will be open from April 1, 2015-April 30, 2015. We'll also be giving away 1 year of free Gay Lea product (12 coupons for free Gay Lea product) to one reader of Kitchen Counter Chronicles. The giveaway will be open from April 1, 2015-April 30, 2015.
Giveaway Rules & Regulations: Readers may enter across many blogs, they may only win on a single blog. Entrants must be a resident of Canada, however those in Quebec are unfortunately unable to enter the giveaway. Winner(s) can expect their prize in approximately 4-6 weeks.
Check out the GayLea website for more great recipes and product information. Sign up for theGayLea newsletter to receive seasonal recipes, special offers and more delivered to your inbox.
Be sure to subscribe to Kitchen Counter Chronicles to have our delicious recipes, fun crafts & activities delivered directly to your inbox.
DISCLOSURE: I AM PART OF THE GAY LEA AMBASSADOR CAMPAIGN WITH MOM CENTRAL CANADA AND I RECEIVE SPECIAL PERKS AS PART OF MY AFFILIATION WITH THIS GROUP. THE OPINIONS ON THIS BLOG ARE MY OWN.