We are all about simple meals that are family friendly, so when the opportunity to take part in the Simple Family Dinner Blog Hop came along I jumped right in. When I'm looking for a simple family dinner it means I am looking for a healthy way to feed my family quickly. That is easier said than done. Sure I can cook up a healthy dinner…but will either of my children actually eat it? One food planning tip I have discovered is to include one dish in the meal that is a sure-fire hit with your kids. In this case, the flank steak…my girls love steak. Adding the chickpea salad was a bit of a risk…but it totally paid off.
Chickpea Salad with Feta and Herbs
1/2 small red onion, thinly sliced
2 medium sized ripe tomatoes
2 lemons
extra virgin olive oil
salt and pepper
2 cans (14 oz) cooked chickpeas
mint, chopped
basil, chopped
7 oz feta cheese
1. Slice the onion and roughly chop the tomatoes…add to a large bowl.
2. Squeeze 1 and 1/2 lemons over the vegetables.
3. Pour 3 times as much olive oil over the vegetables. Season with salt and pepper. Stir.
4. Add chickpeas to a saute pan and warm through (2-3 minutes). Add 90 percent of the chickpeas to the vegetables. Mash the other 10 percent and then add to the salad.
5. Let the salad rest and marinade…when you are ready to serve add mint, basil and crumbled feta cheese.
The best part about this salad is how great the leftovers are going to taste. We served our salad as a side with a flank steak. Flank steak is an incredibly easy and inexpensive cut of meat. The key is that it needs to be marinated in order to make it tender. We buy our flank steak pre-marinated…at a local butcher shop (part of the whole "simple" part of this dinner). However, if you have honey, olive oil, apple cider vinegar, soy sauce, garlic, ginger, salt and pepper then you have a marinade. Once the steak has marinaded it is quite easily cooked. Set your oven to "broil" with the oven rack in the highest position. Score the steak and lay it on a foil lined baking sheet. Pop it in the oven for 5 minutes a side…done. Let it rest for 10 minutes, then slice it across the grain and serve. Flank steak is great for kids because it is easy to slice and quite tender, when properly marinaded.
We rounded out our dinner with some roasted potatoes and sautéed kale. We covered off all the food groups and created a colourful dinner. At the end of the dinner did my girls eat EVERYTHING? Well, no. But, they did a pretty good job. They were challenged to try a new salad. This dinner brought everyone around the table. Love and laughter really are the most important ingredients in a simple family dinner.
---
Today's post is part of the lovely Simple Family Dinner Blog Hop. Be sure to check out all the other blogs and see what dishes they have been cooking up for their families.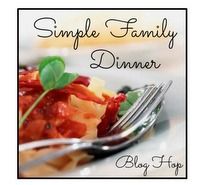 Enchanted Homeschooling Mom | Inspired by Family | Sun Scholars | This Reading Mama | Life by Ashley Pichea | In Culture Parent | Raising Life Long Learners | Glittering Muffins | Life at the Zoo | Octavia and Vicky | Kid World Citizen | Kitchen Counter Chronicles | Nomad Parents | Childhood 101 | Triple T Mum | Adventures in Mommydom | The Freckled Homeschooler | Teach Beside Me | The Chirping Moms | Discovering the World Through My Son's Eyes | So You Call Yourself a Homeschooler | Pickle Bums | The European Mama | The Golden Gleam | Forever, For Always, No Matter What | Motherhood on a Dime | Harrington Harmonies | Rainy Day Mum | Jenni Fischer |
Toddling Into Madness
---
Related Posts
Check out our delicious collection of picnic salad recipes
Make a vegetarian chickpea curry. A family favourite recipe
---
Make sure you are following along…
SUBSCRIBE TO KITCHEN COUNTER CHRONICLES TO HAVE OUR DELICIOUS RECIPES, FUN CRAFTS & ACTIVITIES DELIVERED DIRECTLY TO YOUR INBOX.
FOLLOW KITCHEN COUNTER CHRONICLES ON