Spring has arrived and with the warmer weather comes the return of hundreds of species of birds, migrating back to Canada from their southern winter homes. We are fortunate enough to live very close to an amazing protected, conservation area that is a major resting spot for thousands of migratory birds. On Mother's Day weekend we took part in a guided bird hike.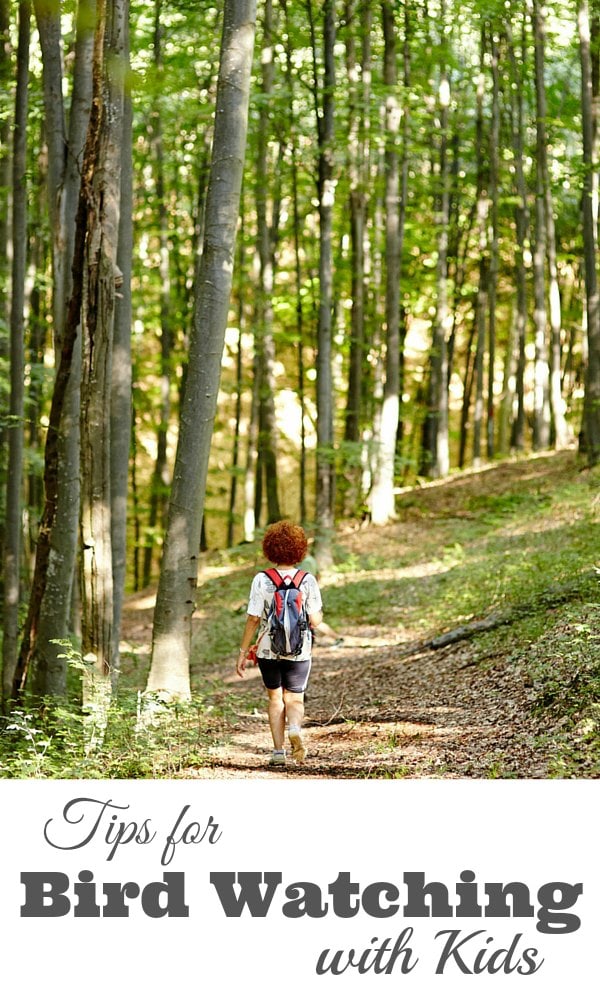 It was such an incredible way to spend a few hours. I have never been "birding" before and my husband and kids have certainly never been birding…so we didn't know what to expect. Our guide was an enthusiastic young man who seemed to know everything about local birds. In the end, I think everyone in our family had a really great time. We learned a lot and when we got home we did some more research. I learned that birding is a fun way to get the entire family outdoors. We're always looking for new ways to become more engaged in our environment and bird watching has given us a new family outdoor activity. Here are a few tips we picked up that made our bird watching a fantastic and fun outing.
Tips for Bird Watching with Kids
Food and Water ~ Depending on how long you are planning on being out for your hike (our walk was about 2 hours) you will want to bring water and snacks. Keep the kids happy and fully fuelled.
Dress Appropriately ~ Our bird hike took place right after a major rainfall, so rubber boots were required. Look at the forecast and the terrain you'll be walking. Wear the appropriate clothing. Dressing kids in layers is always helpful. Don't forget hats and sunblock.
Binoculars ~ We stopped and picked up an inexpensive pair of binoculars. The girls loved searching the sky for the birds with the binoculars. Who knows if they ever actually saw any birds in the binoculars…but they sure were fun to wear.
Bird Book ~ Bring along an easy to read bird reference book. Pick one up at the library if you don't own one. When there is a lull in the action you can pull out the book and check out the birds you have identified.
Pen and Notebook ~ On our hike the experienced birders were shouting out the names of all the birds they could see…we were busy writing down the names of the birds. When we returned home we were able to use our list to do a little further research. Even though we didn't see all the birds in person, our notes helped us discover the species that were in the park.
Realistic Expectations ~ You won't see every bird, your kids most definitely won't see every bird. Bird watching with kids is all about enjoying the outdoors…which leads to my next point…
Look Down ~ Don't spend all your time looking in the sky for birds, look down too. On our bird watching adventure, we spotted a rabbit, snails, wildflowers and a few ducks in a pond. Remember that you're out for a hike and you never know what you might discover.
---
Related Posts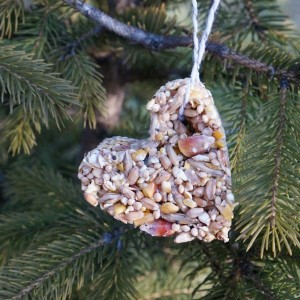 Make your own cookie cutter bird feeder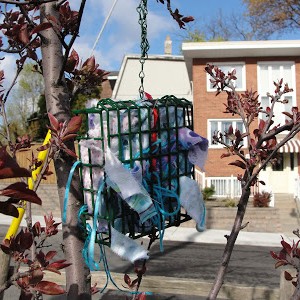 Help birds set up their nests in spring with fabric scraps and string
---
Make sure you are following along…
SUBSCRIBE TO KITCHEN COUNTER CHRONICLES TO HAVE OUR DELICIOUS RECIPES, FUN CRAFTS & ACTIVITIES DELIVERED DIRECTLY TO YOUR INBOX.
FOLLOW KITCHEN COUNTER CHRONICLES ON