I have always struggled with the term "tween". Do we really need a new label? But, now that I have one daughter firmly in the tween stage and another who just entered the tween gates…I have to say the tween label fits. Not quite old enough and not quite young enough – stuck in between and not sure how to handle it. You might have a tween daughter too if these scenarios sound at all familiar.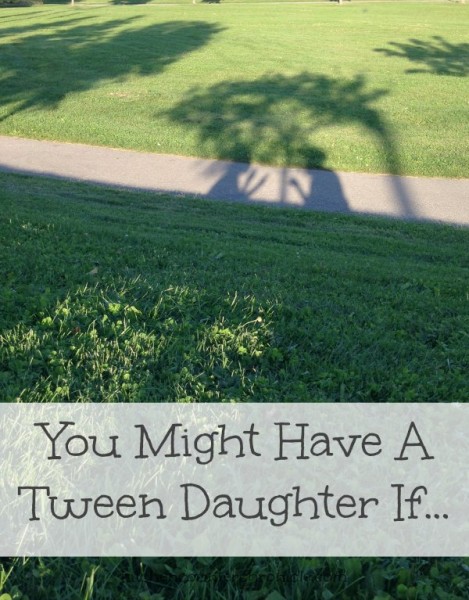 Clothes shopping has become nearly impossible. Caught between the cute little girl styles on one side of the store and the equally off putting racks of low cut/too high options on the other side of the store. A body and a mind that don't feel comfortable in either of these clothing options…leads to serious shopping frustration.
"I'm not a child…" is often followed up quickly with "…I can watch…" "…I can do…" "…I can listen to…" and "…I can say…"
There is a constant low buzz of conversations and comments about boys. Who has a crush on whom? What did that boy say? Boys are gross. Girls are awesome. And yet, boys are hilarious. Doth you protest too much?
The cell phone debate has elevated to a whole new level. "Well, if I had a phone…" is somehow worked into almost every conversation, no matter how irrelevant. Somehow my tween can quote the monthly costs associated with having a cell phone…like she's working for the phone company.
Witnessing a growing internal conflict. The desire to hang out with friends is struggling with a desire to hang out with family. Our weekends spent together as a family will soon be changing.
Tantrums have turned into outbursts of emotions, rolling eyes and stomping feet – wait, tantrums haven't really changed all that much.
Betty, Veronica, Archie and Jughead are just as popular as Katniss, Peeta, Tris and Four.
A mysterious bad mood can take over an entire day, an entire weekend. The bad mood is seemingly brought on by nothing and is equally resolved by nothing (a.k.a. hormones).
Beautiful independence is blossoming. With independence comes more responsibility and more opportunities to both succeed and make mistakes.
Feeling caught off guard when you see your child from a distance. How did she get so tall, strong, shy, outgoing, athletic, awkward…mature?
Quiet conversations with your tween are no longer about fairy tales. Discussions are about real people, real situations, real emotions and real consequences. Things just got real.
Cuddling is still perfectly acceptable. While perhaps sharing an affectionate moment in public isn't always acceptable…it is possible to cuddle – on her terms…I'll take it.
Be sure to subscribe to Kitchen Counter Chronicles to have our delicious recipes, fun crafts & activities delivered directly to your inbox. You may also follow along Facebook and Twitter.
Looking for more articles about life with a tween? Check out our Tween/Teen and our Parenting Resources boards on Pinterest.
Follow Jen at KitchenCounterChronicle's board Tween & Teen on Pinterest.