Today I am excited to be taking part in the Read Around the World Summer Reading Series hosted by Multicultural Kids Blog. Summer is the perfect time to read, read and read some more. I love finding opportunities to introduce my daughters to new cultures through books. When they were younger this meant thumbing through colourful picture books. Now that they are older they are able to enter different cultures through the character's story in chapter books and novels. The summer reading series is the perfect opportunity to learn about Canada and our Native Canadian culture through author Tara White's novel "Where I Belong".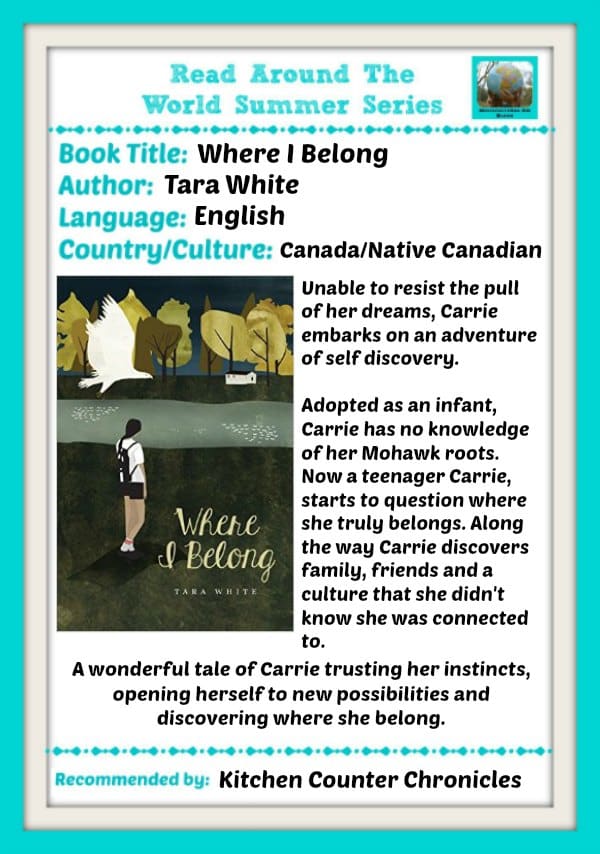 Author Tara White's second book introduces readers to Carrie, a typical teenage girl who is dealing with typical teenage girl issues; over protective parents, hanging out at the mall with her girlfriend and wanting to spend time with boys. Carrie was adopted as an infant and has never known anything about her birth family. Carrie is fighting an overwhelming that something isn't quite right in her typical teenager life. She doesn't look like her parents and she doesn't look like her friends at school. Carrie is finding it hard to fight her desire find where she really belongs.
When Carrie closes her eyes at night she is transported into a world of vivid dreams. These dreams are so real that they often take her breath away. When a boy that she meets in her dreams appears in real life, Carrie knows that she must get to know him. This chance meeting launches Carries journey of self discovery.
As the story unfolds Carrie and the reader, are introduced to the Native Canadian Mohawk culture. We are taken inside the Mohawk community Kahnawke and meet Carrie's birth grandmother and other family members. Carrie opens her heart to the new experiences and embraces the Mohawk culture, with the help of her loving grandmother. However, Carrie quickly realizes that her vivid dreams are more than dreams. Her dreams are coming to life. The knowledge that her dreams can come true is both exhilarating and frightening, especially when her dreams reveal her new found friends and family in danger.
I won't reveal what the ultimate result of Carrie's self discovery adventure is, I will only say that in the end she realizes where she truly belongs. Sometimes the answers we seek are found in the most surprising places.
"Where I Belong" is a wonderful coming of age story that will resonate with teenage girls everywhere. I enjoyed how the reader is introduced to the Mohawk culture through Carrie's eyes and ears. I found myself relating to Carrie's adoptive parents journey through the book. They are forced to evolve and grow along with Carrie, the child have raised and they love deeply. My eldest daughter read the book and enjoyed it very much. I think we all can identify with a universal desire to "fit in."
Be sure to check out all of the recommended books in Read Around the World Summer Reading Series by following the Pinterest board or visiting Multicultural Kid Blogs.
Be sure to subscribe to Kitchen Counter Chronicles to have our delicious recipes, fun crafts & activities delivered directly to your inbox. You may also follow along Facebook and Twitter.
Looking for fabulous summertime activities for kids of all ages? Check out our Summertime Fun Pinterest board…
Follow Jen at KitchenCounterChronicle's board Summertime Fun on Pinterest.