You might remember that way back in the spring we planted a couple of tomatillos plants. I had no idea how to grow tomatillos…I didn't know what to expect. All I knew was that I loved what tomatillos looked like when they were ripe. They look like little paper lanterns. So, based solely on my love of what tomatillos look like, I planted 2 seedlings. Guess what, they grew and grew and grew. The plants became gigantic and absolutely covered in tiny yellow flowers. After waiting patiently, and after the bees came and worked their pollination magic, the green paper lanterns appeared. I had no idea that one plant would produce so many tomatillos. Tomatillos are an incredibly prolific plant. What could I possibly make with all of these tomatillos…tomatillos salsa verde.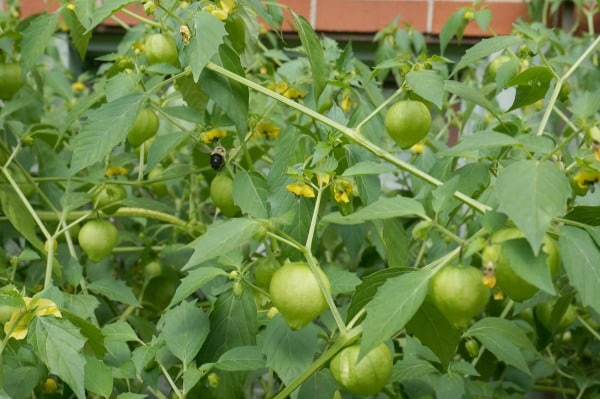 Roasted Tomatillos Salsa Verde
(adapted from Foodnetwork.com)
12-16 small tomatillos
5 or 6 sprigs of cilantro
1-1/2 shallot quartered
salt to taste
Optional: 1 jalapeno pepper
1. Preheat oven broiler.


2. Remove the husks and rinse the tomatillos. Slice the tomatillos in half and place, open side up, on a foil lined baking sheet.
3. Place shallot (and optional jalapeno pepper) on the baking sheet.
4. Place baking sheet under broiler for 4-5 minutes…remove from oven and turn tomatillos and shallots…return and broil another 4-5 minutes until tomatillos skin is charred.
5. Once broiled add tomatillos, shallot, cilantro, 1/4 cup water and salt (and optional jalapeno pepper) to a blender or food processor and puree.
6. Serve with tacos or tortillas chips.
I have to say this tomatillos salsa verde was delicious. We didn't include the jalapeno pepper, I thought my girls would prefer the salsa without any heat. However, after trying the salsa my youngest daughter suggested we add some pepper next time. Never fear, there will be a next time. Our plants are still ripening and we are bringing in countless tomatillos. I think this salsa is going to make a lovely gift for our friends and family. As an added bonus I have already come up with a couple of crafty ways I think we can use the tomatillos husks. More to come on that one…
Disclosure: I am part of the Life Made Delicious blogger program and I receive special perks as a part of my affiliation with this group. The opinions on this blog are my own.